Amitabh Bachchan Diwali celebration – The Bachhans are known to throw the most lavish parties in B-town and no wonder, those are the star studded affairs.
The parties are thronged by Bollywood biggies ranging from producers to superstars. In one of our previous articles we mentioned that Mr. Amitabh Bachhan hosts one of the coveted card parties during Diwali every year which are supervised by the ladies in the house, Jaya Bachhan and Aishwarya Rai Bachhan.
The parties reflect on their refined taste and sophistication. However, last year Bachhan family simmered down the celebration to show respect to Aishwarya Rai's late father who passed away last year.
Amitabh Bachchan Diwali celebration –
Come Diwali, every year Amitabh Bachhan starts his day with wishing his fans a very happy Diwali in his twitter handle where his tweet is flooded with counter responses and good wishes. Amitabh Bachhan even shares the images of people he holds dear such a Abisekh Bachhan, Aishwarya Rai Bachhan, Aradhya Bachhan and Navya Naveli Nanda in his Twitter handle to give his fans glimpses of their Diwali celebration.
Like every regular household, in Jalsa too, there is a Lakshmi Puja arranged which is attended by Amitabh Ji's friends and close associates and his Diwali parties beam with the presence of his other family members. Last year, he shared a picture of this Lakshmi Puja in his house which featured Jaya Bachhan Ji, Amitabh Ji himself, Aishwarya Rai Bachhan, Abhisekh Bachhan and Aradhya Bachhan seeking blessings from the goddess with folded hands.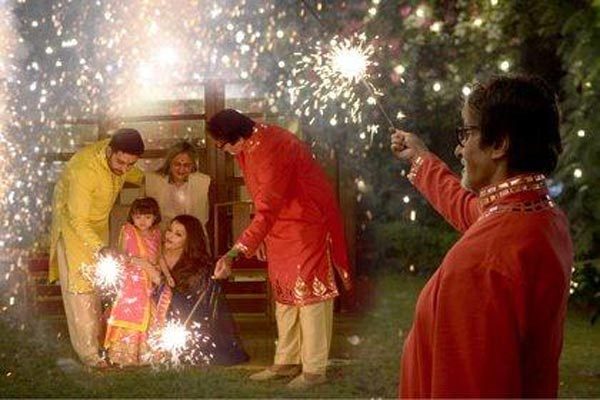 It is said that the biggest Diwali parties in the B-town are held in the houses of Amir Khan and Amitabh Bcahhan so goes without saying, there will be the customary firecrakers aplenty. Amitabh Bachchan Diwali celebration – There are videos available across the internet where Amitabh Bachhan is seen buring firecrakers with his grand children. In that fun and frolic, Bachhan saab looked like he has done a time travel and transformed in his younger self again. But obviously, grandfathers tend to relive their youth with the grandchildren and both of them inspire each others in more ways than one.
Last year followed by the heartbreaking demise of Aishwarya Rai's father, the Bachhan family decided not to celebrate Diwali with as pomp but they didn't go without arranging the Puja at home. However, that was a close-knit affair and not many photos of the Puja has been disclosed by any of the family members. This gesture was pay gratitude to Aishwarya's late father.
Amitabh Bachhan even mellowed down his birthday celebrations that year too as he planned an escapade to the Maldives with his family and one picture surfaced in the internet featuring the whole Bachhan family.