Disabled sports stars – In the world of sports, there are times when the chips are down and nothing is left to fight for.
At such times, there some players who will fight with all the grit and determination and there are some who will go for the extra limit to achieve something special. But in this world there are some exceptions as well who are not at all complete in physicality but in mentally, up and running.
These are some amazing athletes who have succeeded and reached their goals even when all the odds were stacked against them. Disabled sports stars, they were born with certain defects that resulted in lost limbs or paralysis while some of them sustained life-altering injuries. Such mishaps did not stop them from being one of the best athletes in the world, even if they had never participated in a single sport event before.
The following list of Disabled sports stars, men and women are icons, personas and the ones who have changed the way we look at sports. Check them out:
Disabled sports stars –
Bethany Hamilton (Surfer)
Born and raised on the beaches of Hawaii, Bethany Hamilton started her life as a surfer. But before her life could be set on track, tragedy struck. At the tender age of 13, Bethany lost her arm and nearly lost her life in a brutal shark attack. But that did not stop her from taking on the shores as the girl returned onto the beaches one month later. The surfing sensation did not look back and with grit and positive attitude, glory followed for Bethany. Soon, she won the first place in the Explorer Women's Division of the NSSA National Championships and what more than a Hollywood movie titled 'Soul Surfer' was based on her life that starred AnnaSophia Robb, Helen Hunt and Dennis Quaid.
Chelsea McClammer (Sprinter)
Sports is about not giving up and that's what Chelsea McClammer did! At the age of six, Chelsea met with a fatal car accident that left her paralyzed from the waist down. But instead of giving up, Chelsea's strong persona made her fight and it helped right away. In 2008, Chelsea was named the youngest member of the U.S.'s Paralympic team. The same year, in the Beijing Olympics, she competed in the women's 800-meter race finishing at eighth place. Glories and honours kept flowing in for the American as she earned a spot in the IPC Athletics World Championships team in 2011, and was also nominated for the much coveted 2012 ESPY for the Best Female Athlete with a Disability.
Hakan Soderstjerna (Footballer)
Football is a team game and requires one's feet to dribble the ball away in the opposition net. But what happens to one who is disabled and is born without any arms? Are there any footballers in the world with that deficiency? Introducing Hakan Soderstjerna, a retired Swedish footballer, who played the beautiful game with just one arm! Hakan was born without a lower right arm but that did not stop the Swede from pursing his love for the sport and becoming one of the inspirations across the globe. Hakan went on to play for many top clubs across Sweden, Denmark, Singapore and Norway.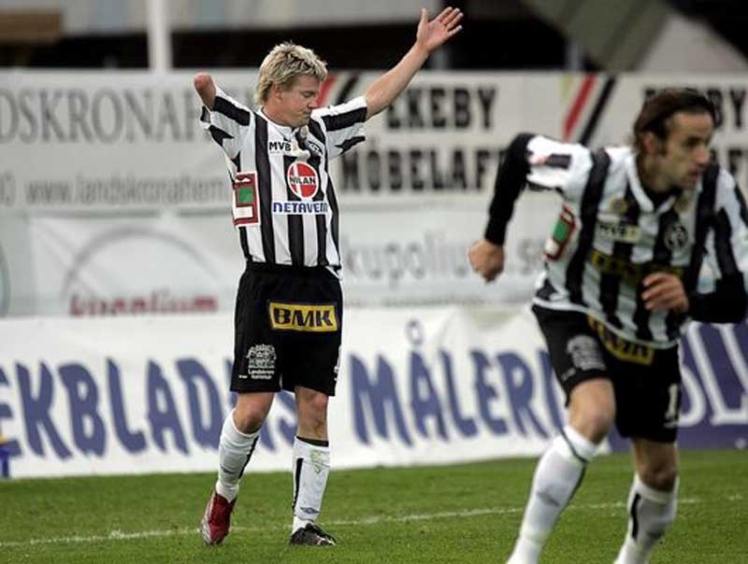 Natalie Du Toit (Swimmer)
At the age of 17, Natalie was riding a scooter to school after finishing off with her swimming practice when tragedy struck. Her scooter was hit by a car and Natalie was advised by the doctors to go under the knife and have her left leg amputated.
The South African-born did not lose hope there and three months into the accident, Natalie was back into it where it began. Natalie won achieved many accomplishments right across the Paralympic Games in 2004, 2008 and in 2012. But what made her so special was that Natalie was able to achieve rave reviews in the Olympics against normal athletes.
Maria Di Villota (F1 driver)
Spanish-born Maria Di Villota was a former World Touring Car Championship and Superleague Formula driver. Formula One was nothing new to her as it was in the family with her father being the famous ex-Formula 1 racer Emilio De Villota. But after years of racing and test driving for many top F1 cars, Maria was undone by faith. In 2012, the female test driver was hurt in a test track crash that made her lose the right eye. But that did not stop the Spaniard as she raced back onto the tracks. In a quote to the press Villota spoke about her tragedy.
"Are you a surgeon? Do you need both hands to operate? I am a Formula 1 driver and I need both eyes to drive. Before, I only saw F1, I saw myself in a car competing. I did not see what was important in life, the clarity to say: 'I am alive'. It has given me my bearings; given me back what's important. I accept it with the energy to say I am going to live out this chance 100%." Unfortunately, Maria is not amongst us as she was found dead in 2012.
Disabled sports stars – The above sports stars show us that the fighting spirit and the determination never left. It was always within us and even without abled-bodies, these above personalities proved the world wrong!