Milan fashion week – Milan Men's Fashion Week created quite a buzz in the Fashion world for showing off the feminine side of a man. Well, that sounds a little out of the box?
It did to us too. But what's fashion without experimentation and Milan Men's fashion week this year proved that they are ardent connoisseurs of femininity that is graceful and urbane. Not necessarily, a man has to work in lingerie to appear feminine, well that would be farcical but the silhouettes and patterns that are inspired by women's fashion by far were the key to serve femininity in a platter.
However, we have laid down some pictures from the Milan Fashion Week 2018 that will give you leads into it.
Milan Fashion week this year saw the dovetail of Italian fashion houses Alberta Ferretti and Ermenegildo Zegna  who gave men's fashion a feminine spin. Not long ago, London Fashion Week was winded up and Milan walked their models with 28 ready-to-wear outfits which belongs from their Spring-Summer 2019 lines.
Carlo Capasa, the head of Italy's National Chamber of fashion, was quoted as saying, "We are living in a huge evolutionary moment regarding the concept of men's and women's fashion," "That barrier doesn't exist any more, the fashion week calendar is responding to that reality," He further added, "Out of affection we are keeping the idea of still calling it men's fashion week, but in reality, this barrier has already fallen."
Their area of interest was mostly street style and here goes the pictures.
The loose limbed pant:
This guy is seen walking in a pair of loose limbed cotton pants which have so far been sported by women. But this doesn't look any less cool in a man if you ask us. This model is not the stereotype one and an everyday person who looks rocking with the chequered blazer on.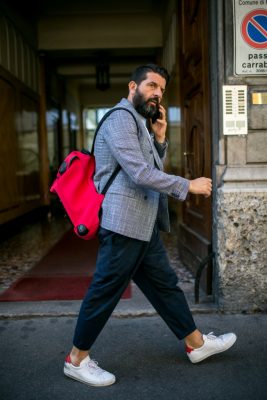 The yellow cape:
Well, yellow is always deemed as a feminine colour but this cape sets the tone for a summer look in a man too, especially when there is a white parallel pant is to accompany. This looks gets a complete thumbs up from us for being easy-breezy and out-of-the-box.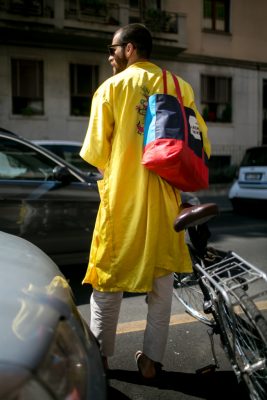 Pink pants and necklace:
A guy would definitely be looked down upon if he wears pink pants with feminine silhouettes because it is considered to be the colour of the queer and that neckpiece too is feminine from every which angle. Perhaps that was the motto of the designers to seal masochism in the distinguishably feminine stereotypes.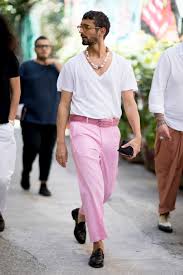 The man with the white cape:
That silken white cape has a feminine tinge too, especially when there is monochrome underneath. This is the tried and tested method for women to look slimmer and taller but now that the designers have put this look on a man, that made our jaws drop in awe.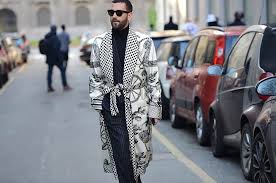 This was happened in Milan fashion week – These were some handpicked looks from the Milan Fashion Week 2018 that we hope you too have liked.