Unique iphone cases – Ranging from rabbit ears phone case to fur cases, and 3D cases, every year there are ample covers designed for iPhones. While some of them appear creepy, there are a host of them which come in handy in specific situations.
Unique iPhone cases.
The Apple logo at the rear of an iPhone does speak volumes about one's status and passion for iPhones.
However, with not very many variants of this spectacular brand available for its loyalists, one may find it boring of sporting the same look and feel every time they buy a new iPhone.
For those who love to try trendy ways of making a style statement can check the following unique iPhone cases that also provide the owner with some useful benefits:
Hairbrush iPhone Case
This iPhone cover, known as Selfie Brush, aims to help selfie lovers take the best clicks. Equipped with a mirror & hairbrush design and functionality, this weird yet useful iPhone case offers a fast way of fixing one's hair so that he/she can look great just before posing for the perfect selfie!
Available in pink, black, and purple colors, the cover gives easy access to buttons and enables smooth sliding of the phone in & out of the case.
iPhone Case with a Hand
Well, this product comes straight from Japan, and does appear quirky and eerie at first glance. Known as Nami's Hand, this iPhone cover comes with a fake woman's hand affixed to it on the outer side, allowing the user to hold a hand while making conversations on the phone. The most amazing part is that the creator has provided a soft & fleshy feel to the fake hand.
Further, there is also a male hand case labeled Yamato's Hand which is compatible only with iPhone 4 models.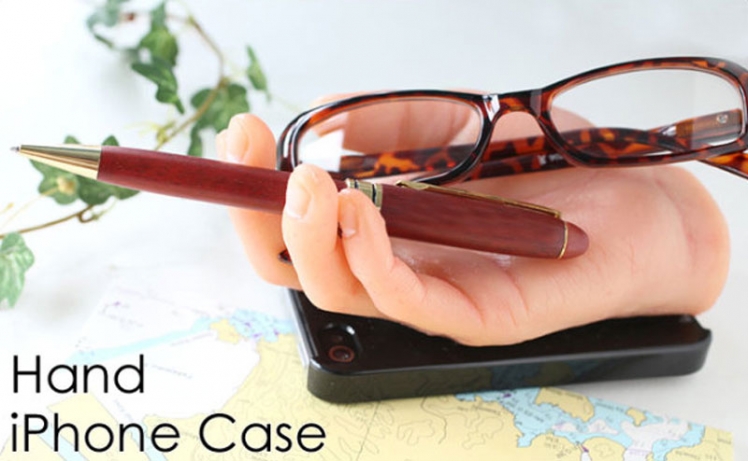 Waterproof iPhone Case
Japan has always been famous for producing the craziest of ideas. This waterproof iPhone cover is yet another product from a Japanese company called Sanwa. Boasting of a sealing mechanism design, this case efficiently keeps out the water.
Offering crystal clear windows, this case helps in taking beautiful images by the poolside.
iPhone Case cum Hand Warmer
This new iPhone cover is the ideal choice for the upcoming winter. Talking on a mobile phone while staying outdoors during a cold winter night may seem daunting. Of course, wearing hand gloves do help a lot! But what if the phone case itself serves the purpose of a hand-warmer!
Carved out of titanium, the Embercase iPhone cover comes loaded with ceramic fibres that keep the heat away from the handset, along with a battery-powered heating component that helps in keeping hands warm.
There are a myriad of other cases designed specifically for the Apple product. Since most of them have still not found a place in the Indian retail stores, one can ask their friends or relatives travelling from United States or Japan to pick up their favorite iPhone case. We would love to hear from you as to which is the wackiest iPhone cover you ever came across! Do not forget to post your opinions in the comments box below!