Career in Spa Industry – Thanks to the culture of pampering and the realization among people that holistic health is what you should achieve, we have major metro cities coming up with a plethora of spas and grooming centres and the wellness industry growing exponentially off late.
Earlier, it was a popular belief that luxury has a new name – spa, but, with more affordable options mushrooming and consumers yearning for relaxing and rejuvenating themselves from the daily stresses of life, spa visits have become more commonplace and considered much more of a necessity in the recent times.
The more the stress builds up in the daily work schedules in the corporate workplace; more are the number of people striving to attain a work-life balance and a complete wellbeing.
It is not the fitness freaks alone, even the average worker wants to have few refreshing and relaxing moments for himself/herself.
Career in Spa Industry –
The fast-paced life and the advents of technology make us prone to back pains, arthritis, cervical pains, joint aches and muscle weakening. This is probably the reason spas are rising, growing and flourishing in every posh colony of every metro city you can think of.
People now believe in natural therapies that could improve health such as regular exercising, healthy and nutritious diet, attaining an emotional balance, and keeping the surroundings cleaner.
Career in Spa Industry – Here come the multiple facilities a spa provides – a nutrition expert/ dietician, a dermatologist, counsellor and a masseur/masseuse.
If you are attuned to help people attain the benefits of holistic health and promoting wellness is your primary interest, then the spa industry is your calling. It is indeed a very lucrative move to join the spa industry not only because of the monetary gains especially if the spa facility is in a hotel or in a cruise ship, but also because it is a recession-free industry and the work is not a seasonal affair!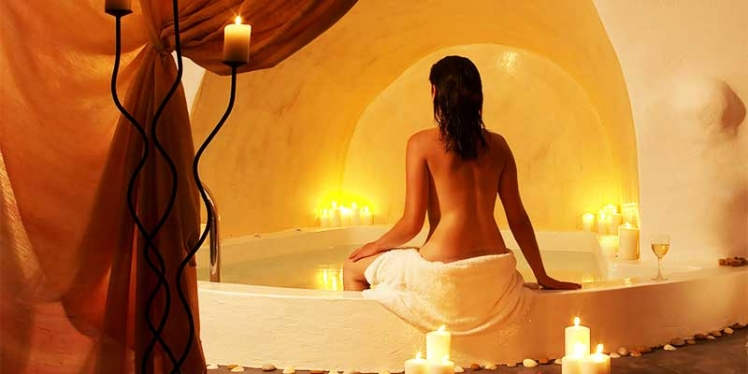 The growing demand for spas has made the industry witness more and more people joining as therapists or entrepreneurs.
You are not required to have a graduating degree too.
Career in Spa Industry – This is an industry which is keen on knowing your soft skills rather than your qualification. A minimum qualification of passing class 12th or even the 10th boards can suffice for you as you can take up spa therapy courses at various institutes. Even if you want to build up your own skin clinic or spa, you will need a good pair of hands, ability to control the strength you exert, some patience, an appealing demeanour and a passing certificate for class 12th. Many seminars, exhibitions and workshops on achieving wellness can also upgrade your knowledge of the trends, practices and culture followed in the spa industry.
Some short-term Indian and/or International courses can help you into spa management or working as a therapist. Some spa academies in India are also affiliated to international certification, the likes of ITEC and CIBTAC. A short-term spa management course helps students make a SWOT analysis for themselves, while working on their problem-solving, decision-making, menu design and concept building capabilities and teaches them about the growing business of e-commerce. A long-term course helps prospective therapists know the different kinds of massages, scrubs, peels and wraps. You may also be exposed to specialised massages aiming at particular muscles and joints, and body therapies during such programmes. While there are only few Indian Spa Institutes that are specialised to provide you with the knowledge of therapies all over the world in their long-term programmes, you can always base your learning on your place of work and the kind of customers you want to attend to.  Some spa academies also offer placements in renowned spas, with a course fee ranging from 90-95,000 rupees to more than 2,00,000 rupees.
Such courses are more like one-time investments and can provide you with opportunities galore.
You may be surprised to know that not only the metros but the spa industry is booming across most parts of India, be it Hyderabad or Nagaland. Yes, the North-East of India is also exploring the benefits of spa and offers spa courses too!
It is your skills and experience that decide your career in Spa Industry. You may work as the Body Treatment Specialist, Aesthetician, Massage Therapist, Holistic Therapist, Spa Manager or Owner.The Spa industry is not only high on potential opportunities and pay packages but there are career growth possibilities throughout. The only thing that the spas do not provide is stress. You can aim to work in a stress-free environment and earn well too! Isn't that what we all want? Your bank balance while working in a spa can be somewhere between Rs. 10,000 to 1, 50,000 per month, based on your position, skills and experience. You may also have the benefit of flexible work hours, selecting clients you wish to adhere to as a remedial massage therapist, especially if you work on your own.
Career in Spa Industry – So work up your hands and try that special massage on your friends and family and note their reactions. If they praise the calibre of your hands and feel stress-free at the end, you can well make massaging your career!