Dahi Tadka – Do you want to add an instant zing to your breakfast, lunch or dinner with the most smallest of effort?
Well, the answer is DAHI TADKA!
The preparation takes only a small bowl of homemade or packed dahi (yoghurt or curd), a few spices and just 5 minutes. But, the whole magic it adds to any meal is simply unbelievable.
Let us take you through a tasteful journey of Dahi Tadka.
How To Cook
Take 250gms curd and whip it with a spoon to make it a smooth blend. Keep aside. Heat up a cooking pan over medium flame and add about two tablespoon full of cooking oil to it. Once the oil is hot enough, add half tablespoon mustard seeds, let them temper completely. Now add half cup chopped onions, sauté till they attain a nice golden brown colour.
When you see that onions have gone transparent and have the desired colour, add a pinch of chilli powder, half tablespoon coriander powder, half teaspoon turmeric powder and salt to taste. Mix the spices to attain an even paste. Now add the whipped curd to the mixture, stir once and put off the flame immediately. Remember not to overheat or overcook the curd as it may turn rubbery.
Remove from gas-stove and stir thoroughly to mix the spices with the curd. Garnish with chopped coriander leaves and it's ready to serve.
How to Eat
Well, choices to eat Dahi Tadka are endless.
For Breakfast:
Eat Dahi Tadka with a namak-ajwain parantha or a crisp toast. You will be flying for the rest of the day. Make sure you have a cup of masala tea to complete the meal.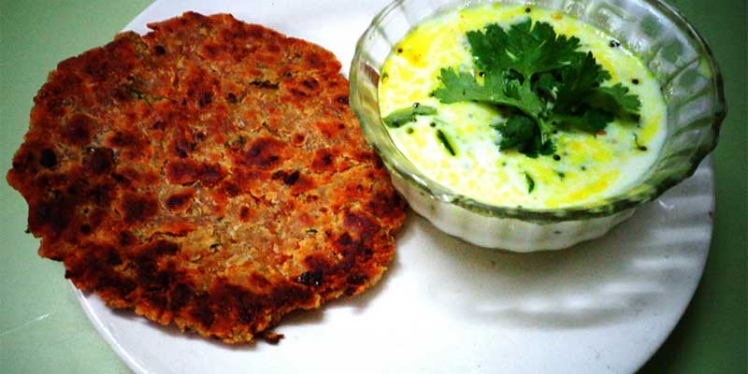 For Lunch:
Soft fluffy chapattis to go with Dahi Tadka! The yummiest lunch ever! Add a bowl full of fresh raw salad to increase the pleasure manifolds, and see the magic of a wholesome meal.
For Evening Tea-time:
Use Dahi Tadka as a dip with your chips, wafers and munchies to enjoy the snacking time with friends and family. Trust me, this is the best Indian dip you can ever have.
For Dinner:
A light dinner of boiled rice and a bowl of Dahi Tadka can do wonders to a wholesome day. Try it to know it. It's absolutely yum.
Well, these were a few Indian avatars of Dahi Tadka that we could think of.
Can you think of anymore? Waiting to hear from you.