We take a look into a restaurant in Mumbai which went from a small street food selling stall to a food chain in Mumbai, Bangalore and other major cities in India and abroad.
Over five decades ago, an aggressive trade union leader, George Fernandes, was tired and famished after leading a day-long agitation of taxi drivers.
It was around midnight and there were no decent eateries open. Walking around the historic Girgaum Chowpatty area, he saw a small stall selling Mumbai's favourite street food – paav-bhaji (soft bread-mixed vegetables) and fruit juice. The paav-bhaji is a spicy preparation with a mixture of vegetables, either whole or mashed, a generous dose of fresh tomatoes, a dollop of butter, optional toppings of cheese and dry-fruits and fresh fruits, consumed with warm bread gently or crispy fried in butter – an all-time, anytime favourite with Mumbaikars.
As he ravenously munched on the tasty paav-bhaji served promptly by the young owner Suresh Poojari, Fernandes relaxed and his day's tensions melted away.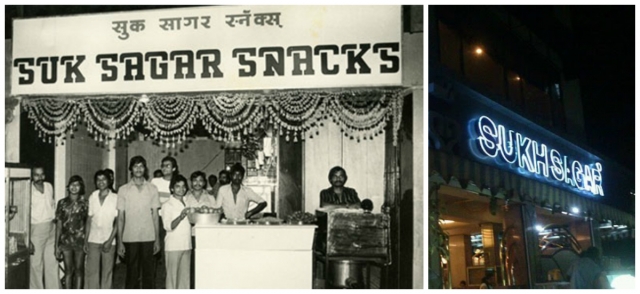 Later, he became a regular visitor to the joint – known as Sukh Sagar – and made it a point to meet Poojari even when he became an important leader in national politics. Fernandes was defence minister in the National Democratic Alliance (NDA) Government (1998-2004).
For Poojari, now 73, who came to Mumbai from Padukone village of Udupi, Karnataka, with dreams of making it big, boasting friendship with Fernandes in those days was a big achievement.
After all, the humble Poojari made it big in the city through his two-dozen strong chain of eateries in Mumbai, Bangalore and Chennai, as also several units in the Middle East, and now plans to capture North American markets.
At the age of 10, Poojari started as a general help in a small eatery near Babulnath Temple in south Mumbai on a monthly salary of four rupees. Two years later, he chucked it up for a waiter's job in the Bombay Port Trust canteen at six rupees per month.
"This was my real learning ground, understanding people as customers, their tastes, affordability, etc," the reluctant Poojari said, gradually opening up to IANS.
"I slogged there for nearly 18 hours, attended night school up to Std. IX, but could not complete my SSC. I loved reading and compensated by becoming a voracious reader – now, I have a personal collection of over 1,000 books, each of which I have bought and read thoroughly…" he said with the tinge of pride of a self-educated person.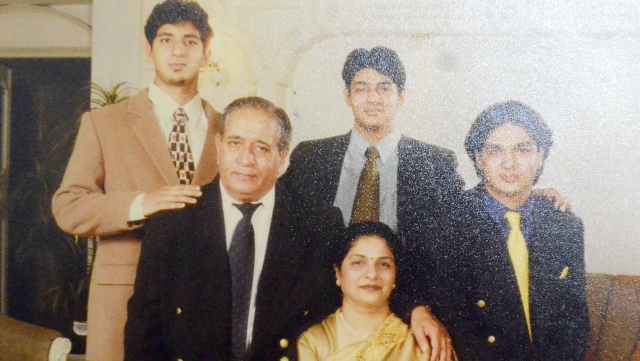 Around 1962, Poojari saw a spark which ultimately lit his dreams for a big future. A distant, aged relative asked him to help out with a small juice and snack centre opposite Naaz Cinema on Lamington Road, the country's electronic hub.
This is where Poojari picked up the nuances of entrepreneurship and that same year, he plunged into it independently.
With a shoe-string budget, he placed a tiny wooden table, erected a hand-operated juicer and started selling fresh orange, pineapple, watermelon and sweet lime juices. There was a small handwritten board, Sukh Sagar ("Ocean of Happiness").
Later, it became a registered brand name and also inspired the various other Sagars all over the world and is currently celebrating its golden jubilee!
"It became a hit as a majority of my middle- or lower middle-class customers wanted value for money and comprised the nearly two-thirds of (the then) Bombay population who eat outside for a variety of reasons," Poojari explained.
Over the next few years, Poojari hosted and rubbed shoulders with Amitabh Bachchan, late scamster Harshad Mehta, top film and glamour world personalities, politicians, government and police officials and top industrialists who visited it once and became regulars.
As the years passed, Poojari himself became a legend credited with bringing respect and dignity to Mumbai's favourite street foods like 'paav-bhaji' or 'puri-bhaji' which was once consumed at corner carts. Poojari transported them into four-and-five star and international ambience!
"Over the next two decades, the old single table was replaced by 20 Sukh Sagar restaurants in India and the Middle East, an ice cream factory, a shopping mall and a 50-room three-star hotel in Bangalore, all together employing more than 1,000 people," Poojari told IANS proudly.
Besides the all-time favourite paav-bhaji, Sukh Sagar now offers pure vegetarian fast food fare in South Indian, Punjabi, Gujarati, Jain, Continental, Chinese, Mexican, Thai, Italian and other cuisines, ice-creams, sweets and savouries, at the various outlets, depending on the local popular demands.
In Bangalore, Poojari set up the city's first full-fledged four-storeyed Food Court, introduced escalators, and even started the city's first bakery for fresh bread for the 'paav-bhaji'!
"Years ago, when I started the Sukh Sagar in Bangalore, nobody could provide freshly baked bread in the desired quantity. So, I had to import this daily from Mumbai by train. As the business soared, local bakers were ready to bake bread for me. Then, I decided to set up my own bakery and later a small milk dairy for the milk-shakes and ice-creams," Poojari said.
In 1976, Poojari married Santoshi, and the couple have three sons – Dhanraj (looking after international operations), Siddharth (Indian operations) and Bharat (Mumbai operations).
When queried about the competition toughening after international fast food giants set up shop in India, Poojari waved at his full restaurant at an off-peak hour.
"Show me, where is the threat? The market is big enough for all to survive. But we shall give best quality and yet charge reasonable prices," he declared.
Poojari is at present making efforts to open additional outlets in Mumbai, Bangalore and Delhi, as also in Gujarat and parts of Karnataka, and in the US and Canada, besides penning a coffee table book on his life story to inspire future generations.
Decades after society gave him employment at four rupees a month, Poojari is now giving back in ample measure to children by providing them with all kinds of educational help in his native Padukone village. H has constructed a free community hall and picks up the medical bills of all his staff, besides giving them generous paid leave, loans to needy employees to help them start their own hotel businesses, marriage or other requirements.
Truly can it be said: As you sow, you reap!
IANS