If you're a diehard fan of a celeb, how do you prove your loyalty? By writing love letters to them in blood? Na…too cheap. By waiting outside their mansions/vanity fans? No…too tiring. By getting married to their posters? Nope, too cheesy. The 21st century tech savvy fans makes use social media to shower their love on their favourite celebrity. From dedicating fan pages on Facebook to making topics trend on Twitter, fans have become ultra mod!
With #comedynightswithkapil, #Dhoom3BoxOfficeHurricane, #HappyWeddingAnniversaryVijayandSangeetha, #3Idiots and #WeWantNaBoleTumSeason3 trending worldwide and in Mumbai, diehard fans have definitely taken the twitter world by storm. The top trend on Twitter was #Comedynightswithkapil, a fun show hosted by comedian Kapil Sharma which has been on a TRP-gaining spree since its opening night. In its last episode, the 'Zanjeer' jodi of Priyanka Chopra and Ram Charan Teja made an appearance, which only helped in making this a bigger trending topic.
But what actually made history is the trending of #HappyWeddingAnniversaryVijayandSangeetha on August 25. The south superstar Vijay Chandresekhar got married to the London-born Sangeetha on August 25, 1999. With the duo completing 14 years of marriage, their fans tweeted their hearts out to make this topic trend. Another reason for this craze could also be Vijay's recent controversial Tamil movie 'Thalaiva', which has been under the scanner for its underworld theme.
Adding to the list of achievements was the trend #WewantNaBoleTumSeason3 becoming the first fiction show to trend worldwide. Fiction shows usually have a large fan following but by becoming one of the most talked about topics on Twitter fans have crossed another level of craziness. No really, a fiction show gaining such popularity is a big deal. Now hopefully the makers of the show listen to this desperate plea!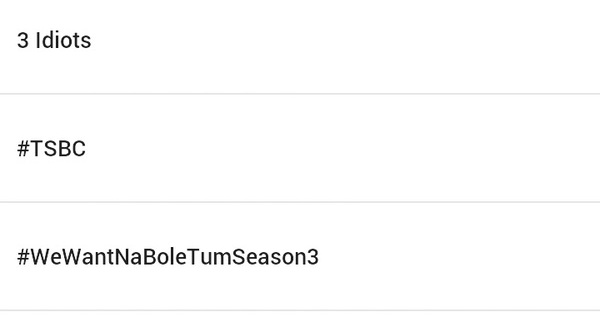 Even before its release, the action movie 'Dhoom 3' has become the darling of the masses, what with #Dhoom3BoxOfficeHurricane trending for over two days now. Aamir Khan's chiselled physique and antagonist avatar, coupled with Katrina Kaif's entry into this hit franchise, the movie is a recipe for a blockbuster! Khan's other movie '3 Idiots' was also trending, as 'Chennai Express' has surpassed 3 Idiots and amassed over Rs 300 cr at the BO! What sort of a fan are you? It's time to up the ante and do something really crazy for your beloved celeb!