Do you know why it's called as 'aping' the West? Because apes are the only animals in the world that shamelessly copy others. The human-like creatures, said to be our ancestors, certainly have a huge fan following in Bollywood. Why else would a string of B-Town celebrities do all things Hollywood at every given opportunity? From posing and pouting like their firang counterparts to waltzing on the red carpet in strapless gowns to having numerous affairs that can put Liz Taylor to shame, Bolly folks are matching greasepaint to greasepaint with the gora log. One star (ah, well, some call her so) who stands out in particular amid the blinding flashbulbs is Priyanka Chopra. She has audaciously tried her hands, hips and legs at everything, from fake accents to singing to diva behaviour.
When Priyanka Chopra released her debut single 'In My City' with American rapper-singer Will.I.Am, we put it down as one of its kind adventure that the former beauty queen had undertaken to splash around her wealth and booty. You know, like how kids have the urge to try their hands at everything once? We really thought that the self-proclaimed diva was having one of her 'urges'…but, lord in heaven, no! She has come back to assault us with a single even worse than its predecessor. With lyrics that proclaim her to be 'exotic' (modest, aren't we?) and from the 'Tropics' (where is that, again?), she has taken her whims to an all new low.
She is like the Victoria Beckham of Bollywood singing. Like her 'Posh' counterpart, PeeCee has the style, the chutzpah, the figure, the popularity and even the plush pout to be a pop diva, but is so sparingly talented in the singing department that she is forever at the mercy of the auto-tuning guys. If Chopra (much like Mrs Becks) ever steps out of the recording studio and starts belting out her numbers, one or two people will commit suicide for merely being born on the same planet as the tone-deaf duo. I will be one of them.
If you have watched the music video (either out of curiosity or because you're secretly a Justin Beiber fan), you would have seen American artist Pitbull trying very hard to enjoy Chopra's singing. The rapper who has had massive clubs hits over the years looks bored, frustrated and practically on the verge of tugging at his bald head in the video (which, for some reason, is like a mash-up of Kingfisher calendar girls and Miami Tourism ads).
Despite a stage name like Pitbull (which is still better than Snoop Dog, Snoop Lion or Snoop Anaconda, or whatever it is now), he is a popular and best-selling artist. I mean, c'mon! He is the same guy who has collaborated with such divas like JLO (the artist incidentally Priyanka's aping or rather trying hard to).
How the 'Pardesi Babu' (Pitbull, for those living under a rock) even agreed to be a part of this video is beyond me. Was he drugged throughout the making of it? How the hell did they get a high-flying rapper to play second fiddle to a virtually unknown Bollywood actress? And most importantly, am I the only one who seethes with rage every time the song plays on TV/radio?
Really, PeeCee, I want what you were smoking when you thought you could pull off a JLO-meets-Beyonce act. You may have the sexy good looks of Jennifer Lopez, but you neither have her talent nor her diva-esque crowd-pulling charm. You may be an underdog, like Beyonce was when she first appeared on the music scene, but you'll never be able to move past that phase because of your inability to hold a chord. Period.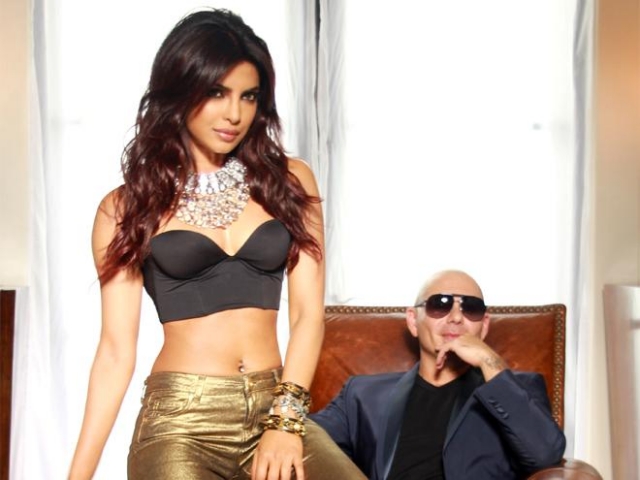 If aping JLO's vocals weren't enough, PeeCee blatantly copied the former's sartorial choices as well. In the video, Priyanka sports a sheer lace dress that's very similar to the one worn by the Latina diva.
One of my very dear friends has a very valid question regarding PeeCee. Once when we were flipping channels, she asked me, 'Yaar, Priyanka has had so many surgeries to look good, na? Then why doesn't she get her vocal chords tuned too?'
True, right? I mean, the 'Desi' girl looks nothing like her 17-year-old Miss World self. From nose, to lips to jaws, she has played around with her face more times than you and I have Photoshopped our Facebook profile pictures. So, why not get a surgery for this done too? Dear, reader, c'mon! Google a.s.a.p, is Larynx-transplant done in the USA?
Her altercations aside, I would still have been her fan, had she not ventured into singing. I don't ever want to travel to LA and be recognized as the girl who comes from Priyanka Chopra's land. Merciful Lord, no!
Some may call me a narrow-minded fool for not accepting the 'achievements' of Chopra's Hollywood outings. But let me tell you, I equally loathe her Bollywood 'item' songs. Be it 'Babli Badmaash', where she wears her hair like her 'Barfi!' character and does equally demented steps or her latest item song 'Pinky', which is so forced that you can feel even the background dancers cringing, it has been never easy to see her as an item girl…because she is too artificial. She doesn't have the rustic charm of a 'Munni' or the unabashed sex appeal of a 'Sheila'. All Pinky has is the awkward movements of a desperate heroine who wants to not just have her cake and eat it too, but to goddamn bake the cake as well!