Salman Khan pumped up the humor on Comedy Nights with Kapil this weekend. Here are the highlight moments from the show'¦
Salman Khan has a fan base that worships him. His screen presence is brilliant. His charm is infectious. The actor recently came of Comedy Nights with Kapil to promote his film Jai Ho along with his co-star Daisy Shah and brother Sohail Khan.
As usual the show kept its tempo high we kept cracking at Kapil & his on show family's timing. As for Salman we saw him not talk serious movie related stuff, we got a glimpse of who he really is. The man is fun; he can roll on the floor when he cannot compose his laughter. Sohail too looks like a fun person. In all honestly it was the best thing we could watch this weekend! Here are a few glimpses from the show that cracked us up!
Salman Bhai with bade hoto wali biwi
The one question that even the Buck stops here can't be discussed is, 'When will Salman Khan marry?' Kapil's wife tries to enact a being wife scene and guess what the man concluded it by saying 'Issi liye maine shaadi nahi ki!'
Line Salman tripped on: 'Kettle jaisa muh tera, chai pilayegi tu?'
Hello Brother's gassy insides
Salman and his brother Sohail came together on the show. During the show they revealed that they thought that the film won't work and the censer board with chop most of the film. Accidently so, they kept the 'Salman's gas' as it is, in fact the also got to keep a few similar shots that they had added a few more times just to be on a safer side.
Their father called it a high budget film made for personal viewing! Looks like Khans know how to criticise their home production very well.

Dadi and her Kiss
Ali Asgar as Dali is one reason I would want to be on CNK! The coolest Dadi gave her shagun ki papi to Sohail and Salman. Sohail like a good boy took Dadi ki puppi Salman got cracked up and said, 'Dadi se daar nahi lagta, dadi ke andar jo dada hain usse daar lagta hain!'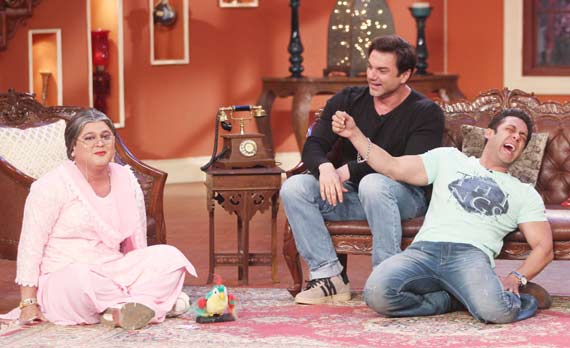 The Parrot jokes
The otherwise a very clean family show, this episode of CNK saw a lot of double meaning jokes. Dadi came with her parrot that would tell the celebrities their future. She made Daisy dance (obviously made her do her signature step). For Salman, he had to romance a woman older than him! Kudos to Ali and his brilliant act, we could see Salman going bonkers and ROLF-ing (literally!)


Daisy and Palak dance off
Palak always has a poem for the guests! This time she too has a couple of boring ones. Although her entry was kick-ass and she did a few shimmies on Mashallah. When Palak made Daisy dance she gave the trained dancer a tough completion.
Watching Salman Khan with his guards down and rolling on the floor laughing was an absolute delight.
Watch the entire episode on Colors official website or click on the videos below.
Part 1

Part 2