Spiciest Indian dishes – India is famous, or should I say infamous for its spicy cuisine across the states. People who visit India for the first time make most of their time tasting the savoury dishes ranging from street food to the indigenous ones.
While some of them are downright delectable, some leave the tingling sensation in your tongue with the hotness quotient. You are actually left in a dilemma, you can't to eat that again or never dare try them for a lifetime?
Here are the names of such spicy Indian dishes you should try at least once:
1 – Phaal Curry:
This dish is so spicy that the chefs have to wear gas masks while cooking. This is made from Bhut Jolokia, the famous and hottest chilli in the world which only daredevils can try. The Bhut Jolokia is available in the North East region and Phaal curry is one of the hottest curries of India.
2 – Pork Vindaloo:
The pork lovers are highly recommended to taste this one because it is kept bottled up like that of murrabba, hence we can call it Pork Pickle too. It is so hot that there is an immediate heartburn you feel as it strides down your food pipe.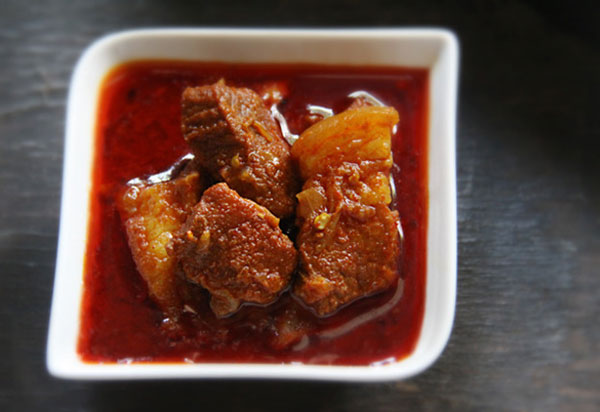 3 – Kozhi Curry:
If you understand only one taste that is spicy, don't give this one a miss. This dish belongs to the Syrian Catholic community of kerala which is considered one of the spiciest chicken curries of India.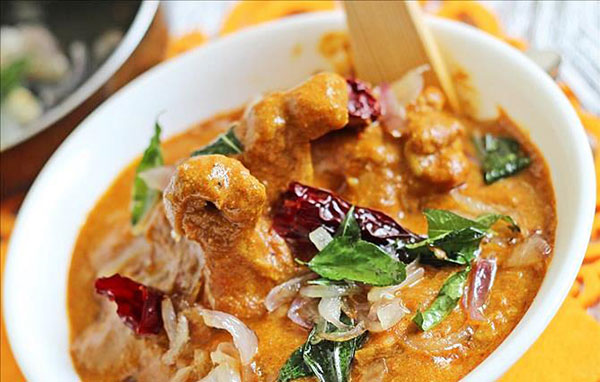 4 – Chilli Beef:
Talk about Indian spices and bang comes the mention of this dish which is highly recommended to consume wintry evenings so that you don't feel the biting cold at all. Eat this and feel like lava balls popping inside your mouth. This is also a Malayalee dish.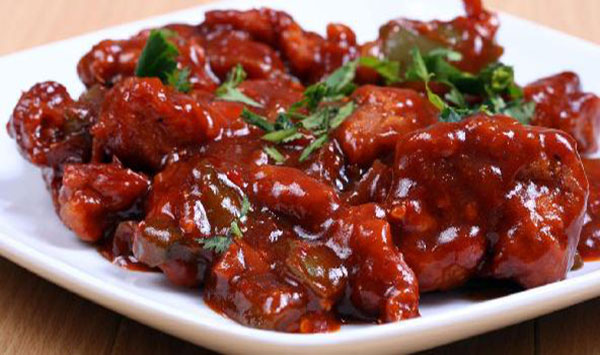 5 – Chicken 65:
The name is derived from the Military canteen menu in South India where it was mentioned in the 65th serial. However, it completely satisfies you when you are craving a spicy food orgasm.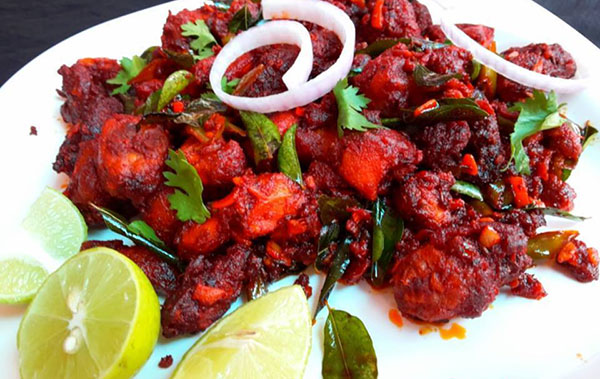 6 – Andhra Chilli Chicken:
The dish is the one where chilli reigns supreme. Need I say more?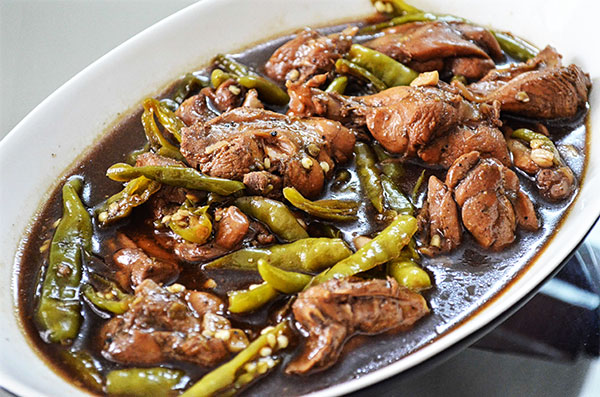 7 – Kolhapuri Chicken:
The merest mention of this name kindles a gush of saliva inside the mouth. This hot and tremendously spicy dish belongs to Maharashtra which of course asks to keep a bowl of Rasgullas handy.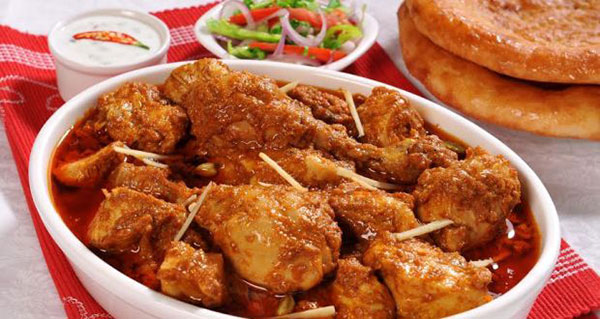 8 – Madras Curry:
The meat balls making love with the devilishly red curry is quite a sight to behold but definitely a threat for the tongue. Statutory warning: there will be teary eyes and runny nose after eating this so keep a hanky handy.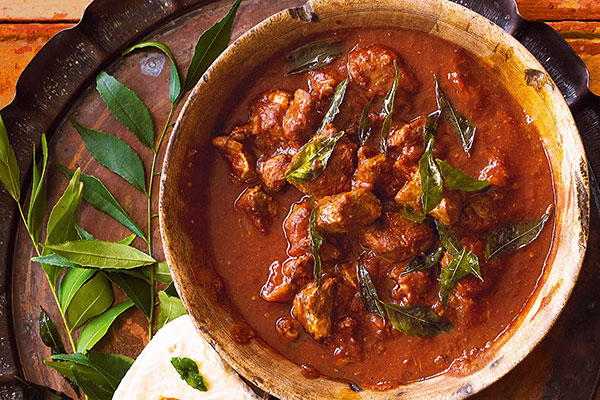 9 – Misal Pav:
It has a combination of spiciest Red Chillies, green chillies and black pepper powder. This roadside delicacy comes in different levels of spiciness ranging from mildly hot to someone-bring-a-fire-extinguisher one.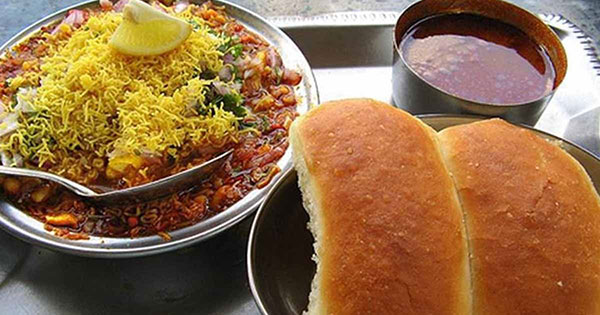 10 – Chicken Chettinad:
If you taste this one you will be craving for coming back to it again and again. Aside from being spicy, this is lip-smacking to no limit. A cuisine from Tamilnadu, Chicken Chettinad holds true with the South Indian regional taste.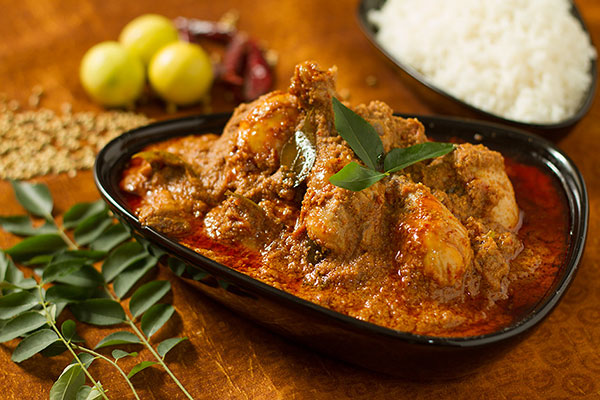 11 – Laas Maas:
This fiery Mutton curry belongs to Rajasthan and quite a famous one across the Indian subcontinent. In fact, coming in Rajasthan and not tasting Laal Maas is a crime. It is so spicy that can definitely exsiccate your taste-buds partially.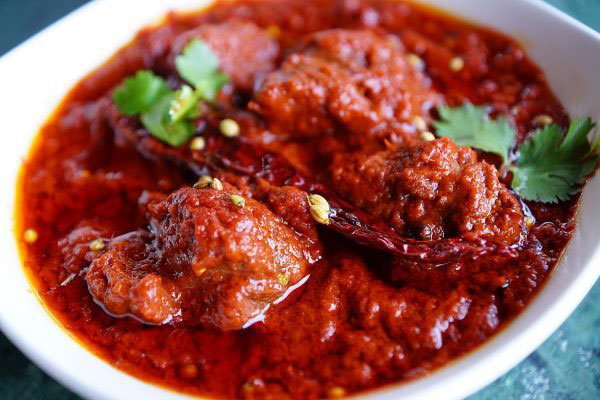 So, embark on this spice tour and have fun!