Travelling to Maggi destinations of India – we are going to warm up your senses for a romantic date amidst these destinations, popular for their servings of hot piping maggi bowls.
Love, romance aur Maggi!
Sounds terrific to me!
Well, with the eternal romantic that I am, every season is a season of romance to me, but for the less-fortunates who celebrate love by days, I have a brilliant idea, yes, for the valentine!
If you love Maggi and you love someone else too, why not plan a romantic date to one of these romantic Maggi destinations of the country and make a memory for the lifetime. Just imagine, you, your love, the spell-binding environs that nature is offering you with sparkling greens, tall peaks, snow laden mountains, love and music in the air and a bowl of hot steaming Maggi! Mmmmm cuddle up, cuddle up!
Let me enlist for you, the most beautiful Maggi destinations here:
A Trek In Ulhas Valley, Khandala
If there is one thing that even 'Mr Perfectionist' Aamir Khan missed in the song 'Ati kya khandala…' was a pack of Maggi! Yes, if you and your partner are adventure lovers, then while trekking in the appealing rocky terrains of the Ulhas Valley, a delightful dose of your favourite Maggi will not keep you going, but will also make for a much needed break! This first hand experience of love, Maggi and the trek will go down in your love diary for the rest of your life, I can bet on that!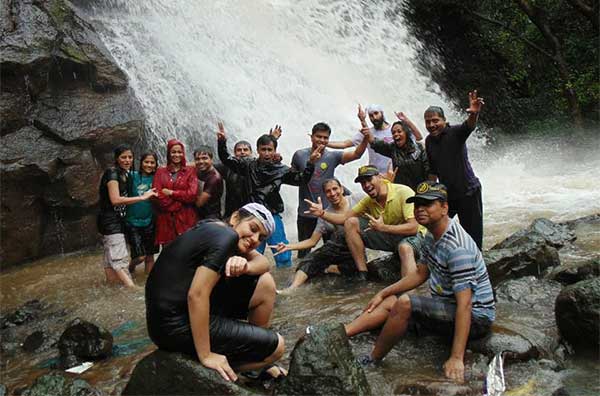 A Cosy Stay In Shikaras or Houseboat, Srinagar
Imagine waking up with your partner amidst the spectacular locales of Srinagar with a bowl of freshly prepared Maggi in hand! Such a lazy morning is all that you can wish while holidaying in the Shikaras or in the magnificent Houseboats in Srinagar. Smell the mountains and breath in the romance that the place offers you. Nothing like it, nothing like it.
A Romantic Ride On Dehradun-Mussoorie Road
Doesn't matter if you are the only couple among a bunch of strangers while travelling from Dehradun to Mussoorie! Share your packet of Maggi, find a reason to mingle up with these locals and enjoy the 38km enthralling ride through the scenic trails. In case, you are not stuffed well, just hop into one of the Maggi points (there are many local dhabas on the way that serve Maggi with a smile) and get yourself packed!
Sipping In The Beauty Of Pangong Lake, Ladakh
Don't just make it your favourite holiday destination; rather make it the dream destination to enjoy your Maggi! A lake where the clouds float only a hand away, this stunning water reservoir in Ladakh and its mesmeric appeal will definitely add more love to your life and more romance to your bowl of Maggi!
Drenched Romance At Agumbe, Karnataka
A quaint and tiny village in the Shimoga district of Karnataka, Agumbe is also called the 'Cherrapunjee of the South'. With the rain and showers hindering your movement outside, enjoy or laze around inside the room with a delicious bowl of Maggi; you see laziness, love, romance and Maggi are just made for each other!
Dreamy Ride In The Gondola, Gulmarg
After a fascinating ride in the second highest cable-car in the world, a relaxing break with the love of your life is the most obvious desire! Glide over the mesmerising beauty of Gulmarg, and upon its completion, take the much needed Maggi break and come alive at less than 0 degree Celsius. A cosy warm snuggle at this moment will add mmmmm… so much romance, you just cannot imagine.
Cuddle Up At Tiger Point, Lonavala
Hug the beauty of the place along with your partner, enjoy the gentle strokes of the soothing breezes in Lonavala and slurp on a Maggi meal along with delicious corn bhajiya…don't just let the fun moments leave you alone! This place offers the most beautiful views of Maharashtrian valley and the weather never seems to go dull here. A kiss of love to banta hai boss!!
Oh my God, I am so eager already to plan this date. Let me do it for me while you plan yours. Do share your experience with me later. I am waiting to hear from you.