World of Fashion – There is nothing permanent in the world of fashion but one thing is for sure, the designers have mastered the skills of recycling, if aptly put, re-fashioning clothes so as to make a statement again.
It is like presenting the old wine in a new bottle, to tell you, the styles that go, doesn't go forever, they just lurk around the corner to be brought back again in a new packaging. World of Fashion works this way.
The designers put their best feet forward to spell fresh life to the runway fashion scene every year and the fashion weeks bring forth the hidden talents for years on end.
The runway models with their piercingly intimidating attitude and heightened energy lead us into new ideas to get our fashion game on point and here are the fresh new fashion trends of 2018 you need to look at in case you have been running out of ideas.
World of Fashion –
The sequins:
GUCCI:
Sequins are here to stay and this trend is reigning in the year 2018 too. It is also believed that the sequins trend will be a profitable bid in the next summer. Glitter caught every designer on the hook ranging from Tom Ford to Marc Jacobs and in this picture, we can see the model wearing a GUCCI sequinned wrap dress. You can style it with a sweatshirt for the day look.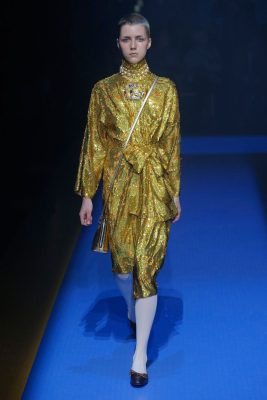 Marc Jacobs:
This sequined longline maxi dress is from Marc Jacobs and the model is seen accompanying it with a black classy headgear.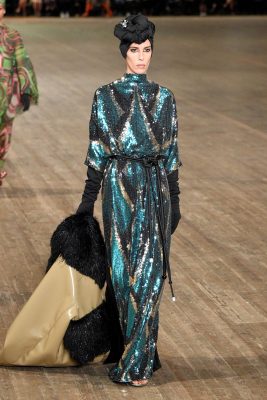 Versace:
Metallic are fashion favourites of this year too and these Versace designs with various patterns are really a sight to watch.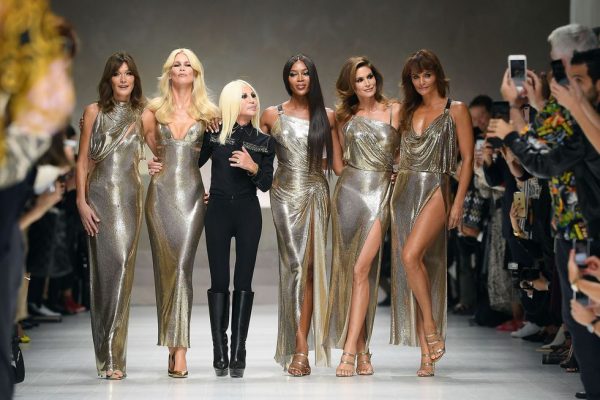 Pastels:
Muted colours like lilac, pink, lemon or duck egg blue are having huge moments in the fashion scene this year. There is nothing like being delicate and it is strength in disguise. There is a lot of ice cream hues has been incorporated along with the pastel shades.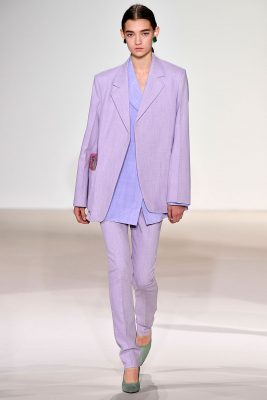 Checks:
Voluminous coats and checks are the fashion picks this season. These styles are endorsed by Victoria Beckham who excels into more traditional apparels but for the easy-breezy feminine silhouettes, one must turn to Sonia Rykiel that are summer ready and chic. There was even check caps to be seen from Burberry's Homage.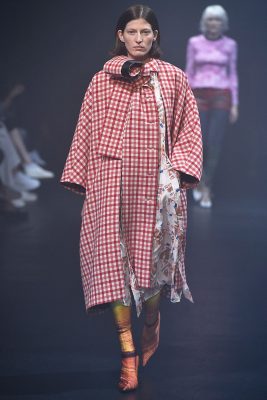 Plastic:
British summers are sorted with plastic apparels. This look ruled the roost in the spring summer collection of 2018 and the fashion houses that vouched for it were Chanel (pictured), Isabel, Marant, Burberry, Topshop, Calvin Klein and Fendi. Plastic apparels were available in variable shades. The one seen in the picture is from Calvin Klein.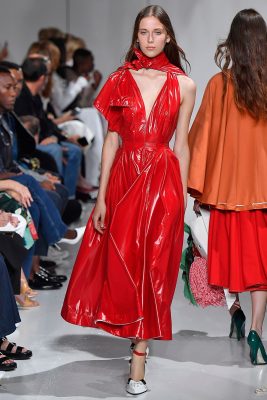 Fringing:
This was a grand and surprise comeback of plastic this season. The famous houses who gave the fringed apparels a new look are, Bottega Veneta and Loewe.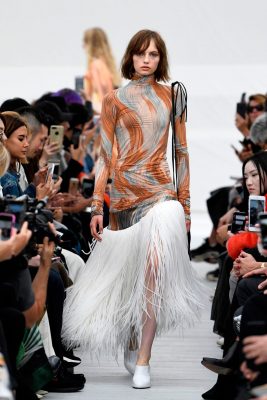 Bold colours:
The vibrant, effervescent bold colours are leaving our tongues wagging this fashion season. We can see the model wearing Christopher Kane. Stella McCartney and Roksanda Ilincic were too the flag-bearers of bold coloured clothing this year.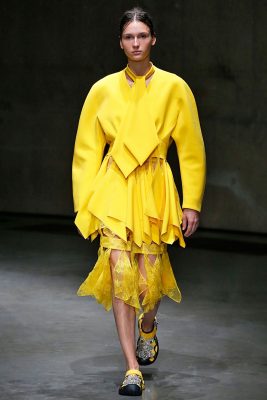 Sheer:
The sheer or transporting trend was held in high regards this fashion season too. There were dresses, cycling shorts and even briefs in sheer material to be seen. This is a Dior dress that the model is wearing.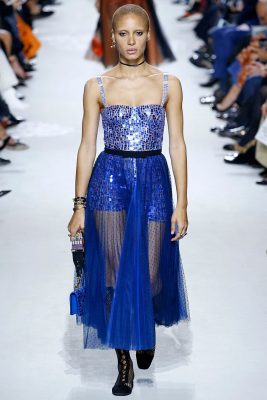 World of Fashion – Then there were Cinderella shoes, multiple bags and ruffled clothing that set the temperature soaring in the fashion runway this year. These trends are pretty feasible for us to try.