Pantsuit Fashion – The history of pantsuits go eons back.
It was introduced in the year 1920s when a small number of women coveted for a masculine style in their dressing.
Pantsuits, back then were accompanied by hats, canes and monocles but it became the staple for working women after the world war 2 as for being the utmost comfort generator.
However, while the pantsuit style was almost going into a sparse, revisiting the history again rendered the designers love-struck and they revamped it to bring forth a revolution in the runway fashion scene with pantsuits. Now, the fashion models walked in the ramps wearing pantsuits sans the hats with the suit unbuttoned and spaghettis peeping out from it looked downright impressive to us fashionistas.
However, breaking free the monochromatic patterns, pantsuits came in pinstrip print too and many celebrities gleefully embraced the style making public appearances wearing Pinstrip pantsuits last fashion season. You may be happy to know that you haven't missed the boat yet to buy a pantsuit because they are still predominant in the fashion scene. Here, we will give you a few insights about varied kinds of pantsuits if you are daring enough to try:
Why pantsuits make for a perfect party look?
There is always a dime a dozen about suits and worse, they sometimes appear yawn-inducing. But then pantsuits can sure be your go-to for a party look in case you are curvy because it hides your problem areas, that is to say, your hips and arms. Not to mention, a chic pantsuit can make you look way smarter and help you others' thunder.
Here under are a few pantsuit looks that you can take a cue from:
Orange pantsuit:
Orange is a color that pops and is distinctly noticed. A dusky complexioned girl can choose a subtle orange pantsuit with a bold lip color for the feminine touch and she will stand out in a crowd. Take note!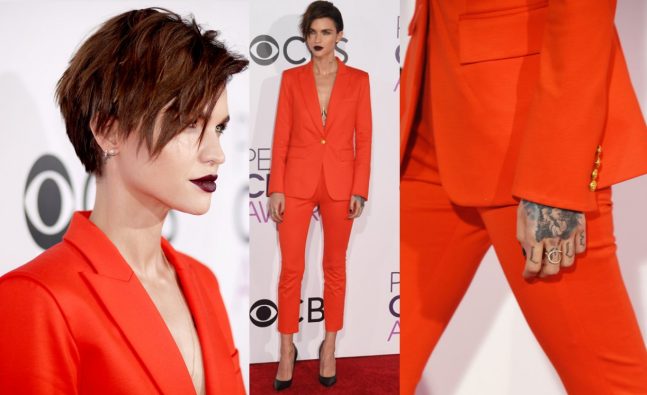 Yellow pantsuit:
It needs a brave heart like Katrina's to rock a yellow pantsuit that effortlessly. Yellow is not everyone's colour, so in case you are opting for yellow to stand out, just seek a second opinion from your bestie. Style tip: keep the accessories simple for a day look.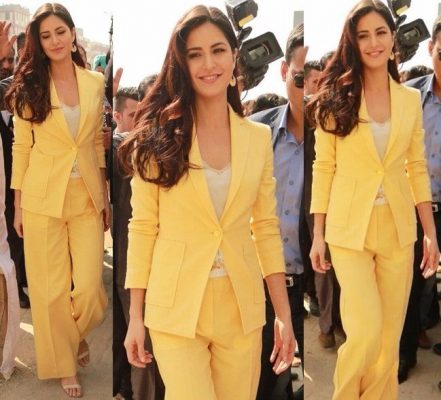 Sky blue pantsuit:
We will give this look two thumbs up because it does the rightful justice to the Indian complexion. Also, we would highly recommend for a sexy tank top underneath to give a new spin to your pantsuit look. Go for it girl!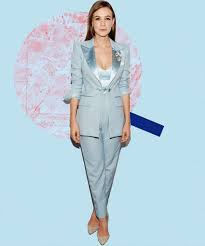 Black pantsuit:
Black is a witchy colour that brings out your dark impulses and covers all your bodily flaws to say the least. This black pantsuit styled with a sweetheart neckline top underneath takes away our breath completely. Style tip: wear chic black pointy toe pumps with this so add femininity.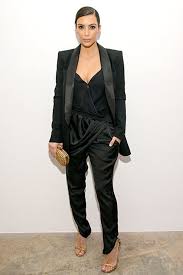 White Pantsuit:
Kareena Kapoor Khan is a royal diva and she leaves us jaw-dropped here in this white pantsuit. This has flared legs which is a fad this fashion season and look at her perfectly smokey eyes! Wins the brownie points. Style tip: don't forget your white pointy toe heels.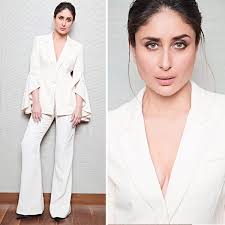 This was Pantsuit fashion – So we really wish you be the unleashed hurricane in the party as you walk into it wearing a classy pantsuit. We hope the above pointers helped you understand pantsuit fashion better.