Microsoft lately aimed for creating a laptop that is a smaller and more affordable version of Microsoft Surface Pro.
They have materialized that dream by creating Microsoft Surface Pro, the new age laptop which is having a huge draw among the buyers. It is not endowed with much new advanced features, but obviously is the handier version of your archaic regular laptop.
You have been lately introduced with small tablets but Surface pro is a new invention on the block which allows you the complete comfort of using a laptop and you are going to love this. Surface pro comes equipped with fully potent operating system unlike the previous half baked operating systems but this one does ship with Windows 10 in S mode. You are not any likely to face any compatibility issues with this Microsoft edge which is the best part of it. This mini surface just works without any technical glitches.
The service is seamless and what attracts the most about surface pro is its user-friendliness.
However, it did not come easy and Microsoft had to do some compromises when creating the Microsoft Surface Go, that is to say a Tablet that is smaller this size. It might lack some potency in the power department so you need not raise the bar of your hope too high. It however, vows to serve all your needs that a regular laptop would do for you ranging from doing your work to watching movies. There have been Surface 3 slated to be launched 3 years ago which somehow fell in mothballs. Surface Pro is the compensation for that and worth the anticipation. In the race of tiny tablet for taskers, Microsoft brought forth the state-of-the-art technology for Microsoft Surface Pro with commendable features.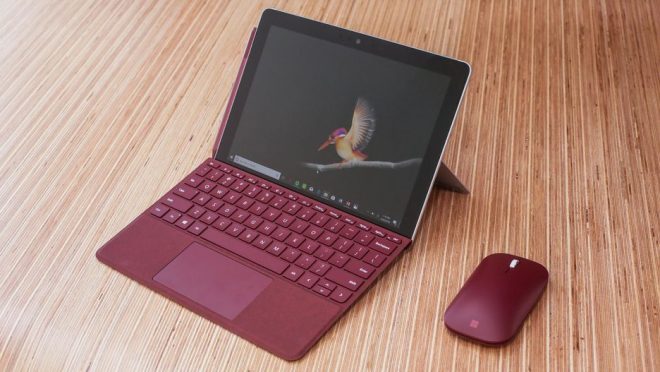 Microsoft Surface Go is easy on your pocket too and already become a fad in the US and UK. However, he biggest rival of Microsoft Surface Go is Apple's iPad which brings you 32 GB of flash storage and 2 GB of memory that is half as much as the starting windows Tablet. The biggest threat that comes from iPad to Surface Pro however is the sharper screen.
There is another player on the block too which is ASUS Transformer Mini which is sinisterly similar device to Microsoft Surface Go that is plaguing the market of Surface Pro, albeit professionally. The model of ASUS gives you 128 GB of storage but it lacks behind somewhere, that is, it hasn't as much a sharper screen as the other two options and it comes with 4GB RAM as its only memory option.
Reason why you should opt for Microsoft Surface Go is that you can toss it in your bag and carry anywhere you like and it runs many everyday PC tasks fairly efficiently. Don't be dissuaded by the limited horsepower but look at the portability and affordability of Microsoft Surface Go which is a revolutionary invention from Microsoft.