Hiralal Samanta is no less than a hero who is known for singing the national anthem every day for last 7 years outside the UP assembly.
Recently, there were many videos circulated around the internet where standing during national anthem was a nationwide debate.
With young teens refusing to stand during national anthem in theatres to people forcing a disabled man to stand during the anthem, National anthem has ignited a lot of controversial talks on the internet.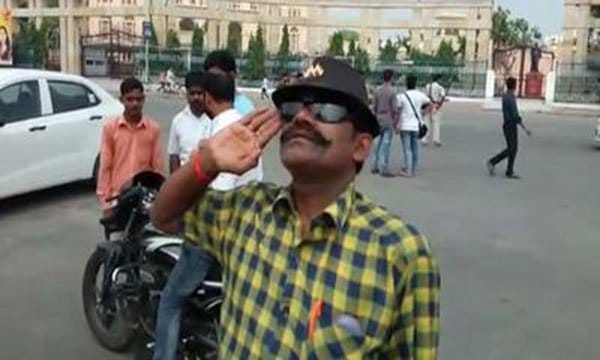 While the nation is busy debating if it is right to play the national anthem in theatres or not, we would like to introduce you Hiralal Samanta, the man who has been singing the national anthem for 7 years. Everyone was shocked to observe the man's love and patriotism for the country.
On research, it was found that Hiralal Samanta is a 49-year-old man from Lucknow who has been singing the Indian National Anthem in front of the Uttar Pradesh assembly. With least regards to the mockery or paying attention to the seriousness of the lookers, Hiralal could not stop showing off his love for the country and the National Anthem. Wearing a fancy hat in his head, Hiralal starts singing 'Jana Gana Mana' without paying attention to others.
Hiralal is proudly known as 'Bengali Baba' by many people in the state. The reports on Times Of India suggest that standing and singing the national anthem in front of the Vidhan Bhawan gate at 9.30 am in the morning has now become a daily routine for Hiralal.
When asked about the reason behind this act of Bengali Baba, Hiralal said that he loves his country very much but the reason behind this act is he wanted to bring back the patriotism back in the youths. Hiralal feels that the teens these days have no or low patriotism towards the country and hence bringing back the country spirit is important.
Here is what he said in a statement, "We should respect the freedom that we received after many difficulties and which cost us the lives of many great men."
Hailing from a small village in Howrah, Hiralal came in search of a job in Lucknow. He is currently working at a hotel in Hazratganj. Hiralal further said that police used to question him every time but after they came to know the reason behind his act; he started gaining appreciation and praises for his work.
Hiralal said, "At first, some police officers got suspicious and asked me why I was doing this. But when they saw me doing it regularly, they appreciated my efforts and supported it by saying 'Bengali Dada accha kaam kar Rahe ho' (you are doing a good job),"
After listening to the reason behind this act of Hiralal, all I can say is we need more people like him! We are inspired by you Mr. Hiralal Samanta. Yes, Bengali Dada Aaap Acha Kaam Kar Rahe Ho!