Wear yellow  – 'Yellow yellow dirty fellow' well, not any longer. Yellow is the little bit of sunshine in your wardrobe and is the most versatile color around.
Most people will fear wearing yellow as it is loud to some extent, but if accessorized smartly, or paired with muted colors, yellow makes you fashionably stand out. Drawing inspiration from the fashion seasons, we have handpicked some easy tricks for you to wear yellow without looking like a sunflower. Read on below:
Add yellow in small doses:
You can throw in a crisp yellow statement neckpiece with your baby pink top to enhance the look. The tiny yellow beads will attract the onlookers attention and make you look chic. Yellow, like its cousin green is the most versatile and playful color which looks flattering with pink. If you like a little bit of color pop, try this look.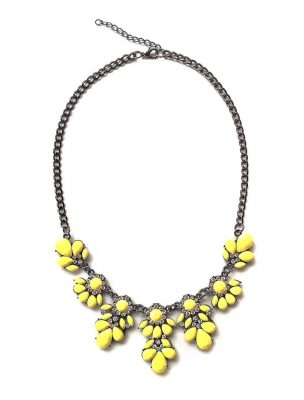 Wear yellow accessories to liven up all things dull:
Take for instance, you are wearing a grey outfit in one of the gloomy winter days, a pinch of yellow will help you not to get lost in crowd. A yellow pair of stilettoes and a yellow neckpiece with a grey attire will beat the gloom in a jiffy.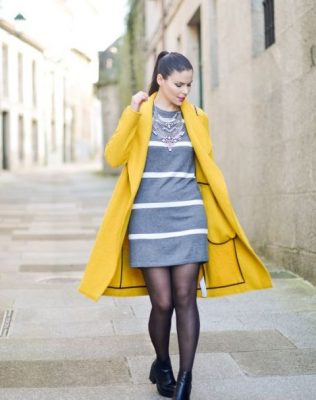 Yellow skirts are cute as a button:
Yellow skirts add the pinch of sass in your outfit. We are particularly prescribing those cute pencil silken skirts that go down well with crisp white bouses or crop tops. Yellow is the most bright and happy color that immediately boosts your mood. If you are a tad brave, you can try teaming up green or purple top with an yellow skirt with strategically minimal accessorizing. You will be sorted for a day hangout look.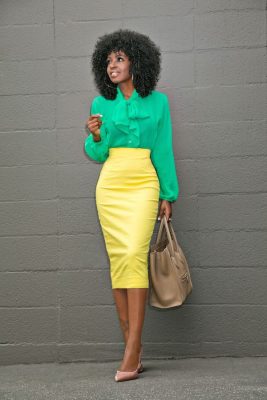 Yellow goes well with neutral colors:
If you are a neutrals girl by heart, yellow is your refuge. You must be wondering why we are saying this. Well, being a neutrals lover, you must have stuffed your wardrobe with neutrals lately but imagine throwing in a yellow cute headscarf with your neutral outfit. Don't you think it will glam things up in a jiffy? you are right.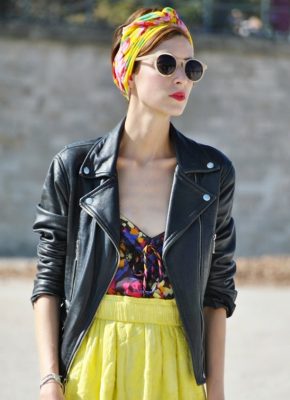 Try out a yellow trench, because why not?
Yellow is a trend-setter's color and if you aspire to be one, you will have to push your boundaries. When it comes to wearing trench coats, only colors like black , tan and grey cross our minds but yellow has its own statement that no one can dare deny. We completely endorse a yellow trench coat with distressed denims with perhaps a white cami underneath. Your guy will have a hard time trying to staring off you.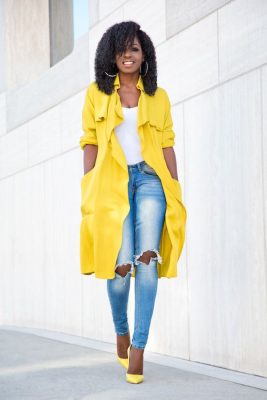 Yellow flared skirt:
When you are wearing a yellow flared skirt, make sure to pair it with a laced yoke blouse which completes the look of the color.

These are the ways to Wear yellow in style – Style your yellow in these ways and you will leave them awe-struck.