Natasha Poonawala – Wondering who is she? well, she is the wife of billionaire businessman Adar Poonawala, who is also the Chief Executive Officer and Executive Director for Serum Institute.
Natasha is an Economics graduate from London School of Economics with a major in Psychology, she has a specialization on Organisational behavior. Natasha and Adar has two children and she is a known face among the elite crowd in Mumbai for her riches, swashbuckling lifestyle and enviable wardrobe to say the least. Natasha's is a wardrobe full of designer wear which proves her fashion sense of highest order. Her wardrobe is a reservoir of zenith designer labels from the renowned designers ranging from Louboutins, Paco Rabane, Dior, Givenchy to Manish Malhotra and Sabyasachi.
The paparazzi are always ready for drawing their meat from the tiniest fiasco from her fashion but they are disappointed every time because Natasha seems to be pretty deft at fashion. She pulls off the designer labels with ultimate sass and we are pretty darn intrigued here.
Natasha has the distinct collection of designer hats which proves that if a girl can never have enough shoes or dresses, she can't have enough hats too. She dons the hat of a true fashionista and brought back the trend of fascinators in the fashion scene and how! The daughter-in-law of the Poonawalas, believes in giving back to the society whatever possible and she is very good at heart too. She is said to be the ultimate foodie who says that there is no dull moment with her husband Adar.
Here are a few choicest of looks that will leave your jaw dropped:
#Look 1:
Natasha Poonawala in her Paco Rabane dress designed by Manish Malhotra which is silver constructed one from Spring 2012, This piece she wore for Lakme Fashion Week 2013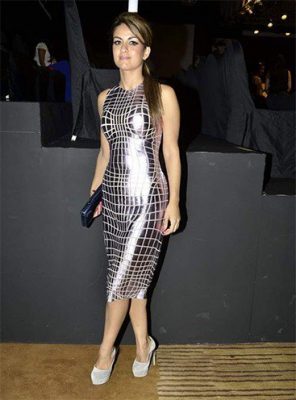 #Look 2:
This look was for the am FAR gala where she was accompanied by her better half. She chose a Dior gown with a clean neckline for this evening. She adorned herself with diamonds and her husband by her side added to her glow.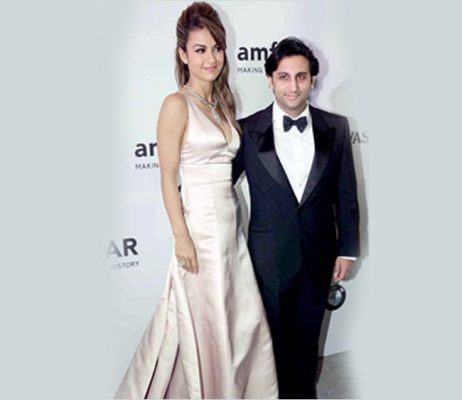 #Look 3:
Natasha Poonawala signature style is her notably distinct and awesome headwear that accentuates her looks. She turned up the heat in the event of MCDowell's Signature Premium Indian Derby, 2014 in a Red sleeveless jumpsuit by Ronald Mauret. What really caught our fancy is that her power accessorizing where she never goes wrong. Where her bag and glasses grabbed eyeballs, her elaborate hat completely stole the show.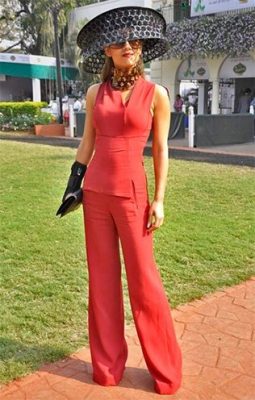 #Look4:
When she went to celebrate Pallavi Jaikishan's completion of 42 years in the fashion industry, she chose to wear a glittering gold Givenchy dress which she teamed up with an elegant pair of black pumps.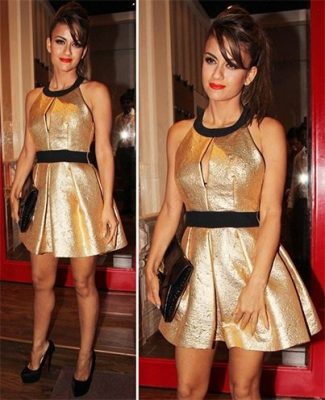 Natasha Poonawala – These looks of Natasha Poonawala left us green eyed completely.