The Santhal tribes are the oldest tribes in Indian forwarded from the Pre Aryan times. The Santhal tribes are still found in few regions of eastern India they are West Bengal, Orissa and Jharkhand.
The concentration of the tribes is found in Jamshedpur, Asansol, West Bengal in the industrial belt and the agricultural zones, whereas in Keonjhar and Balasore, Orissa and a number of parts in Jharkhand, Bihar.
Origin Santhal tribes
Santhals belong to the Austro Asiatic family, while they speak Santhali and Mundali language which is also a part of the Austro Asiatic group. The Santhal are the native of Nepal and few parts of eastern India which are still found residing in the remote parts.
Santhal tribes are also called the ethnic groups of India but found in less population. In Assam apart from agriculture, they can be seen in the tea gardens plucking tea leaves, residing in the nearby villages. They stay in communities or groups occupying a particular land or village but found in a very minor population spread in different parts of eastern part of India.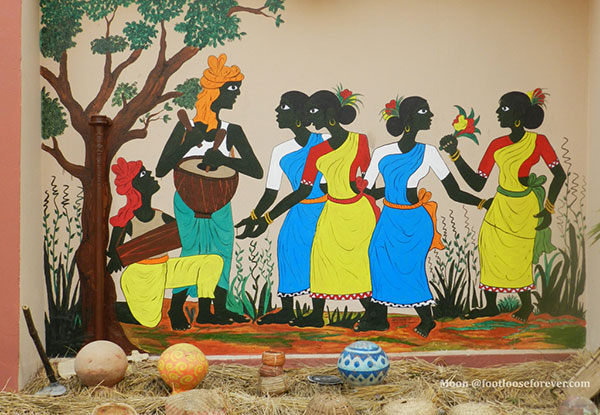 Culture
The ethnic tribal are unique though reduced in a population they still owe their own culture and lifestyle. Music, dance and instruments are entirely distinctive and popular as one of the largest and ancient tribes belonging to India. Santhal dance is performed in a group of girls and boys accompanied by instruments Dhol, Flutes, Pipes and Cymbals.
Admiring their ethnic culture of dance, music is shown in the form painting and arts on the canvas of the painters describing their joy of dance in spring and autumn. Generally, they get married in their community or else they may be punished to get isolated from them, till an extent marriage within the same community has helped the ethnic tribe to survive till today.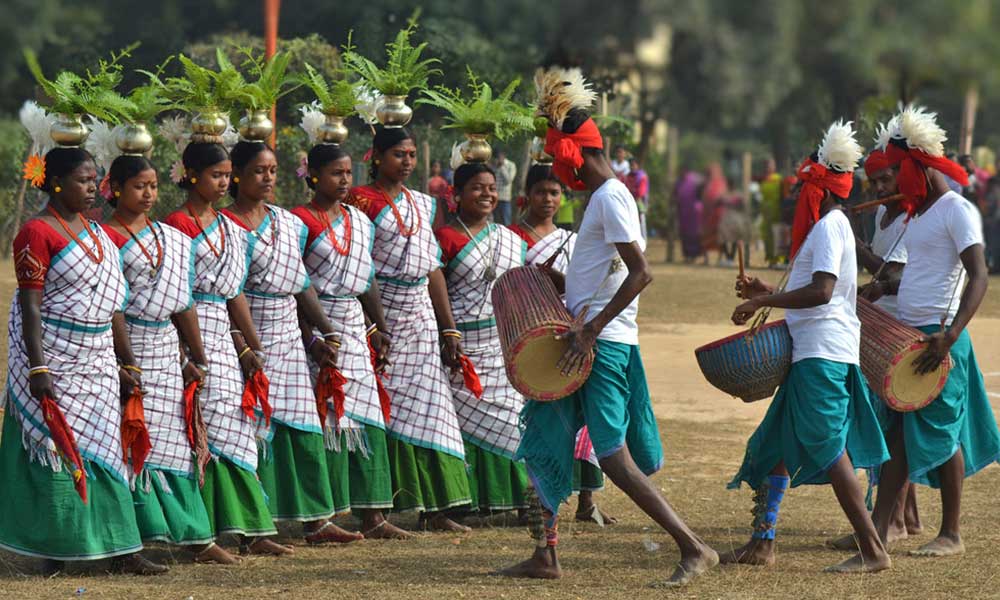 Festivals and rituals
Santhal tribes believe in the worship of the ghost or spirits and God is known as Marangburu and Bonga respectively in West Bengal. Nature is their worship and they do not have any idol to worship God.
They offer their prayer to their lord through music and a dancing during the season of spring and in the autumn, to the religious tree "Sal tree". In few newspapers, Christian books their description of the ethnic tribe and culture has been described.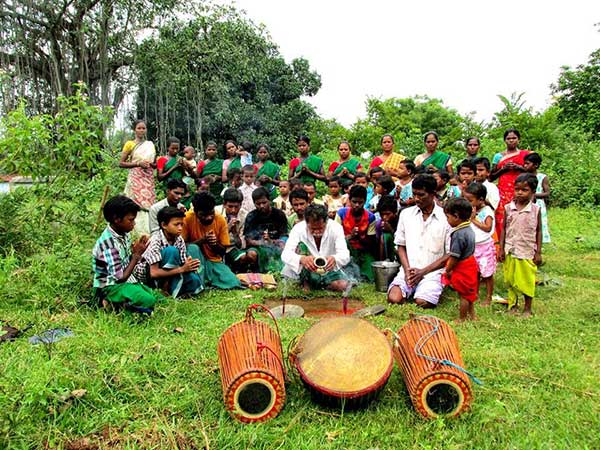 Development of the Ethnic tribe "Santhals"
The villages of the Santhals are provided with schools, hospitals and solar systems also providing fund every year to make development in their living such as building their houses, sanitation and educating them about proper health in free health checkups and informing them about their rights, different scope of living our central government have provided them with seats in schedule tribe for their better development.
Though their living is restricted to forests cutting trees and agriculture, lack of education has made them the most neglected community.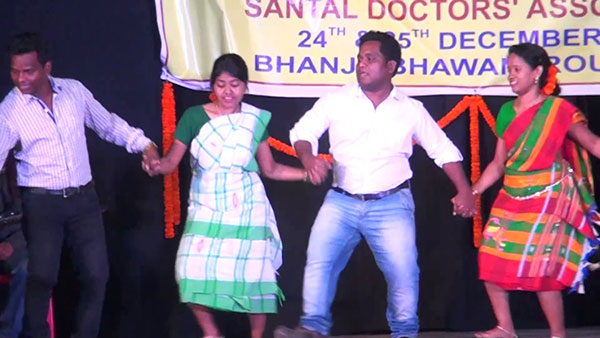 Santhal tribe has limited themselves to their zone unaware of the development, this is because of the financial drawback for higher studies leading to the lack of information and understanding suffering from poverty. Santhals or Pahari known in Jharkhand has their individuality and happiness in spite of lacking behind.