Draupadi has always been on the table and created a lot of buzz for getting married to five Pandavas.
According to the Hindu mythology, Draupadi is one among the female characters who is the daughter of Drupada, the King of Panchala. Vedas narrate that Draupadi has shared some of the secret pearls with Satyabhama, the wife of Lord Krishna, which later revealed the secrets of the happy married life of Draupadi with five husbands.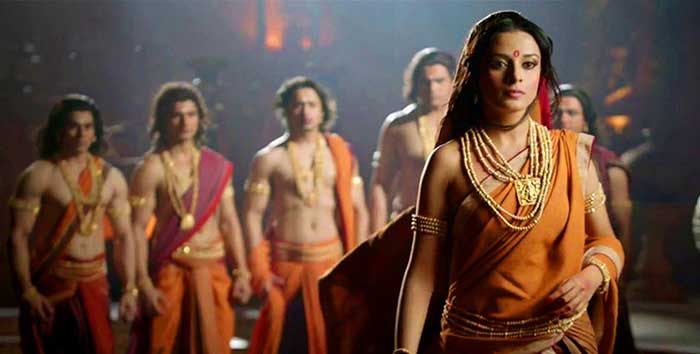 After five Pandavas took part in the swayamvar, Draupadi's marriage has always grabbed a lot of attention in the history. According to the clause in the swayamvar, the one who will perfectly aim at the fish eye by looking at the image in the water below will marry Draupadi. Because Arjun was excellent in archery, he was able to fulfill the clause and got married to her.
After Arjun's perfect aim, he took Draupadi to his mother Kunti along with his brothers. As Arjun's mother was busy with some work, she unknowingly said whatever you have brought, distribute it among the five brothers. This statement shocked everyone but brother of Arjun agreed to accept their mother's decision and decided to marry Draupadi.
One day a Narad Muni met her along with his five husbands to narrate a story from the past. He said that a girl can create differences between two people and this can lead to worst consequences. In order to prevent such situation taking place in their life, he suggested her to make a rule.
Hereafter, a rule was introduced in Draupadi's life where she was allowed to live with each Pandava for a definite period of time. Further sources say that no brother was allowed to enter the room when Draupadi is spending personal time with anyone among them. Any brother going against this order will be punished and will be asked to go to vanvas or exile for 12 years.
Draupadi believed that a woman should never try to control her husband. In fact, she should spend time in learning and adopt the habits of her husband.  She also said that because she was married to five men, she would stay away from bad company or woman as negativity from outside can lead to broken marriage.
She had strong feelings for Arjun but Arjun was extremely angry with his mother's decision. One among the brothers who loved Draupadi a lot was Bhim. He would fulfill all her dreams and can never see her sad. She had one child each from the Pandava brothers.
She also believed that a man must fulfill his wife's desires but at the same time, a wife should not demand unnecessary things from her husband. Wrong or forceful demands can lead to problems in the marriage.
Once Satyabhama asked Draupadi that how she manages to keep all brothers happy? Draupadi said, "I just serve them all with the purity and by keeping anger, lust, and ego away from me. I don't even take bath before them."
Despite being married to five men, Draupadi is considered to be a pure soul. She was pure from her body and soul.