Tallest Durga – Home is not only a physical construct, it's beyond the walls, cutting across the state, caste, creed and religious barriers.
And especially in this time of year when the nation is soaked in resplendent festive hues, one yearns for going back to his ethnic root. There are people who are stuck in another city for work and they make do with whatever celebrations are up for grabs.
Then, unknowingly the only beacon of hope, the city becomes his home.
Guwahati is such a city which perpetuates the Durgapuja celebrations in Kolkata with pomp and grandeur and we will discuss here about the Bamboo Tallest Durga idol that was built by a Muslim man which took the internet by storm.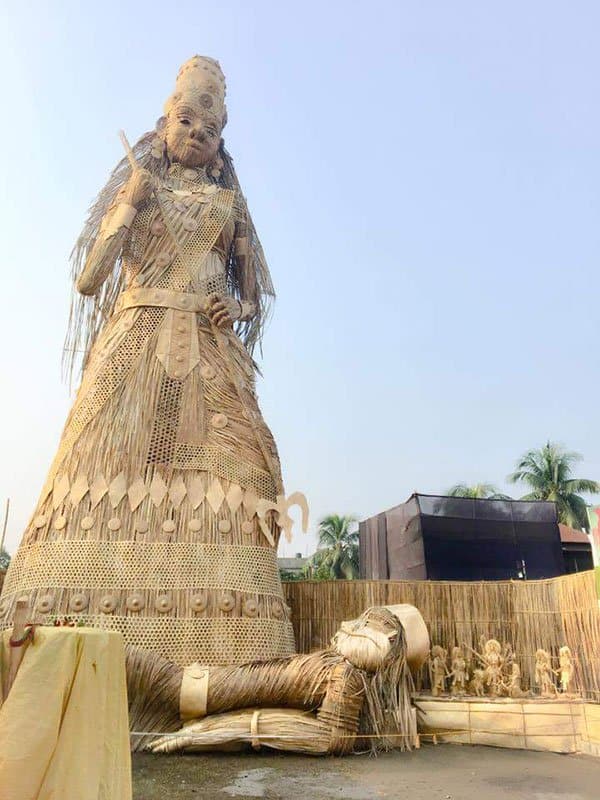 Guwahati is its own competition when it comes to tendering surprises. It outdoes itself in every year and the efforts are painstakingly perfect. This year, Guwahati has raised a 100 feet sculpture Goddess Durga with Mahisashur begging mercy on her feet. Bamboo is considerably the most eco-friendly material to build an idol and Guwahati is the second to make the cut after Kolkata.
The Deccan Chronicle was first to break the news who reported that the Tallest Durga idol is made by Bishnupur Durgapuja committee near Sarabhatti, under the surveillance of art director Nuruddin Ahmad flanked by 40 artisans.
To hear directly from the horse's mouth, we have laid down a very inspirational statement given by Nuruddin Ahmed:
"Many people ask me why I make such idols as I am a Muslim, but I want to tell that I have been doing this work since 1975. I always think that an artist has no religion and his duty is to serve humanity".
There were as many as 5000 Bamboo poles of varied kinds have been used to raise the sculpture. It was almost shattered after a storm got Guwahati crippled a few days back and was re-modified.