We do drag face-off between Kapil Sharma's Shakku dadi and Sunil Grover's Gutthi. Who won? Read on!
Indian TV's one of the most popular shows right now, Comedy Nights With Kapil, has been in the news lately for all the wrong reasons. The show's arguably the most famous charcter 'Gutthi' was written off the script following a tiff between Sunil Grover (aka Gutthi) and the production team. In order to keep the momentum of the show going, Kapil Sharma (the host of the show) decided to pull off a drag act, which has not amused his audience. We do a face-off between his dadi and Sunil's Gutthi. Take a look.
Costume:
Kapil's Shakuntala dadi was seen in a 'put together in the last minute' kinda dress that really didn't make us sit up and take notice. May be it was added on to the script at the last minute or the makers didn't have the budget for it, whatever the reason, the costume wasn't appealing at all! On the other hand, Gutthi always turned up in the zingiest and most colourful Punjabi Patialas, aptly complemented by her accessories and hairdo. The drag act is as much about the dialogues as much it's about the body language and costume.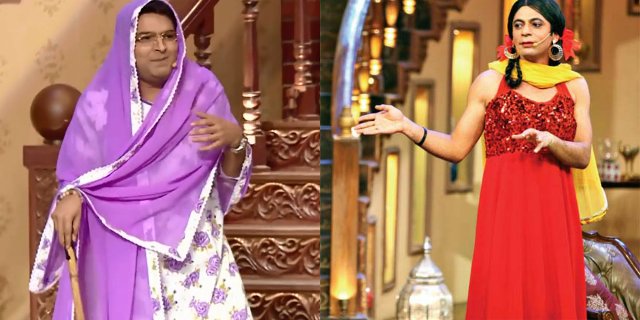 Acting:
Call us biased, but nobody can perfect the drag act better than Gutthi. Sunil is a natural who doesn't make a caricature out of his character, which is quite a feat to pull off! Kapil, meanwhile, is a decent actor and a spontaneous guy, but his dadi lacked punch. She was rather blah for a guy who has singlehandedly made the show a humongous hit.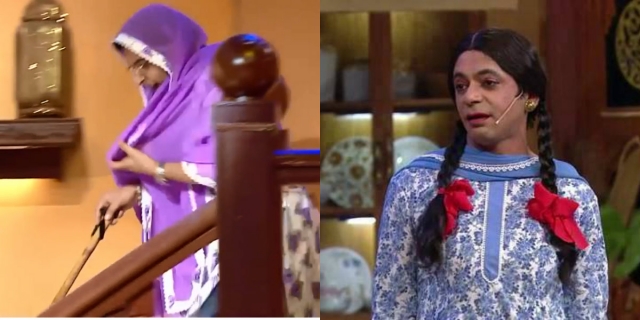 Connect :
Since it was dadi's first outing (the character was introduced as the original dadi's mom-in-law, who is revealed to be Bitto, later in the scene), there was hardly any connect with the audience. She did not have any punch lines or mannerisms that instantly made us clap for her. Sunil's Gutthi is one of the most sought after women on TV. Her mannerisms, body language and punch lines are a huge hit with us. Anybody who has watched the show will go back for Gutthi.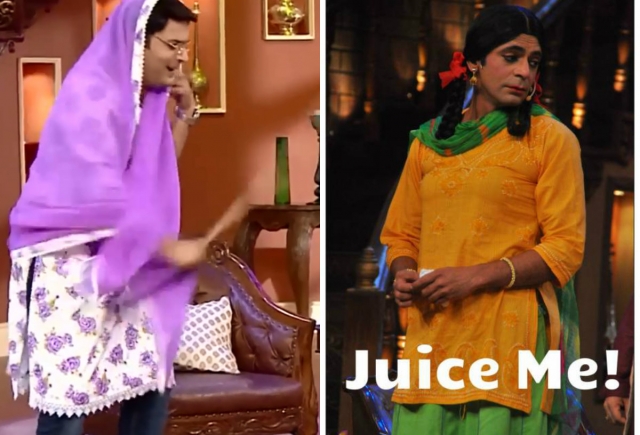 Masala factor:
Gutthi's impromptu 'gidda' dance or her high pitched singing, she had enough tricks her sleeves to pepper the show with masala factor. Kapil's last minute act lacked tadka and was rather lukewarm for our taste.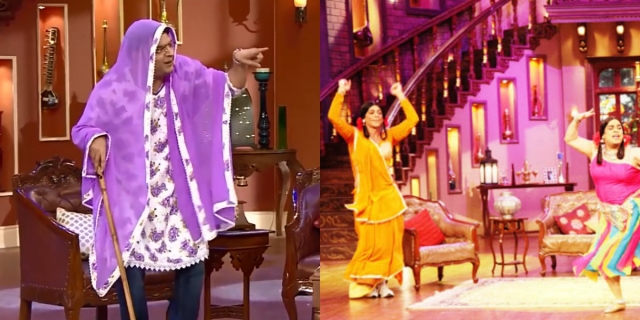 Verdict:
It's clear from our above argument that Gutthi is a better drag, who should definitely come back on the show. Kapil may be a talented man with witty liners at his disposal, but he needs Sunil's Gutthi to give the show the much needed push. What do you guys feel? Do tell us in the comments section below.