Among the many lovey-dovey couples in Bollywood, Deepika and Ranveer Singh deserves a special mention for their rock solid relationship.
Their successful relationship gives testimony to their strong friendship as well. Ranveer Singh wins hands down for being the most devoted and pampering boyfriend of tinsel town who leaves no opportune moment to flaunt his love of life like a badge of pride. In an award ceremony, a picture of Ranveer dearly kissing deepika on her cheeks went viral and that made our hearts aflutter. Ranveer and Deepika found love in each other after going through a series of relationships and their is for keeps.
Previously Ranveer Singh dated Anushka Sharma who is now married to Virat Kohli and Deepika allegedly dated Yuvraj Singh, Ranbir Kapoor which whom things went pretty mushy, then Siddharth Malya, the son of business tycoon Siddharth Malya which was much hyped but short-lived.
Grapevine has it, Deepika and Ranveer Singh are likely to marry at the end of this year and we can't keep calm because another Sabyasachi bride, after Anushka is prepping up to take our breath away. Deepika and Ranveer, apart from the real life, shares a sizzling chemistry in the reel life too. Some of their hit films are Bajirao Mastani, Raam Leela and recently Padmavat where they shared screen space. No wonder the couple had struck to the gossip columns for long time.
Deepika and Ranveer Singh have often found to be cozying up with one another in various Bollywood parties.
They both seem to be head over heels with someone and their off scream chemistry says that loud and clear. The key attribute of their relationship was that they never shied away from praising each other in public. Back in 2013, Ranveer Singh was afflicted with Dengue and he was admitted to hospital for 2 years. Later, upon asking, the quick-witted actor answered that he was down with Loveria after being love-struck for Deepika. Later, when DNA interviewed him on his love life, he said It's good. It's rocking. I love being in love.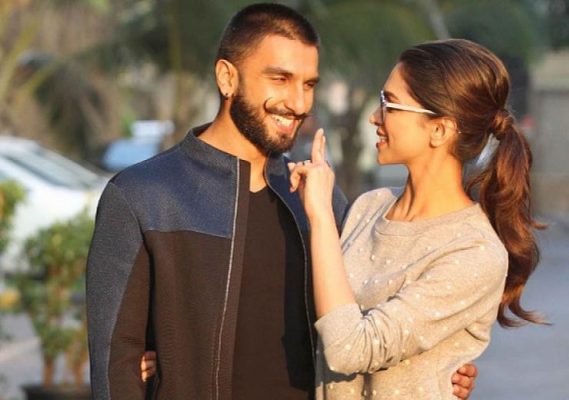 It's the best feeling in the world.
I have never felt like this before." While the media pestered Deepika to make a comment on this, the merest mention of Ranveer left her crimson and she collected herself to reply " No, it's amazing, the way he is. He is so unique. And I think what I admire about him is that he is so unapologetic about the way he is."
So, the love birds are never tired of gushing over each other. But what they did recently was beyond cute, Ranveer Singh, the sultry looking hero and Deepika's boyfriend posted a steamingly hot picture in his Instagram handle under which Deepika posted comment that could melt an iceberg, she asked Ranveer to stop looking so hot followed by some emojis to which Ranveer lovingly replied she should too. Ahem ahem!