Actor Ranbir Kapoor, after his series of affair has finally lost his heart to Alia Bhatt and this couple is making quite a buzz in the B-town.
Not to mention, they have received side eyes too but the best kind of fairytales are that of your own.
Actor Ranbir Kapoor, like his signature assertive self, has always been open and clear about the relationship while Alia Bhatt has so far kept mum about it. Their joint appearances in dinner dates and gatherings set the gossip mills churning and on being asked about their rumoured relationship, Ranbir himself spilled the beans and said he and Alia, who are also 'Bramhashtra' co-stars, are in a relationship beyond the reel life.
However, while answering a question asked by a media portal, Ranbir said the relationship is still in its nascent and he is not yet comfortable to talk about it.
It has also been reported lately that Alia has been bonding with Ranbir's family more quite a lot and they seem to be really fond of her too. Ranbir is intrinsically a caring boyfriend which he has proved earlier too but a new video that has gone viral stands testimony to the fact the he is perhaps a little over-caring about Alia. Alia too, on the other side seems pretty smitten by the acting skills of her beau Actor Ranbir Kapoor who openly praised him for his marvellous performance in the film 'Sanju'.
However, in the recent video you could see Ranbir's caring nature for Alia from a close where he addresses Alia to join him back in the car.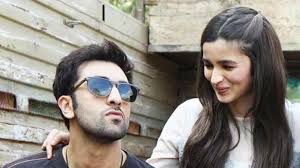 This video where Actor Ranbir Kapoor is asking Alia to drop off melted our hearts like an ice-cream. Recently, when Alia was asked about her personal life in an interview, she admitted to taking her life decisions randomly at the time when people had least expected it. Alia further said that people might expect her to get married at 30 but she might surprise herself by getting married before that.
In a recent Twitter chat, when Alia Bhatt was asked by a fan about her marriage plans, she said 'soon hopefully' which only leaves us guessing if wedding bells are tolling for Ranbir and Alia. On the work front, Ranbir and Alia will be coming together on the screen for the first time ever as co-stars in the film 'Bramhashtra' which also stars the likes of Amitabh Bachhan and Mouni Roy. The film is slated to hit the screens on August 15, 2019. 'Bramhashtra' will be directed by Ayan Mukherjee.