Don't throw away your old jeans, just turn it around into a new one within no expense!
We all know how difficult it is to keep up with the college trends. More so when you don't have the budget to spend on clothes frequently. We can empathize with your dilemma of figuring out what to wear for those Friday when your friends make an impromptu plan or those back-to-back parties where you run out of clothes. So, here are the ways you can turn your used denims into trendy hot pants or just change the way they looked within 200 bucks.
1)  Pick-a-pocket: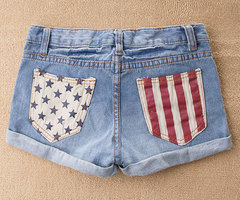 Add some colour and funk to your old denims by ripping the back pockets and stitching back colourful and printed cloth on it.