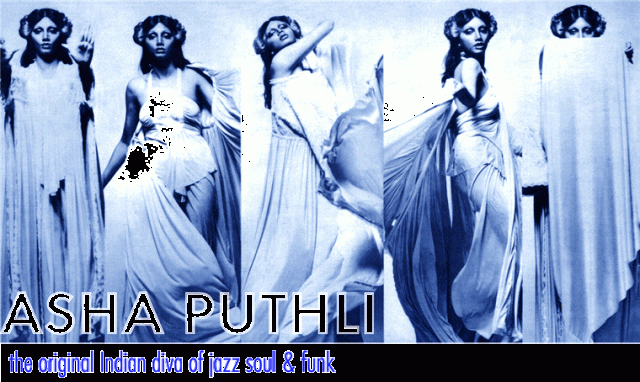 On one of my usual page hopping excursions on Youtube, I somehow landed up on Usha Uthup's rendition of Fever, the song made popular by the great Peggy Lee. Honestly, I was quite amazed by what I had just discovered- Usha Uthup singing jazz! A few links later, I began listening to songs by an artist whom I knew nothing about until then- Asha Puthli. A track among many in a playlist of songs from the incredible jazz age in Bombay in the sixties and seventies, Puthli's Space Talk easily stood out as an incredibly original voice.
Immediately struck by the incredible range and unusual voice texture, through Puthli the entire history of the jazz age in India and abroad began to unfold before me. Born and raised in Bombay, Puthli trained in both Indian classical and Western Opera styles but began to take a far keener interest in Western popular music, which was essentially jazz and the blues. On the radio, and at the bars in Bombay jazz was what defined the age musically. In an lovely article in Upper Crust, Stanley Pinto, a nightclub pianist describes Bombay in the sixties when countless restaurants, bars, cafes and hotels opened their doors up to jazz musicians from all over the world.
"The Dorothy Jones Quartet played at Berry's on Churchgate Street. Across Berry's was the original Gaylord restaurant. The band there was led by Ken Cumine, India's only jazz violinist. The Other Room at the Ambassador hotel was India's most reputed jazz agglomeration and The Tony Pinto Quartet, was in residence there. Just across from the Eros cinema, was the Astoria hotel with its famous Venice restaurant. Famous because this was the jazz musicians' jazz hideout. Across the road at the Ritz hotel was The Little Hut. Neville Thomas, one of the most dashing men around town, led a group called Three Guys and a Doll. From that spot, it was a brisk walk past Flora Fountain, where, plumb opposite Akbarally's, were Bistro and Volga, the two most popular haunts of the younger set. Seby Dias held court at Bistro. At Volga next door Hecke Kingdom's Quartet held sway," he writes.
Having grown up in a Bombay seeped in the jazz music tradition, and listening to artists like Ella Fitzgerald, Nat King Cole, as well as soul singer Dusty Springfield on the radio particularly Voice of America broadcasts, Puthli became interested in the kind of music being made in the West. She began singing at local gatherings and nightclubs where she experimented with jazz and soul, fusing Indian and Western styles. One such performance at a nightclub apparently impressed writer and columnist for The New Yorker- Ved Mehta so much that he included an article on a younger singer hell bent on making it as a jazz singer in the West, in his book Portrait of India.
"Asha started in the mid sixties in India. Her first release was singing for The Savages. The song was called Pain and Puthli sings scat which is wordless vocals on the track. Her second release was with a Singapore based band called The Surfers. They covered songs such as Angel Of The Morning, Sounds Of Silence, Sunny and Fever," said Joseph Clement Pereira, who runs the hugely popular Facebook page called India Sixties and Beyond Music.
Eventually Puthli used a dance scholarship with Martha Graham as an opportunity to move to the US and finally sing some 'real jazz'. Interestingly, it was Columbia records records producer John Hammond who had previously charted the success of artists like Bob Dylan, Bruce Springsteen and Billie Holiday, offered her a chance to sing with jazz wizard Ornette Coleman on his album Science Fiction.
Historian Robert Palmer couldn't help but rave about Asha's voice on that album so, "A sound like Raga meeting Aretha Franklin, Miss Puthli's singing is equally extraordinary. There is just enough Indian training left in her style to give it an indescribable fluid quality. Her alternation of timbre from the breathiest of sighs to gospel derived moans is unique. She improvises off an impressive range and generally walks through the album with the assurance of a master performer."
For her songs on the album Puthli also won the award for best female jazz vocalist in Downbeat Magazine's annual jazz critics' poll. In this phase of her career, Puthli also acted in films such as Merchant Ivory's Savages where she appeared fully naked. Having exhausted the scope offered by the avant garde jazz scene in the US, Puthli then made her way to Europe where she found the kind of popularity and adoration she deserved. "She could not break into the mainstream in the US because of this prejudice against Asian singers particularly of Indian origin. She did however become big in Europe where she had hits in several countries. She recorded in Munich and was said to have had a great deal to do with fashioning a new style of singing soul, much like Donna Summer would a few years later," said Pereira.
Over the years she recorded several solo albums such as Asha Puthli (1973), The Devil is Loose (1976), 1001 Nights of Love (1980), Only the Headaches Remain (1982) etc where she experimented with genres such as psychedelic rock, soul, jazz, pop and disco. The Devil is Loose was perhaps her most popular and successful album gathering a wide spectrum of critical acclaim. Thom Jurek of AllMusic writes about the album, "a masterpiece of snakey, spaced-out soul and pre-mainstream disco" which definitely went a long way in establishing Puthli as a pioneer when it came to experimenting with genres and creating new sounds.
Asha Puthli's songs continue to be fascinating and inspiring for the way she was able to add her own sensual, whispery, ad-libbing innovative style to various kinds of music. Case in point, her cover of the Beatles classic, I Dig Love where she completely alters the feel and expression of the song with her naughty vocals. "The way the Beatles saw it was as a spiritual song. They did it like a bhajan. In 1973, when I did it, I felt I was already Indian, and the spirituality was inside me. I was trying to become Western, so I brought out the material aspect, the sexual aspect," she told Jon Pareles in an interview for the The New York Times.
Her song Space Talk has been sampled by several contemporary artists like P.Diddy, The Notorious B.I.G., Dilated Peoples, Governor featuring 50 Cent, and Redman. Asha Puthli's last album Lost was released in 2008.