Anurag Kashyap and his equation with media is known to everyone.
He has always been at loggerheads with the media and well we don't entirely blame him.
His mood and temperament is known to all and well he definitely can portray the young angry man character some day.
What happens when he posted Instagram photo of him being in a brawl with an MMA fighter?
Well our media publication picked that news quickly and without any confirmation carried those news.
It all started with this picture which Anurag Shared on his Instagram account.
He posted two pictures, take a look…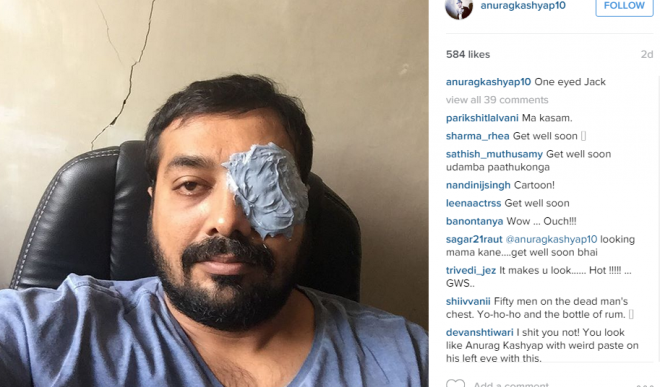 And this…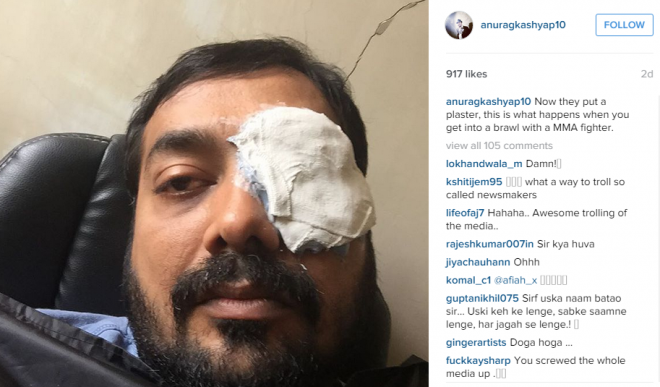 And it spread like fire. And some publications carried the news stating – 'Anurag Kashyap injured by punch of MMA fighter' Ouch
Anurag Kashyap just wanted to prove a point that media makes anything into news and he definitely won the bet.
He later shared…
one Instagram picture of prosthetics test for the eye, with a random line, becomes news without crosschecking. point proven, won the bet

— Anurag Kashyap (@anuragkashyap72) August 25, 2015
And this..
Indian media fail #34909138 pic.twitter.com/pls8W99EYS

— Mihir Fadnavis (@mihirfadnavis) August 25, 2015
He made a point out loud, what do you think about this?
Clearly he wasn't caught in any brawl and it was just an experiment.
What do you think about this act by Anurag?
Clearly he made all of us question- Are we going right with the way we publish news?
Media is the most powerful thing in the entire world and we must respect that, don't we?
What to say Mr Kashyap? We can just say- Well played 😉
Looks like media need to be aware even if publishes news that comes straight from the horse's mouth!
A lesson well taught Anurag Kashyap!