Madhuri Dixit And Aamir Khan –
Madhuri Dixit once ran behind Aamir Khan with a hockey stick. Shocking, isn't it?
There are not many people you actually know about this. You might be the one who also had no idea about this Madhuri-Aamir hockey stick fact. But anyways, today you will get to know the truth behind the entire story.
So, are you wondering "What made her do that?" Well, Once Madhuri Dixit revealed that she took the hockey stick and ran behind Aamir because he played a prank on her, and it was the naughtiest thing ever.
Now, what prank was that? Let's begin – It all happened on the sets of "DIL", when Aamir played his ridiculous prank on Madhuri. Aamir Khan actually told Madhuri that he is clever in predicting future by reading palm. So Madhuri did what he said and in the midst of all this, all of a sudden Aamir spat on Madhuri's palm.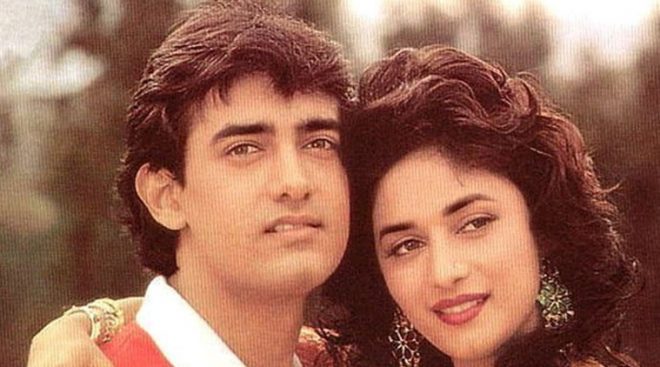 Ewwww, how gross is that, isn't it?
He even told her first that someone is going to make you fool now, and he suddenly spat on her palm. This obviously disgusted Madhuri Dixit and she was so unhappy and angered that she took a hockey stick and ran behind Aamir to hit him for the ridiculous thing he did.
This incident might sound cute now, but it was not cute when it happened with Madhuri Dixit Nene.
I mean, seriously, can you imagine someone doing that with you? It's so annoying and unacceptable.
Well, Aamir Khan is an expert in playing such pranks as Madhuri is not the only one who went through this situation because there are other actresses too. The actresses who went through this prank include Preity Zinta and Juhi Chawla.
When people ask him about his ridiculous habit, he says "Whosoever has had the privilege of being spat on by him has turned out to become the No 1 heroine of time."
This was all about Madhuri Dixit and Aamir Khan – What do you have to say about Aamir Khan's behavior?