These two star kids are not just madly in love with each other, but they're even going on movie dates and enjoying their time together. Despite no dating policy, these star-kids don't give a damn about whatever others have to say about their relationship.Don't brainstorm too much, because these two star kids are Jhanvi Kapoor and Ishaan Khattar.
They, Jhanvi Kapoor and Ishaan Khattar, both are actually rumored to be dating each other.As reported earlier, it was said that Shahid Kapoor is not happy about Ishaan's behavior and he even suggested him to stay away from all this.
Shahid made it clear that he must strictly keep his love-life away from the media. But like we all can see, it seems Ishaan doesn't care about his brother's advice at all.
Recently, he was seen hanging out with his rumored GF Jhanvi Kapoor, Sridevi, and Boney Kapoor's darling daughter.
They both were seen together at the screening of Baywatch in Mumbai. For a reminder, this is not the first time we saw Jhanvi and Ishaan together. One has to admit that they both look good with each other.
Ishaan has already completed his shooting for an upcoming movie "Beyond The Clouds". On the other hand, Jhanvi Kapoor's debut movie has not been announced yet.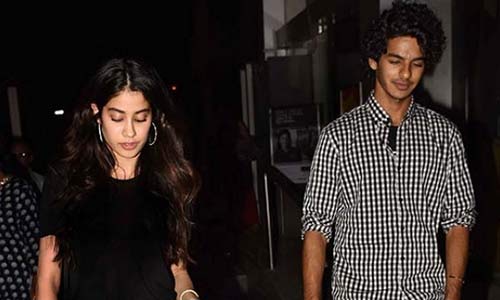 But it is been said that she will be launched by Karan Johar.
In future, it seems that we can get an opportunity to see them acting together in movies. Aren't you excited? I know you are.
Apart from Jhanvi and Ishaan, Saif Ali Khan's daughter Sara Ali Khan and Anil Kapoor's son Harshvardhan Kapoor are also rumored to be the new star-kid couple in the Bollywood industry.
Are you excited to know what happens next?