Diljit Dosanjh private jet – Buying super expensive property, luxury cars and even private jets are like an everyday affair for the Richie Riches of our nation.
Buying a private jet is like the ultimate sign of affluence.
After the Ambanis and Birlas, and a few Bollywood filmstars, the recent addition to the list is the famous Punjabi actor-cum-singer, Diljit Dosanjh. After being the regional hero in Punjab, Diljit shot to fame nationwide with his brilliant acting in Shahid Kapoor, Alia Bhatt starrer, "Udta Punjab" and the most recent "Phillauri", starring Anushka Sharma opposite Diljit.
Diljit Dosanjh himself posted two or three pics of his private jet on Twitter.
Diljit Dosanjh private jet – On one photo he commented, "New beginning starts with Private jet".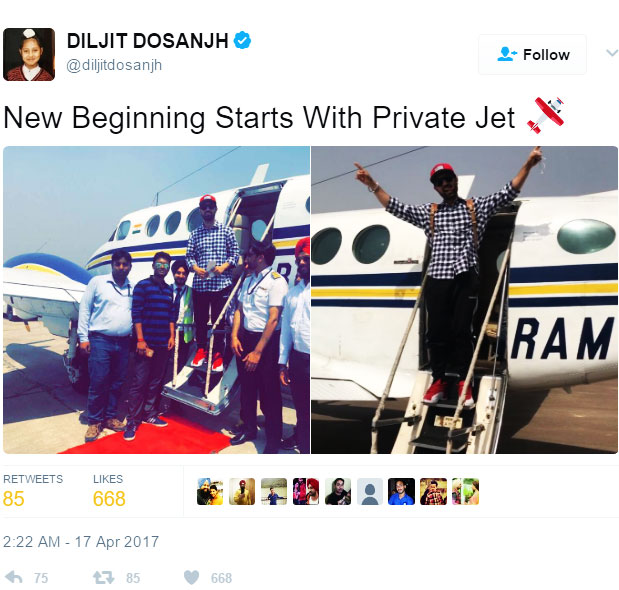 And on another he said, "thug life, jet life".
The news about the Diljit Dosanjh private jet was not made absolutely clear by him but Twitteratti has been nuts ever since. It is being guessed that it is his Private jet as he has his generic life motto printed on the jet. Well, that sure looks like his signature style, doesn't it?
If you are a fan, you must be knowing very well that the lucky chap is all set to leave on his Dream Tour.
Well, looks like he has all the flight timing-lapses covered and wishes to spend more time in touring his favourite places than wait at the airport for the flight to arrive. Even on tour, he is leaving a part of his talent wherever he is going. His Dream Tour starts with him performing at Vancouver on May 6  Edmonton on May 13, Winnipeg on May 17 and lastly, Toronto on May 22.
Diljit even posted a video on Twitter with the pilot and the co-pilot in the background.
He is currently awaiting release of a Punjabi Super hero film called "Super Singh". He has won the Filmfare Award Best Debutante Male for "Udta Punjab". The shows that re up his sleeve now will surely pay back the cost of his private jet plane.
However, many people are of the opinion that it is rented for his Dream Tour. But then again, you do not have your signature motto painted on a rented jet, do you?!