Condom Controversy – There are two things trending in India right now 1) Navratri 2) Sunny Leone.
Oh! I mean Sunny Leone's controversial condom ad which has created buzz on the internet. People are not at-all happy because the actress did a big mistake. Yes, Sunny did a big mistake and some Indians are very, very angry.
So, what's her mistake, you ask? Take a look at this hoarding.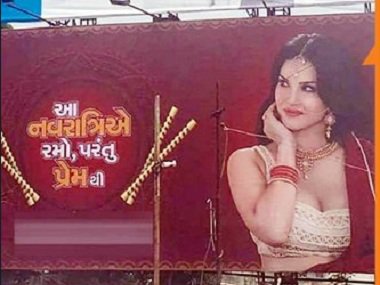 Such a crime, isn't it? During Navratri, Sunny Leone is talking about SEX. For those who are wondering about the message on this billboard, it's written "Aa Navratri a ramo, parantu premthi" – Play but with love, this Navratri.
The word "SEX" is not mentioned here, but yes, we all know about the message that it's delivering, right? Oh sorry, some of us still don't know the message that it's delivering. To explain it in simple words, it says that "In this Navratri, enjoy a SAFE SEX." Honestly, there's nothing wrong about it. It is a message that was rightly delivered without using the word SEX. But still, it OFFENDED people because there's Sunny Leone on the poster.
Yes, more than "SAFE SEX", Sunny Leone is the problem.
Like seriously? Sunny Leone? Yes.
A city-based group protested against the advertisement posters and demanded that it should be removed as soon as possible. Why? Because maybe, In Navratri's people don't enjoy SEX. Yeah, I know that it's wrong but who can explain those who are completely unaware about the truth or who are only furious because Sunny Leone is promoting something like this publicly with Dandias around her and oh yes, she's also showing her skin.
In all this mess, there are two things to be noticed and i.e. is it SEX DURING NAVRATRI or IS IT SUNNY LEONE OPENLY TAKING ABOUT SAFE-SEX?
Because IF it's the 1st one, then it needs to be said that this condom ad pointed out the truth. Sex activities during Navratri is common and yes, Condom sales increases by 25-50% during Navratri-Garba in Gujarat. Secondly, back in 90's, Gujarat saw a rise in the number of abortions two months after Navratri.
Condom Controversy: Here's something that shouldn't be ignored- Risky Sex.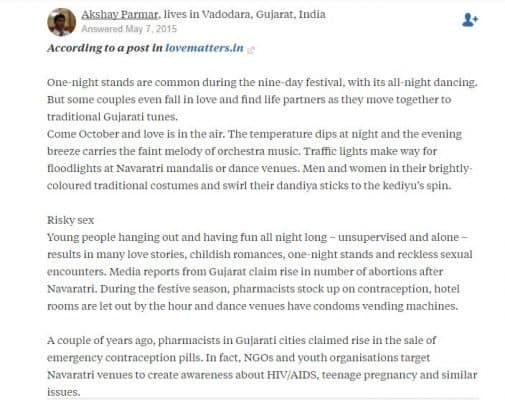 It clearly states that during Navratri's, people indulge into sex. Condom ad's motto was that people will see this ad and they'll enjoy sex, SAFELY by using condoms so that abortions and pregnancy doesn't create problem.
So why all this mess? Honestly, it is an ad that was needed to be shown to create awareness but it seems some Indians took it to another level. There was clearly no intention to malign Navratri Festival but somehow, some Indians went FURIOUS.
Now, it's clear that Sunny Leone is on the poster but it is really NOT FAIR to blame her. I mean, she's doing her job and the message isn't really bad. Sunny Leone has undoubtedly become a problem and some people are always ready to troll her. She's a porn star, she adopted a child so she's shameful etc, etc the list goes on and on. The question is, why is she targeted? Just because she's a brand ambassador? Okay, but she's talking about "SAFE SEX" then why is it receiving so much hate?
In this case, what is the problem – SEX? CONDOM? Or SUNNY LEONE? Honestly, this hoarding advertising SAFE SEX shouldn't be on Fire because according to all the past reports, it is delivering a message that was supposed to be told. Other than that, Sunny Leone doesn't deserve so much because yes, she earned money but she's not wrong to advertise about condom that only talks about "Have sex but play with love and obviously, SAFETY."
(Image Source: Scoopwhoop)
Condom Controversy- This was all about the Condom Controversial ad.