The song 'Piddly' from the upcoming movie 'Shamitabh' grabbed a lot of attention for the unconventional choice of the shoot location.
The song 'Piddly' from the upcoming movie 'Shamitabh' grabbed a lot of attention for the unconventional choice of the shoot location.
Amitabh Bachchan is seen singing the song sitting on a commode.
Now the recent reports of the new romantic song shot in the loos of Lapland from the same film is doing the rounds.
Well it is not the first time Balki has experimented with the scenic emotion and the location. Contrasting locations had been an interesting theme of his previous movies also.
For example the 'saath phera' (7 circles as per the Hindu marriage ritual) was shot in a hospital in the movie 'Paa'.
I mean who would have ever imagined doing this scene in a hospital?
Bizarre location but perfectly blending with the emotion of the scene.
The plot had Vidya Balan and Abhishek Bachchan playing parents of Amitabh Bachchan. Amitabh is shown to be suffering from progeria and hence was in the hospital.
He sees his parents fighting and starts yelling. With his yelling they get concerned and he uses this situation to unite them. He asks them to hold hands and go round and round similar to the 'saath phera' tradition.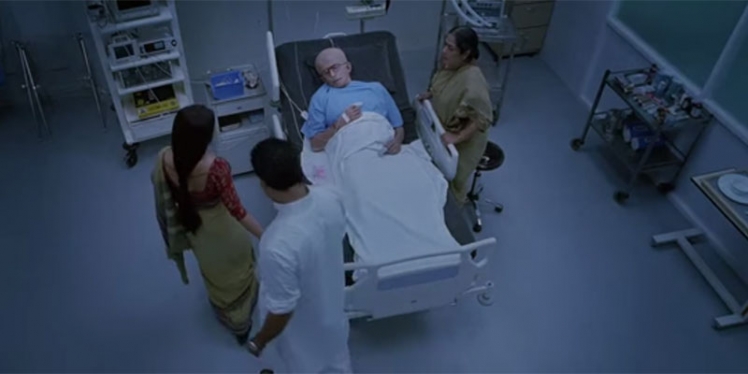 They hold hands and go around the bed and the grandmother chants mantras.
This kind of a 'saath phera' was the most unusual and unique way of depicting the marriage ritual.
Birthday celebrations in restaurants are not very uncommon. But R. Balki in the movie 'Cheeni Kum' had used a unique location inside a restaurant. As Amitabh plays a chef in the movie, his birthday celebration happens inside the kitchen of the restaurant.
The choice of locations in Balki's films are very experimental.
Eagerly waiting to watch the romance explored in the exotic restrooms in the new song from 'Shamitabh'.