A look into the new world of synced chat on Whatsapp's new avatar… Whatsapp Web.
January 21 was a historic day for all Whatsapp users worldwide!
For all chat-crazy people, Whatsapp (which was recently acquired by Facebook Inc.) gifted a major update to its millions of users.
You can finally give your Bluestacks or Airdroid 3 mirroring a break!
The update was a clean Whatsapp UI integrated into a browser API that lets you use Whatsapp on your computer, laptop, or non-3G PDA supporting a web browser via WiFi.
The web client is an extension to your copy of Whatsapp on your phone, which means it simply mirrors all conversations and messages stored on your mobile device and relays them to the current PC being used; all of your messages stay on your phone and new messages sent via the web platform to get appended to the message threads-LIVE!
Most of you reading this article may have tried the web platform at least once for sure, just to see what the buzz was all about.
For people still oblivious to this great offering or who haven't tried it yet, here is a step by step guide to getting it done the right way.
To connect your web browser (Google Chrome) to your WhatsApp client,
Update your Whatsapp to the latest version via the Play store.
Open https://web.whatsapp.com from your updated Google Chrome browser. A unique QR code will appear.
Within Whatsapp, go to the menu options and Select 'Whatsapp Web', A QR scanner will appear.
Scan the QR code on the PC with this QR scanner. Once the QR code is duly verified, your Whatsapp will be paired between your phone and your web client.
Please remember that your phone needs to stay simultaneously connected to the internet for the pairing to work. For now, the web client is not available to iOS users due to Apple platform limitations which does not allow pairing over multiple devices and purges messages when received on the other device for enhanced security (no push notifications).
Now that almost every one of you has successfully used Whatsapp on web, how was your experience like? Our experience was a little mixed, but considering that it is still in a very early developmental stage, here are a few pros and cons that we felt after our experience. We really hope Whatsapp notices the cons and irons them out in the future interface for more scalability and ease of use.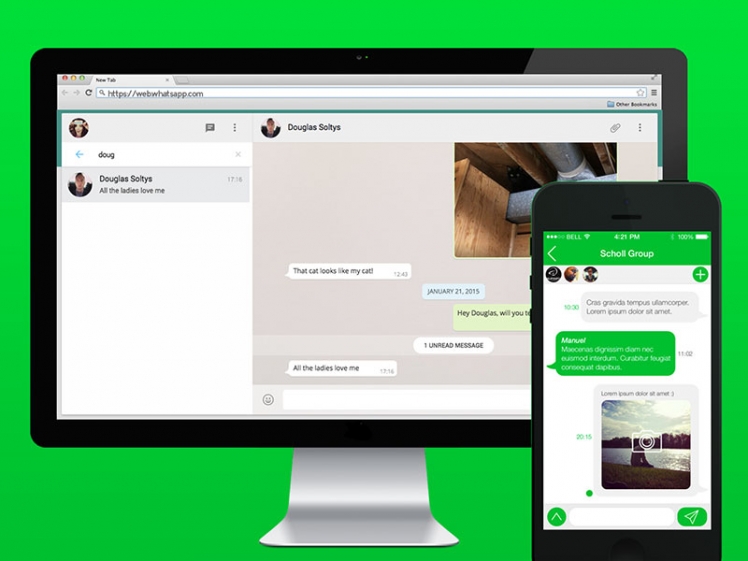 PROS
Finally being able to use a full sized keyboard for Whatsapp
The ability to run Whatsapp within a different browser tab, making multi-tasking more efficient.
Ease of use. This web interface is a no-brainer and is as easy as the mobile version
Use your WEBCAM! For people lacking a front cam on their phones, you can now use your laptop webcam for chatting and sending recorded videos
Directly download shared media on to your PC. Please remember that older media not available on your phone will not be available for download due to non-availability on the Whatsapp server
Highly secure SSL connection
An option to log out which helps to log out from all active PC sessions
Works on Windows, Mac OS X and Linux
CONS
Whatsapp on your phone needs to be constantly connected via a 2G/3G or WiFi connection to be able to authenticate the user session. This might incur data charges for 2G/3G  users
Sometimes, the connection is lost intermittently if the phone sometimes goes into sleep or power-saving mode.
Emojis aren't yet mapped to the keyboard so you will have to type them out yourself
Sharing contacts or maps aren't available as yet
New group chats cannot be started. Older groups cannot be left via the web interface
No option of blocking contacts via web
No profile picture or status change
A bane for office administrators since most employees would be chatting their heads off on the browser. A mobile can be restricted but spotting someone chatting on the web isn't easy.
Currently available only on Google Chrome due to push notification limitations
All in all, for a starting experience, we liked the interface for its intuitiveness and ease of use. With due course of time, Whatsapp will surely eliminate the cons we have listed above. For now, it is an added bonus for people wanting to work on a PC yet stay connected via Whatsapp for a little break.
Most users will eventually be using the phone since it's more handy and the current 'maintaining connection' between both devices is a little cumbersome. But then, it is still better than the older Whatscloud and Whatsapp remote which were a little clunkier and slower. We also hope that this service comes to all popular browsers and not just Google Chrome.
There might come a time like the old days when chatting on the PC might get a revival akin to the old Gtalk and Yahoo Messenger days.