Taboo practices in Indian culture – It is in our hand to think rationally about the practices and traditions. If the age old practices are against the law and order situation then they need to be challenged and changed.
After the shocking rituals I penned down yesterday, here are some more unbelievable practices followed:
Manglik marrying a tree:
According to Indian astrology any person born in the condition where his/ her astrological combination has Mars (Mangal) on a specified number on that chart…Whew! (I am a science person).
Big debate on #AstrologyVsScience has already gripped the country. Well, let us explore on the weirdest ritual attached to this.
Basically if a girl is born in this condition of 'Mangal Dosha' she is called a 'manglik' and has to bear the brunt of luck factor and rituals. Listing some astrologically superstitious beliefs with respect to the marital cases of 'mangliks':
As I mentioned above there is no scientific explanation to this but it is believed that marrying a 'manglik' is unlucky as it leads to problems later in the marriage life.
So the solutions are here:
'Manglik' girl can find a 'manglik' boy and here is the scientific explanation negative effect would make the other negative effect and eureka positive energy.
Another solution is to get the girl married to a tree first.
This traditional practice is called 'kumbh vivah' wherein the 'manglik' marries either a peepal or banyan tree to remove the so called 'Mangal Dosha'.
Aishwarya Rai before her marriage was rumoured to have tied the knot with a tree.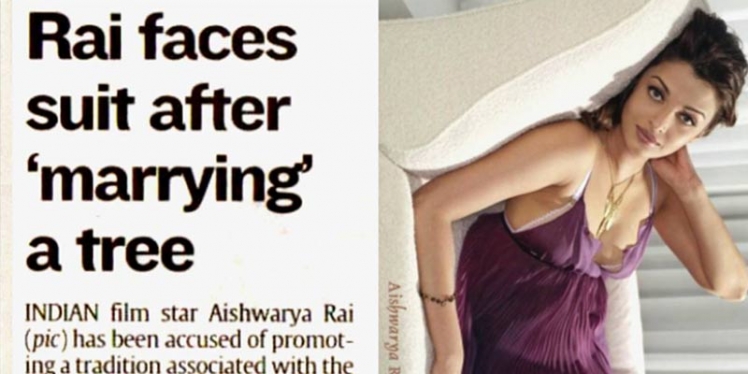 Later Big B rubbished such reports and challenged the media to find the tree that media reported Ash tying the knot with.
Baby dropping at Durga shrine in Solapur:
August 2009: Reports of babies being dropped from the roof of Baba Umer Durga Mosque in Solapur, Maharashtra onto the cloth held by people below.
Oh the local officials had assured the media that no injuries were recorded. India – we don't react unless something happens.
Baby Tossing ritual in Karnataka
Dec, 2009: There were reports of babies being tossed from the terrace of Sri Santeshwar temple in Karnataka. Most of the infants were under two years old. They were dropped onto a cloth held below.
Around 200 babies were reported to be dropped every year by their parents.
This practise of tossing babies is centuries old in various temples in Karnataka. It takes place in the 1st week of December in Karnataka.
Watch the video of babies being tossed as part of a temple ritual in Bhagalkot, Karnataka.
These babies were tossed by the temple priests and caught by the crowd as part of a customary ceremony of the so called 'shobha yatra'.
As evident from the name 'shobha yatra' these people consider it an auspicious practice.
Stone pelting festival:
Dhami, Himachal Pradesh observes this unique stone pelting festival (pattharon ka mela) celebrated where people pelt stones at each other.
Reports say the group of people with lesser injuries is declared winner while some other reports say that the person who bleeds first is declared winner.
Whoever the winner is, this festival is surely quite life threatening.
Digambar Tradition:
According to the Digambar tradition, Mahavir, the last Jain thirthankara never married. He was considered to be free from human activities.
The tradition attached to these Digambar monks is that they roam naked. You will find them completely naked. They do not wear clothes.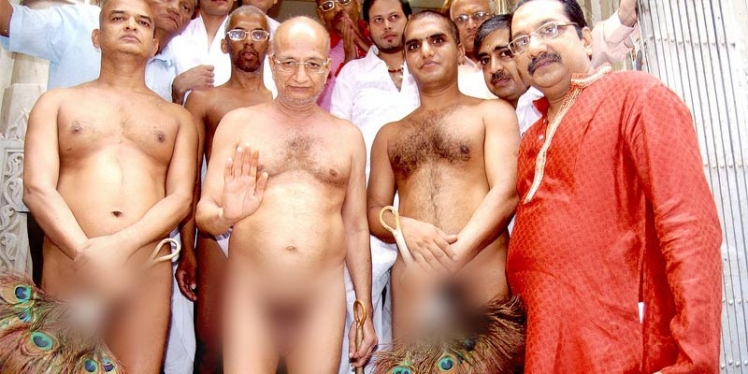 Not questioning any belief or hurting any sentiments but isn't this society very particular about dress code…or does that apply only to women?
Customs and traditions can go on and on as India has diverse cultures. It is our responsibility to think rationally about the practices and traditions followed and help in the upbringing of the society.
If the age old practices are against the law and order situation then they need to be challenged and changed.
It is important to have the fundamentals in place.
But perhaps in India traditional rules and cultural norms are held higher than the laws.