Miley's VMA 2013 act brought out some strong reactions
Remember when Miley Cyrus used to play the popular Hannah Montana and kids and pre-teens flocked home to catch latest episodes? Who could forget all those merchandises like Hannah Montana pencil box, tiffin box, water bottles and what not sold like hot cakes? I too had certain friends who were avid followers of this pop star. But sadly gone are those days and out is Miley's innocence. Her latest attempt at a provocative performance in VMA 2013 surely has raised some eyebrows.
Not that we have an issue with an artist doing some sexy moves on stage. But there's a thin line between being sexy and being sleazy. Her 'ass-twerking', as its being termed on social media, on fellow singer Robin Thicke left the audience slightly disgusted. We understand she was trying to keep up the tradition of pop stars delivering controversial performances in VMA but really what the hell? We don't mind a Britney Spears and Madonna kissing on stage and Lady Gaga in her ridiculous costumes but looking at someone we have been watching since she was 14,doing some 'jiggy jiggy' on stage is too much to bear!
One of the reasons could also be her breakup with Liam Hemsworth whom she was 'supposed' to get married to but who can say surely with these teen pop stars? One day they're all but happy in a relation and the next day writing songs about betrayal. We are looking at you Taylor Swift.
The US media has even gone far to term it as a racist act with Miley using black people as dancers and trying to emulate her peers Beyonce and Rihanna. Seriously, we think the latter do a better job at jiggling their derriere then the pop star in question. Which reminds me, wasn't #mileyassissmallerthan trending the whole of yesterday? She is apparently still trending on number 1 in India. Way to leave an impression on young minds we say!
But really the Twitter jokes on this over-the- top act has been far more hilarious. There were even a series of memes doing the rounds in which Miley could be seen 'twerking' on famous artworks.
But the best by far has been Will Smith's family' reaction while watching this performance. No, it actually isn't for the same act but nevertheless suits the situation perfectly!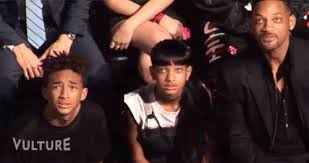 Jokes aside, these teen stars doing such public act is surely a matter of concern. And to think of it a complete generation of teenagers look up to Miley Cyrus as their icons. What kind of message is she passing on? In India, she would have not only scorned the government and society but would have given tough competition to Poonam Pandey for getting blamed for gang rapes. Because we are a condescending society like that!