While you proclaim your love for Gurmeet Singh and his '˜soulful religious songs' and brand '˜Raatan Baatan' as #1 in blockbuster charts
With several social campaigns in his kitty, be it the cleanliness drives, blood campaigns, disaster relief programmes, afforestation efforts or providing support for transgender, tribal communities, orphans or rehabilitation of sex workers, Saint Guru Ram Rahim Singh as he is popularly known among his millions of followers will shortly be coming up with his film, MSG: The Messenger of God that will witness him acting, singing and performing stunts apart from the direction.
The banner of the film, due to be released in January 2015 shows the chief of the socio-spiritual organization, Dera Sacha Sauda (DSS) driving through the incessant roads of a desert on a Harley-Davidson look-alike bike.
The 47-year-old self-proclaimed godman has reportedly composed and sung all the nine songs of the movie, one of them being #RaatanBaatan that is currently trending on the social media especially on Twitter.
Not only has Gurmeet Ram Rahim become politically influential because of his followers attending his rock concerts that began way back in October 2011, but also because of the social work and humanitarian causes that the political affairs wing, DSS claims to cater to. the organization not only claims of having contacts with thousands of people who will donate kidney while still living, but it has also worked towards eradicating sanitation issues, hosted blood pressure, diabetes and cholesterol check-up campaigns that have attained the fame even in the Guinness Book of World Records.
His cleanliness drive, 'Ho Prithvi Saaf, Mitey Rog Abhishaap' probably saw even more volunteers and greater support from the public than PM Modi's Swacch Bharat Abhiyan, with the count of volunteers reaching nearly five lacs. Since 2011, DSS has launched about 28 mega cleanliness campaigns.
However, Gurmeet Singh's popularity has got raised more due to his music videos that have been categorized as 'Religious Rock'. His six music albums, Thank For You That, Network Tere Love Ka, Insan, Lov Rab Se, etc. over the last two years have been followed by many. But, his latest album, Highway Love Charger has seen the unparalleled buzz among its audience with almost thirty lakh copies sold in just three days and 13.7 lakh views on Youtube and among regularly played playlists on Radio. Now his movie, MSG and its songs are creating an equal rage among people especially Twitteratis:
https://t.co/tlTECJDmlB this song will soon on the no1 list in charts! love it! #raatanbaatan #MSGTheFilm

— Sachin Siwach (@insasachin) January 5, 2015
@Gurmeetramrahim Thank you so much Pita Ji for #RaatanBaatan so melodious and heart touching Song..#MSGTheFilm

— Geetika Insan (@GeetikaInsan) January 5, 2015
#RaatanBaatan got 700 likes in just few mints…wonder what it wil do in coming time https://t.co/53w3h4TWVg

— Er. Mandeep Insan (@insan1674044) January 5, 2015
@Gurmeetramrahim rly heart touching,,,too peacefull song #RaatanBaatan #MsgTheFilm,Guruji u r d best lyricist/singer of d wrld @MSGTheFilm

— Dr. Payal Insan (@Drpayal_1289) January 5, 2015
The third track from MSG, a Punjabi Sufi song called Raatan Baatan is being called a soulful composition where the texture of Singh's voice has been much appreciated. The song also portrays the rich diversity and picturesque views of our country and has been composed keeping in mind the recent inhumane attacks on children in Peshawar by the Taliban. The movie will also bring up issues pertaining to the youth: alcoholism, drug abuse and gender bias, et al, much in keeping with the claimed purpose of DSS. Though the film has been shot in different locales of Maharashtra, Karnataka and Kerela, it will be released in various languages, viz. Hindi, Tamil, Telegu and English.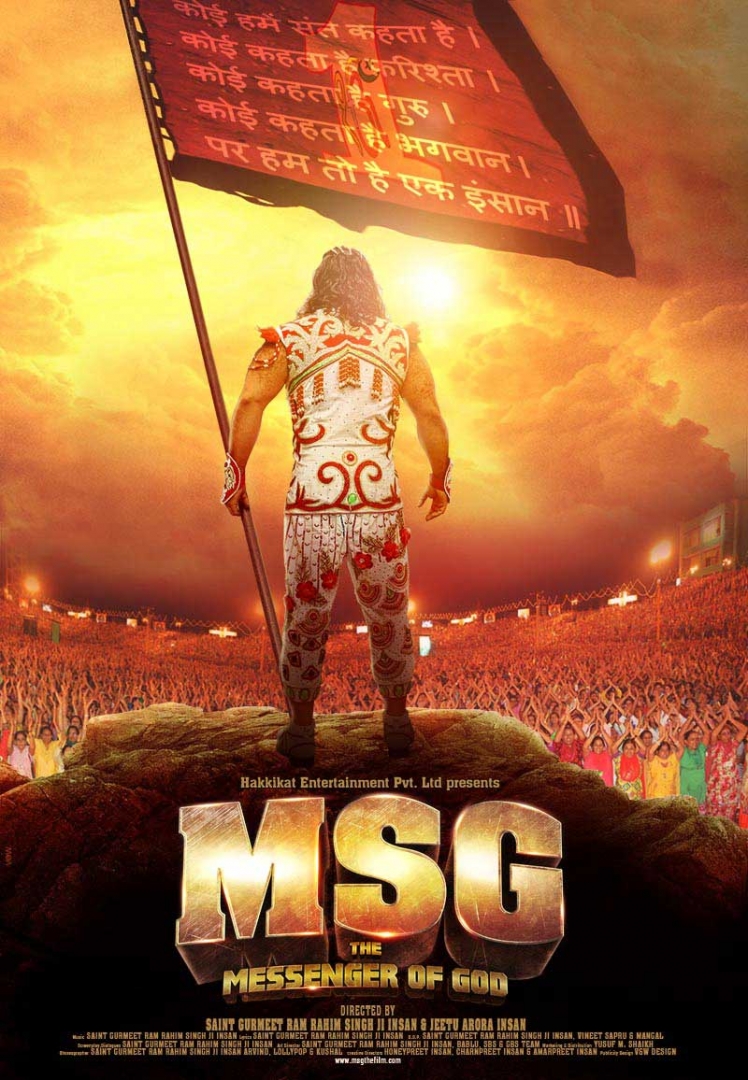 Over the years, Singh and his organization have been under the scanner for allegations of hurting the religious sentiments of Sikhs, their involvement in murder and followers acting as suicide attackers. DSS has however, been cleared of these charges and proclaimed that people with malafide intentions are spreading these rumours to defame their organization and the people associated with it. DSS has also been much in controversy with the radical Sikh groups such as Dal Khalsa and Shiromani Akali Dal.
Recently, CBI has filed a Fir against Singh on charges that he was linked to the forced castration of his followers that was executed at his ashram in Sirsa, Haryana. A former DSS follower, Hansraj Chauhan has reportedly claimed that he and 400 other saints had been castrated inside the ashram following Singh's orders, to which Singh retorted, "Behead me if castration charge proved right".
While a medical examination of Chauhan as per the order from High Court has proved that he had been castrated and state government reports have recorded the statements of seven people linked with Gurmeet Singh, confirming their castration and now CBI will probe the matter further, Singh is also facing trial in connection with the charges on sexually exploiting women followers of the sect and murdering a Journalist, Ram Chander Chatrapati.
So while you proclaim your love for Gurmeet Singh and his 'soulful religious songs' and brand 'Raatan Baatan' as #1 in blockbuster charts, and believe that the Dera leader uses music to make youth have a positive outlook to life and avoid evil practices, there are others who believe that Gurmeet Singh is trying to act as yet another middle-man in religious practices and belief systems and trying to gain people's confidence in dubious ways, through music, social work and films.