Former Pakistani president Parvez Musharraf has been formally charge-sheeted by an anti-terrorism court (ATC) along with six other persons for the assassination of former Pakistani Prime Minister Benazir Bhutto in 2007.
As reported in media, Musharraf, who was president during the murder of Benazir Bhutto, rejected the charges and termed them as politically-motivated. The former president was also reported being presented in the court under tight security.
Benazir was assassinated in a suicide attack and firing in Rawalpindi Dec 27, 2007, after she addressed an election campaign rally.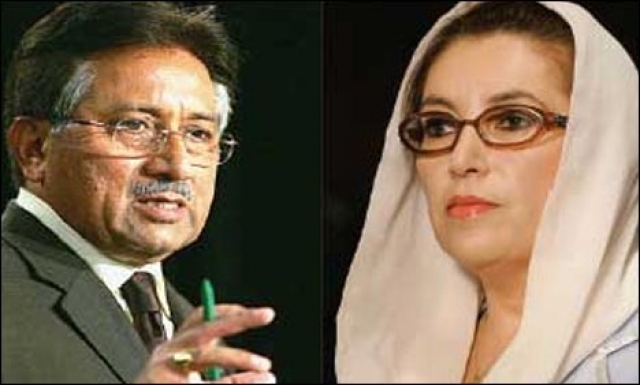 ATC judge Chaudhry Habib-ur-Rehman also indicted six others accused in the case, including two former police officers. They are former police officers Saud Aziz and Khurram Shahzad, Hasnain Gul, Rafaqat Hussain, Sher Zaman and Abdul Rasheed.
The Federal Investigation Agency presented a four-point chargesheet against Musharraf in the ATC, accusing him of hatching a conspiracy in connection with the killing of Benazir Bhutto.
The charge sheet submitted contained the statements of four witnesses, including an American journalist, Mark Siegel, as well as Benazir's own statement. FIA officials said that the chargesheet has been prepared on the basis of Mark Siegel's statement, who had claimed that Musharraf called and threatened Benazir in his presence. Siegel, who once served as lobbyist for Benazir Bhutto in the US, had also stated that Benazir had told him that Musharraf would be responsible for any harm to her.
The ATC had last year summoned Mark Siegel to personally appear in the court and record his statement.
The former president was charge-sheeted in Benazir's murder case weeks after Prime Minister Nawaz Sharif announced that high treason case against him would be initiated for abrogating the constitution.
Musharraf was arrested and remanded to judicial custody for a fortnight in June this year over the murder of tribal elder Nawab Akbar Bugti who was killed in military operation in 2006.
He has been kept at his home in Islamabad over security concerns. His house has been declared as a sub-jail.
The ATC Tuesday adjourned the hearing for the case till Aug 27.