Lake frozen with skeletons and skulls or it seems like the snow made skeletons deep in the Roopkund Lake. One of the oldest lakes located in Uttarakhand, the depth of the Lake is more than 5000 meters. There is the thought in mind that the skeletons are visible around the year. Then it is not true as the snow-covered skeletons are seen when the lake is frozen into ice.
Skulls and skeletons are seen piled it was first seen by a soldier in 1942. The skeletons were stockpiled around the snowy land of the Roopkund lakes as well as inside the lake. The snow-covered skulls stand as a mystery even after several decades from 1942.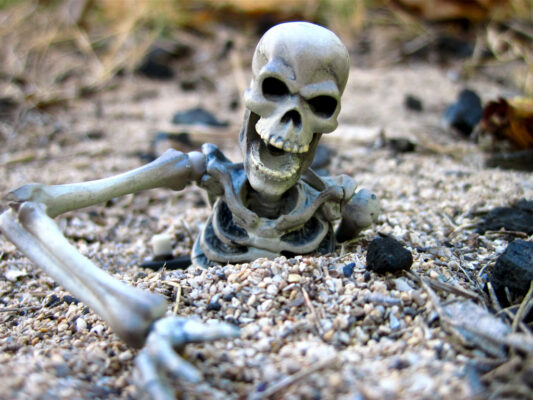 Lake made of Snow melts clear the visuals of dead skeletons
Many incidents justify the many remaining dead bodies even after hundreds of years. The place remains filled with snow but at times the snow melts to water and the remaining are visible.
Many researchers have been carried out their research to learn about the thousands of skeletons buried under the snow in this remote place, Roopkund Lake in the Himalayas. The arms, iron spearheads, and leather shoes are still seen deep in the water. The skeletons may be the remaining soldiers. It may be of any wartime about hundreds of years old, while researches have also mentioned about the fleshes remaining of 2003. It was the dead bodies of 30 people fleshes that are present with the rest.
The research carried out by the Anthropological Survey of India mentions that the skeletons were of dead bodies who suffered death due to hailstorms.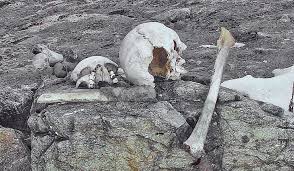 RoopKund Lake as the mysterious Frozen skeleton
Over years the Lake has still been covered with mystery. People cannot trek in this part of Uttarakhand, as trekking has been banned. The best time to trek through this area is during the autumn. But now this area is no longer allowed for the tourists to travel this area. Tourists are believed to remove the skeletons leading to the reduction of the remaining deep in the Lake.
The skull's evidence proves that the bodies were not of Indians. About the lake is covered with people who share the ancestry of the Mediterranean. Non-Indians already mean that they have been tourists or travelers who traveled to the lake. Mostly they were the Europeans or the natives of eastern Mediterranean ancestry.
There may be many reasons related to the death from hundreds of years. It can be due to the hailstorms, any sickness due to the chilled weather or it can be any war that happened years ago. Altogether even after several years of research the skeletons that are now entirely covered and lake made of snow deep in remain mystery.
Roopkund the Lake holds the strange and unfolded incidents of unknown death of many people. It still holds the secret or mystery of all the skeletons deep inside the lake.