PM Narendra Modi started the journey from being a '˜chaiwala' to the country's Prime Minister, we have Shahziad Ibrahimi who has taken the reverse circle by studying the Doctorate Programme from JNU and then opening a Dhaba outlet in the campus.
While there are people who would crave for a Ph.D. from one of the most prestigious colleges of India, Jawaharlal Nehru University (JNU), there are some who would want to keep to their passions, interests and dreams rather than just follow the herd mentality, 9-5 job structure and the tough race to high-level positions in corporate houses.
While our PM Narendra Modi started the journey from being a 'chaiwala' to a successful Chief Minister of Gujarat to being the country's Prime Minister, we have Shahziad Ibrahimi who has taken the reverse circle by studying the Doctorate Programme from JNU and then opening a Dhaba outlet in the campus.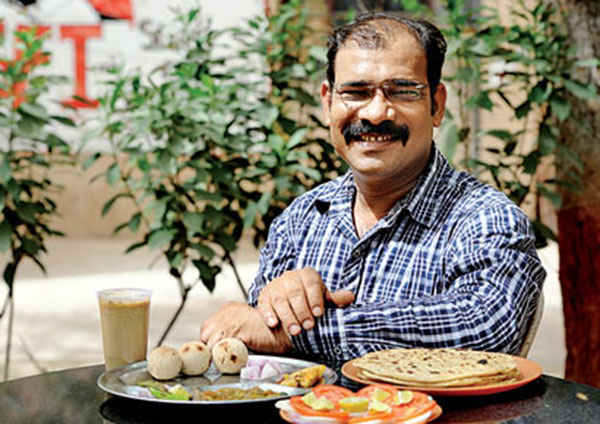 When the university departments and the teachers were infuriated that the dhaba from an alumnus of the university and a Ph.D. holder in the college premises might defile JNU's reputation since all these years, Shahziad popularly known as Mamu among his friends maintained that he "will not ruin JNU's name." Detemined as he was an with his strong interest and aptitude in cooking, Mamu truly kept his word as Bihari Thali and Litti Chokha became the buzzword in JNU and even among the outsiders who visited the college, both young and old.
His obsession over onion and tomato salads which he likes to cut in a zigzag style and not the routine 'chop chop' increased the footfalls in the university. We would not be taken aback if we were to know that some students joined the university only to taste Mamu's Dhaba's special dishes daily!
However, life was certainly not a bed of roses for this PhD holder in Urdu and a Mass Communication graduate, when he decided to leave his job of a TV Journalist in Hyderabad to return to his second home, his 'alma mater' to pursue his cooking dreams in a dhaba. The permit to start a dhaba in the university was truly a tough nut to crack for him, where the university officials dared him to run the canteen for six months, then only will they accept his plea and you bet, they were forced to give him what he wanted – a place within the campus to operate his own canteen.
But the journey to carving your own niche somewhere in this big, wide world is not easy. Shahziad's family back in Bihar could not accept that their son had opened a dhaba even after holding a Doctorate degree. His parents had terminated all contacts with him and it was only his brother who he was in talking terms with, among his family members. It took time for the sunny side to come up for Shahziad. But when it did, his parents were more than happy with Shahziad's career decision when they visited his cafeteria, where he sometimes even gives food for free, irrespective of the religion or caste of the student, depending on whether they have money with them at the moment or not. Students would sit with their laptops and discuss politics for long hours here without any disturbance.
Shahziad's experimentation with dishes is not the only thing that preoccupies his life and workplace, his notes 'like chapters of a book' and his recipe book called '365 days' are certain other important things in his life currently.
Not only with his career, Shahziad experimented and followed his heart as far as his love life is concerned. He fell in love with a Hindu girl before completing his Master's programme. His inter-religion relationship caused much turmoil back home and with the girl's parents but anyhow they got married secretly in the campus and shifted their residences to the married students' quarters in the campus. Not that we are vouching for any inter-caste marriages and secret weddings or opposing parents either, but we would still appreciate the daring attitude and the spirit to accept challenges and mould everything from tough times to happier moments in Shahziad and would hope that more of today's youth can share the same spirit and attitude in life. In his own words, "There is no other place like JNU; there was something always pulling me back. I think I was always meant to be here, running this small dhaba." (As reported to the Indian Express)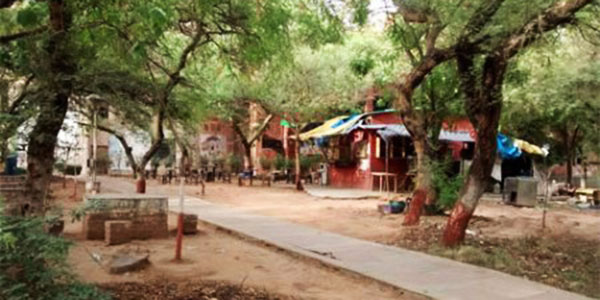 Of making food, Shahziad emphasizes on the different methods of cooking that make you special and of salary and jobs, he claims that he does not care whether he makes money or not, but loves the fact that he is his own boss and does not have to take orders, he loves his work and the fact that he does not give an explanation to anyone for being late to work. Like him, there might be many who do not like fixed jobs and feel it is still less for the company and the job even after giving one's 100 percent, handling work pressure and deadlines. But how many of us would actually show the courage to do something we absolutely love and not consider any work too low or menial?
Even PM Modi liked to share his joy of swearing as the PM of the country with Shahziad by calling him at the ceremony.
If you wish to pursue your Masters in JNU, you would not want to miss out on tasting fine thalis and litti chokhas! Just ask a fellow passer-by in the campus about Mamu's dhaba and s/he will be more than pleased to give you the directions!