DId Mallika Sherawat's TV debut 'The Bachelorette India-Mere Khayalon Ki Mallika' live up to its expectations?
Finding love on TV is lame. Finding love on TV with a cheesy setting is lamer. But Watching it and actually enjoying is …the lamest.
We weren't expecting much from the queen of controversies, Mallika Sherawat and her 'dating' show 'The Bachelorette India-Mere Khayalon Ki Mallika'. Yet, we sat down to watch it. Mistake. Big mistake.
After watching a stylish and intelligent show '24′ on Colors TV, Life Ok's poor content is absolutely cringe-worthy. Even Mallika looks bored on the show. As if she is doing it only to make quick bucks, as she doesn't really look interested in the over enthusiastic men who have come to woo her. But what really has our splitting our hair is the amount of cheesy lines on the show. It's like watching a bad date movie with even the main lead cringing at those lines. Why would Mallika ruin her career like this?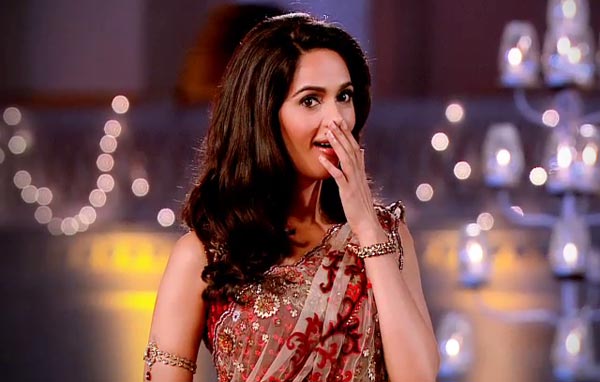 There's enough drama on the show, from a 63-year-old trying to land Mallika's hand in marriage to a musician/singer getting onto her bad books at the first meeting itself. And as you would expect from any TV show, there's bound to be lot of gloss and twists in the upcoming episodes to keep our interests alive. But the channel need not worry as hardly anybody would go back to the show after a lackluster debut episode. The whole wooing-her-with-gifts is so passe, even Mallika doesn't know what to say when somebody brings her gifts. May be that's the reason she has a patented 'hand on mouth' gesture throughout! Wow. What an interesting show…
Even Mallika's outfit is below average and let's not even get started on her cake-y make-up that brings out the worst in her when she is directly interacting with the audiences. On a show about a bunch of men trying to get the lone girl, the least you can do is to dress the girl up! She is a star, for Pete's sake. But she looks bored and wears this 'I-am-here-for-the-money-baby' look throughout. Ironically, she goes all 'desi' girl on the show and talks about 'Sanskriti' and 'culture' about the country she called regressive six months ago. Need we really say anything more? When one of the contestants hugged her without her permission, she was startled and didn't like this act one bit. But true to herself, she didn't say anything to him all. If you're uncomfortable about him hugging him, you say it to him. Not to the audiences…
We have no hopes from this show and would warn you to stay clear of it at all costs.
RELATED TAGS: #TheBacheloretteIndiaMereKhayalonKiMallika, #MallikaTVshow, #Mallikakaswayamvar, #mallikaondatingshow, #datingshowlifeok, #mallikalifeokchannel