Weird restaurants – Restaurants are a place we all love to visit to eat different delicacies in an amazing ambiance. Be it a birthday party, anniversary, engagement, promotion party, or any other party we all love to go to different restaurants where ambiance and food both are amazing.
You must have visited "N" number of restaurants but the below ones are way too interesting and Weird restaurants.
Weird restaurants –
1 – Dinner In The Sky – Montreal, Canada:
This dinner restaurant has crane to hoist the guests for a beautiful floating dinner. 15 feet from the ground in the air, this restaurant is one among the world's to unusual restaurants.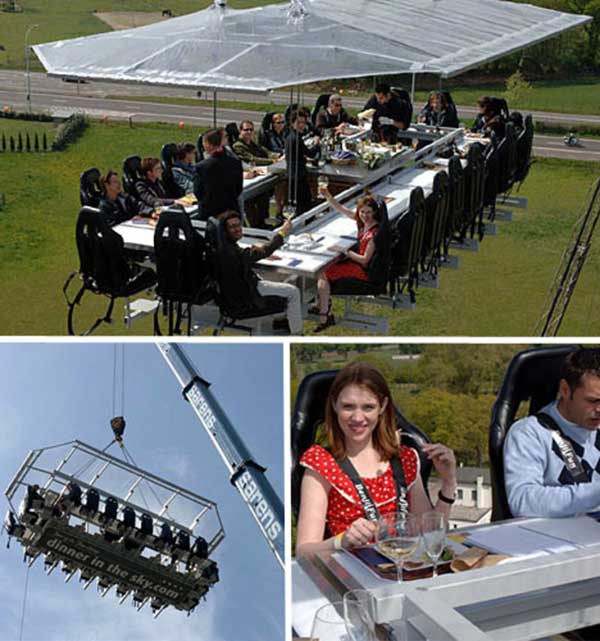 2 – Cannibalistic Restaurant:
Nyotaimori, which is a female body inside that is served sushiand sashimi. Entire female body is made out of food and full body is placed on table it looks like you are going to do a surgery, you can eat any part of body and when you cut it bleeds like human body.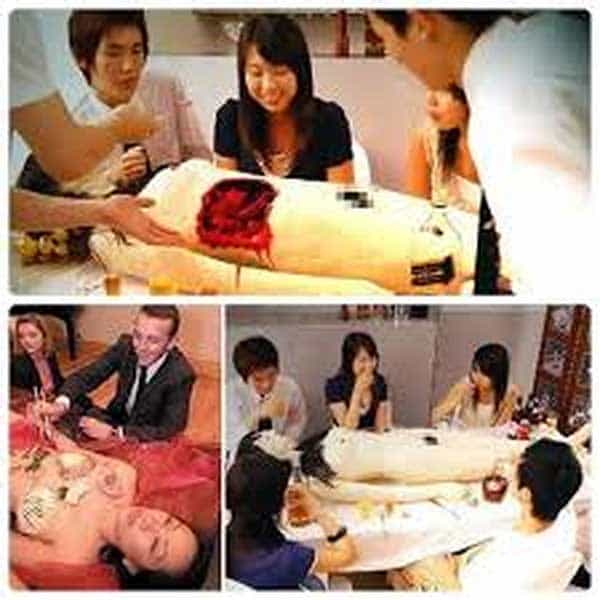 3 – Modern Toilet:
Taipei City, Taiwan Province, People's Republic Of China:
Dao Ming Zi, the owner of this restaurant was inspired from a cartoon and initially started selling swirled ice creams, later on developed this restaurant having many branches. This restaurant serves food in miniature toilet bowls.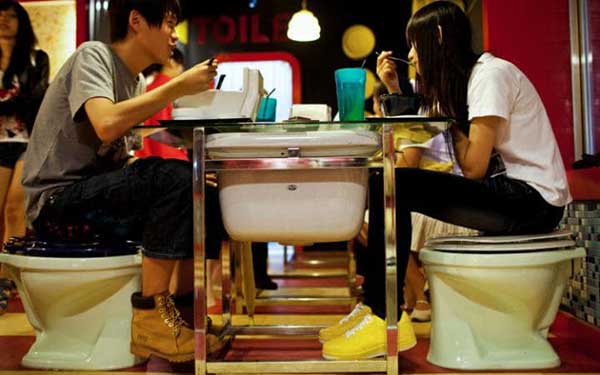 4 – Ithaa Undersea Restaurant –Rangali Island, Maldives:
This 15 feet underwater restaurant has space 14 members, watching the different fishes swim. You can enjoy delicious food while enjoying great aquatic view.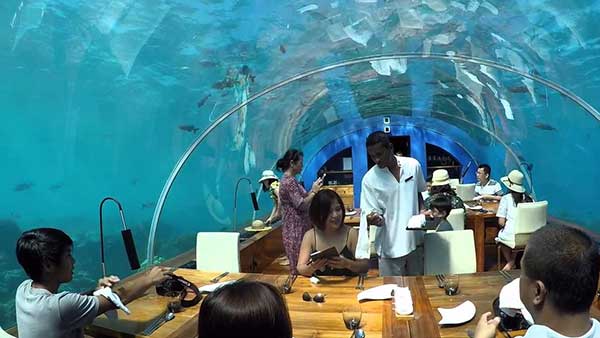 5 – O.NOIR –Toronto, Canada:
This restaurants doesn't allow mobile phones, flashlights, luminous watches are prohibited from taking inside. The dinning session for two hours serves the orders of guests in an unlit dining room. Basically candle light dinner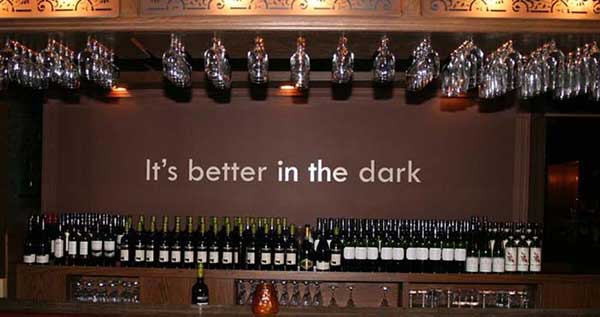 6 – Safe House –Milwaukee, USA:
Though doesn't look unique or weird, this restaurant has spy theme based on CIA definition. The other unique aspect about the place is that it requires a password to enter into.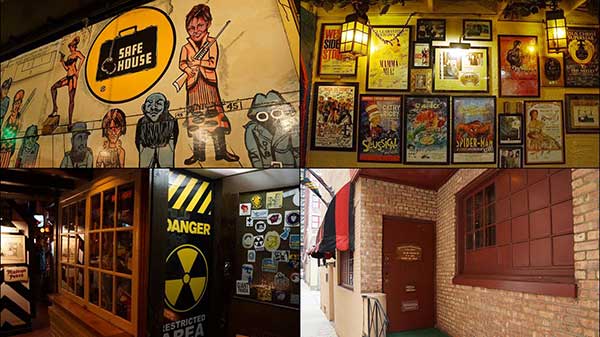 7 – De Kas– Amsterdam, The Netherlands:
This beautiful restaurant the best fresh food from out of the plants that are cultivated in that place like a nursery. Fresh food cooked right away from the garden. Fruits and veggies are only picked when chefs are about to cook so freshness served!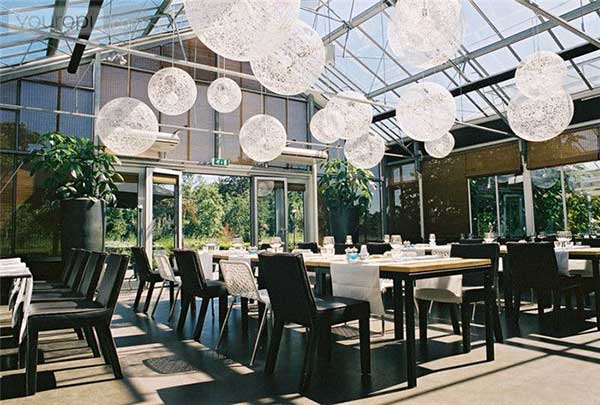 8 – Dinner In A Hospital:
The dinner hospital restaurant is also known as 'D.S. Music Restaurant'. Waitresses,dressed like nurses gets onto a wheelchair and serves you food in this hospital themed restaurant.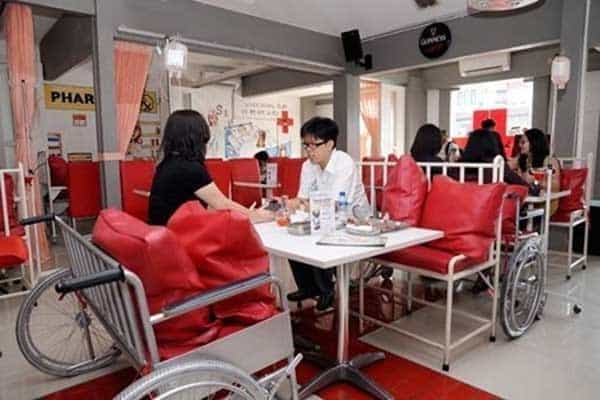 9 – Ice Restaurant, Dubai:
Welcome to the world of ice sculptures. *Wink* The guests get to see everything made of ice like the tables that are cushioned, chairs, glasses etc freezing at minus 6 degree celsius.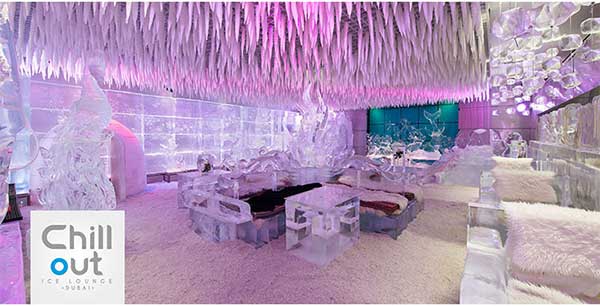 10 – The Bubble Room –Captiva Island, Florida:
Built in 1979 with bright pastel colours, this restaurant features toys of 1930's and lot of pictures of old movies and scenes..!! The place's toys collection continues even today. Bubble Scouts (servers) move around in different hats and styles.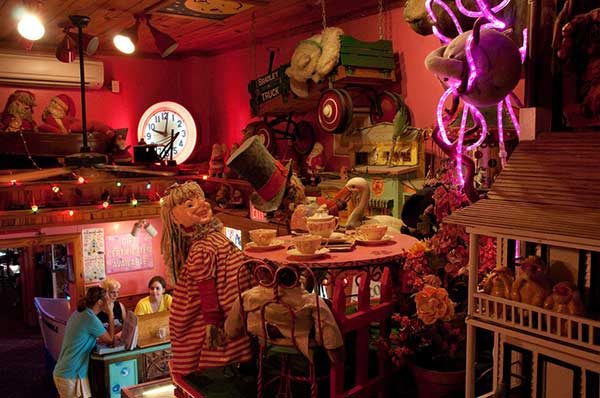 These are the most Weird restaurants around the world which are known for their out of the box ambiance these will make you feel you are in 3017 already!