If you are a food enthusiast and active on social media you should follow these five celebrity chefs who are attempting to create high level of interactive…
If you are someone who loves food then social media will definitely be like a treasure house for you. Food is something that connects with everyone. Interestingly, it can be noted that on social media there are many people who love striking food conversations. Considering this as an opportunity many celebrity chefs in India have started popularising their food related content on their social media profiles.
Though there is a lot of clutter in the food industry today but there are few who stand out obviously for the great influence they have made on people at large. On social media, there are many who claim to be food experts so there are times you end up follow everyone. If you really want to get understand what the actual food industry looks like you should look at what celebrity chefs are up to.
There are many famous Indian chefs who have become a household name but only few have actually utilised the social media space further to connect with their audience. We have listed down five popular chefs who are captivated the attention of people. Follow them if you someone who wants to know all about food on social media.
Take a look…
Sanjeev Kapoor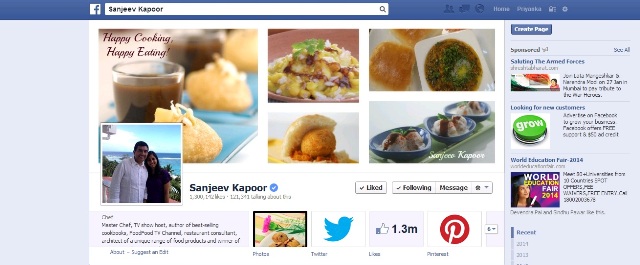 It will not be wrong to label Sanjeev Kapoor as the most renowned Indian celebrity chef in the world. He became a household name from the time he started hosting 'Khana Khazana', a cookery show that went live in the 1993. Kapoor came on the TV show Khana Khazana, which became the longest running show of its kind in Asia. Kapoor is an inspiration to many housewives and food enthusiasts.
Kapoor has a very strong presence on social especially on Facebook. He has one of the most interactive pages in the food category in India. He not only showcases interesting recipes but also keeps hosting interesting contest. He fetches a lot of interaction and is someone who you must follow if you are looking to come across some fun food conversations.
Vikas Khanna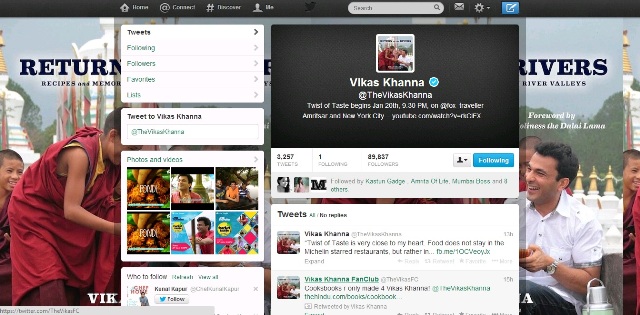 Vikas Khanna sizzled on Indian television when hosted 'Master Chef India Season 2' in 2011. Since then, this celebrity chef started getting a strong fan base in India. The 43-year-old chef is currently hosting the latest FOX Traveller's culinary-cum-travel show called 'Twist Of Taste 3'.
He has worked for the Taj, Oberoi, Welcomgroup, and Leela Group of Hotels and with some of the most influential chefs of the world. In 2011, People magazine named Khanna in the list of 'Sexiest Man Alive' and also referred to as 'The Hottest Chef of America'. Post this Khanna became a popular celebrity chef on Twitter. It can be noted that Khanna's tweet posts are mainly tales from his show. He looks humble and makes sure he replies to most of the tweet mentions he gets.
Harpal Singh Sokhi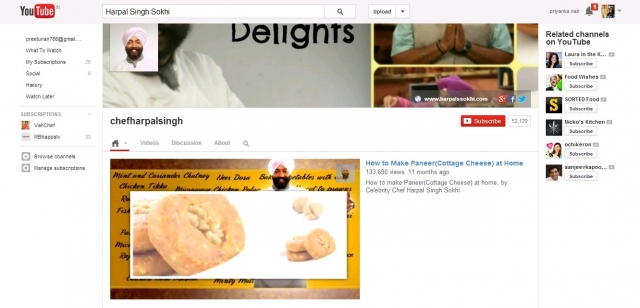 Harpal Singh Sokhi is known as the most entertaining and energetic chef who takes you on a gastronomic journey in his funny and lively manner. He got recognised widely through his cookery show Turban Tadka.
He not only reveals the cooking secrets of authentic Indian food but also the use of ingenious ingredients. He is known to have organized various Indian food festivals at the international level. If you are someone who likes to check out onile cooking tutorial then you follow this chef on YouTube. Subscribe or bookmark his channel to learn some quick Indian style cooking.
Saransh Goila
Saransh Goila is the new kid on the block in the food business. He is one of the lucky fresh talents who got recognised for his passion and won a popular cooking game show called Food Food Maha Challenge. Goila in the span of one year got the opportunity to host two TV Shows Roti Rasta aur India and Healthy Fridge on Food Food channel.
Goila has set a record in Limca Book of Records of being the first Indian chef to travel 20,000 kms by road in 100 days to discover India's rich food heritage and tracing its history. His dynamic personality has made him quite famous on social media. Goila is again extremely active on twitter and interacts promptly for any food related query.
Kunal Kapur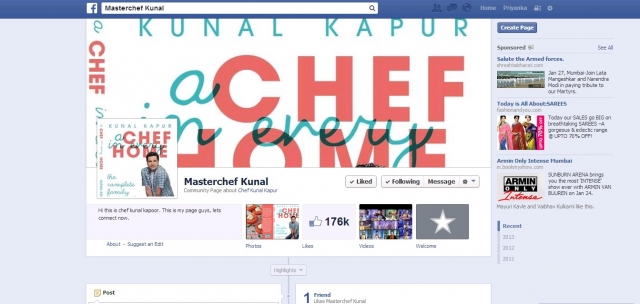 Kunal Kapur is best known as the host and judge of the TV series MasterChef India Season 1, 2 and 3 on Star Plus. After which he is seen in a lot of popular food events and has very good popularity. Having Indian cuisine as his cooking style, he is presently the executive sous chef at Leela Kempinski, Gurgaon.
Kapur's name was quoted by Limca Book Of Records for creating India's Largest chocolate tower. He is all set to launch his cook book next month. He is heavily talking about this on social media. His social media page doesn't come across as a food gyaan guide but he is often seen talking about a lot of other food related topics.