For those who don't know, Karachi, the commercial hub of Pakistan, is strongly connected to the great Macedonian Ruler, Alexander.
Let us visit Pakistan, our friend forever 🙂
Let us visit it's cultural and commercial hub, Karachi!
For those who don't know, Karachi is strongly connected to the great Macedonian Ruler, Alexander. Before visiting Babylonia, Alexander rested in this city for a while and this fact is an identity attached with Karachi's historical reputation.
Today, it is not only the largest city in Pakistan, but it is also the hub of trade, banking and commerce of the nation. In fact, it was the capital of Pakistan until the construction of Islamabad. It also houses Pakistan's significant cultural associations such as the Pakistan's National Museum and Academy of the Performing Arts.
Karachi, very pompously, boasts of one of the largest and busiest airports in Pakistan, which is The Jinnah International Airport. The Karachi Port and the Qasim Port are also in Karachi and regarded as the main shipping ports of Pakistan.
When to go?
If you are planning a vacation in Karachi, a little update on weather conditions will surely come in handy. Karachi summers are unbearably hot and winters are pleasant and mild. Therefore folks, the best time to explore the city would be the months from November to February. Karachi offers its best climate to the travellers during these months, for site seeing and wandering around.
What to do?
Once in Karachi, the options for leisure, fun and pleasure are incessant. Modern architecture, contemporary building complexes, historical mazars, shopping alleys, and a savoury cuisine which is a delectable mix of Pakistani, mughlai, sindhi and multani gastronomy is what Karachi offers to the fervent visitors.
A Round Around The City
As far as architecture is concerned, Karachi has diverse designs and forms of art, which consists of new-classical architecture which can be seen in the High Court Building in Sindh and the KPT Building. The infamous contemporary architecture styles can be witnessed at the Habib Bank Plaza and Towers of Dolmen City.
Another popular landmark is the Mazar-e-Quaid, also known as the Jinnah Mausoleum or the National Mausoleum. It is known to be the final resting place of Quaid-e-Azam (Great Leader) Muhammad Ali Jinnah, the founder of Pakistan, his sister, Mader-e-Millat (Mother of the Nation) Fatima Jinnah, and Liaquat Ali Khan, the first Prime Minister of Pakistan.
Located in the Jamshed Quarters, in the neighbourhood of Karachi, the mausoleum was completed in the 1960s. Today it is an iconic symbol of Karachi throughout the world. It is said that this shrine must be visited before dusk when tourists can enjoy gardens blossoming with flowers, the sunset, reflecting pools; and at last the Mausoleum splendidly decorated by lights from all four directions.
Nature lovers can hover to Haleji Lake. It is Asia's paramount water fowl reserve, and is approximately 70 km from Karachi. It is a consistent freshwater lake. Earlier, the lake was a harbour to around 222 species of birds like coots, purple moorhens, ducks, kingfishers, white herons, pigeons, teals, mallards, waders, flamingos, pelicans, cormorants, black-headed gulls, egrets, pheasants, storks and partridges. Even today, wild birds like eagles, harriers, buzzards, kites and falcons can be seen around the lake. These are particularly the birds of prey, and they fly towards the lake to hunt other birds.
Something For The Retail Therapy
The Clifton Beach, which is also the seashore of the city, is famous for weekend markets, especially for the tourists. You can find stands selling handiwork prepared from sea shells picked from the sea-shore. Clifton also has an amusement park, which holds an aquarium and a bowling alley. A striking play-land and Hazrat Abdullah Shah Ghazi's shrine is also here to put some charm to your retail therapy. Small shops are speckled around the area. Many attractive souvenirs and curios made of sea shells are available here in these little stores.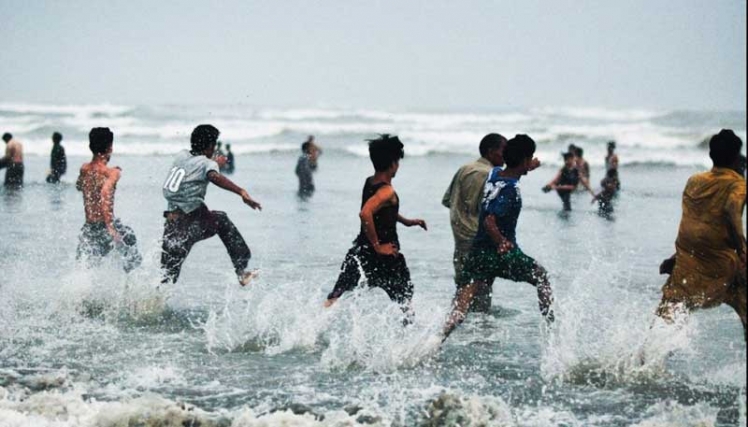 Foodie's Food
Karachi is incomparable when it comes to street-food. Scrumptious kabaabs, mouth-watering biriyaanis, tempting feernis are a part of its food fare that cannot be missed. It has many street-food stands spread across the city. Clifton, Boat Basin or Burns Road are places that serve amazing street-food. For an authentic outdoor experience, one must try restaurants at Karachi-Hyderabad Super Highway. Here, good food can be enjoyed with a soft breeze on a bright sunny day.
With all the communal, cultural and regional differences going on with our neighbouring nation Pakistan, healthy tourism can be an effective step to bring the hearts together.
Let us take the initiative.
Chaliye pehal karte hain 🙂