What if you could have graphical and colourful images of Bollywood films and portraits of your favourite film stars in your favourite roles, in unique shades and hues and meaningful sketches at home? And think when all of this is minimalistic and not loud!
When they say, 'A Picture is worth a thousand words', Akshar Pathak, a young poster artist and graphic designer actually means it through his Minimal Bollywood Posters and Tweetards. If you look at his poster of Anil Kapoor in Mr. India (1987), you will be able to resonate the image with the film really well, as just like Anil Kapoor is otherwise invisible but can only be seen in infra-red or red light area, his poster too paints the lead actor of the movie in the same fashion. Wouldn't it be cool to keep such a portrait of Mr. India on your wall?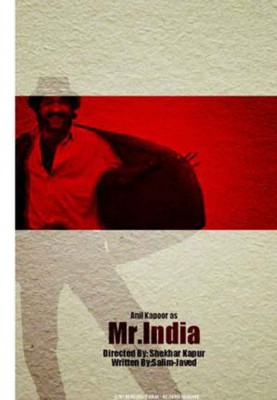 His images are both theme-based and visually appealing while using minimalist colours and focussing on aesthetically pleasing pictures that do not shout the movie name but give a big hint and reveal the basic theme. They are either the most famous dialogue of the movie or an image of a thing, place or name, creatively letting out on the basic concept behind the film that has lured maximum audience. Take for instance, his images of the movie Band Baaja Baraat (2010) where he just portrays a bread pakora with the dialogue 'ki kasam'!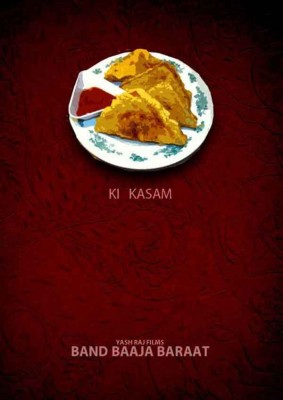 His Facebook page, Minimal Bollywood Posters (started February 2012) is doing pretty good with numerous likes now and has become the rage on micro-blogging site Twitter as well. It is as if through these images, Pathak is making people look at a fresh perspective to the film and what he considers to be the iconic scene from the movie. Well, what to say other than simplicity at its best!
Pathak's love for painting and sketching and the Batman – Shaktimaan mash-up comics that he used to create has led him to a profession in this career, where he used both sketching and Photoshop to his aid to make these attractive and meaningful posters, which he likes to call 'uncomplicated'. He strongly believes that his work is meant for his pleasure as much as client's needs. Though this initiative of minimalist aesthetics started out as nothing but a joke, where Pathak was influenced by Ibraheem Youssef's concept pictures for Quentin Tarantino's films, he could not have known that this idea would create a rage among social media fans and the Bollywood industry. He has also been asked to make such posters for Happily Unmarried, Comic Con India, a design and marketing firm, DSYN and currently Zomato.
However, his minimalistic posters, he believes cannot be strong contenders for promoting films unlike it is done for advertisements. He has only designed posters for films that have witnessed a theatrical release such as Zanjeer (1973) and Amar Prem (1972). The film posters these days reveal much about the film to lure audiences and here, his minimalist aesthetics based on a striking quality or element of the film might not work. However, Pathak remains hopeful that gradually and eventually, the art of minimalism will be a recognized one and will become heavily popular.
Such is his genius that he can create posters only with a familiar song, dialogue or an item frequently used in the movie without even having watched it. He did the same for Mohra (1994) where he only knew that the song 'Tip Tip Barsa Pani' is from this movie!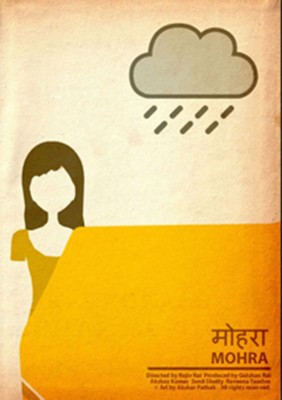 Pathak's brainchild, Tweetard is an initiative where he makes graphical images or posters out of either his own tweets or other's tweets. His Tweetards help to keep the effect of witty and lame jokes and interesting tweets permanent through beautiful pictures that form an entire gallery. Could you believe even tweets could be handpicked and made graphical?
While for Minimal Bollywood Posters, Akshar has used the fact that people in India love to watch movies and used it to deconstruct and simplify movie ideas for them, thus converting them into minimalist art. Many popular Bollywood movies have been a part of this art form, the poster art by Pathak, whether it be the depiction of orange juice and carom board in Munnabhai MBBS or the old conventional telephone of yesteryears in Hera Pheri. As of Pathak, he takes ideas and suggestions from people on the movies he wants to make posters for, but his illustrations are completely his own ideas based on the visual relations he experiences while watching a movie.
To celebrate 100 years of Bollywood cinema, Pathak is planning on making a book with perforations that will help them tear out pages and both gift them or keep it to themselves. While he still plans on executing this idea, you may check out some of his posters that are meant "to eliminate any confusion from the start by having a single, strong vocal point and for the world to see, its fresh, clutter breaking and ahead of its times."