Here are Bollywood beauties who turned up in their fashionable best during their promotional events. Who rocked it and who didn't?
While promoting their movies and products, actresses always turn up in chic clothes and fashionable updos. While some actresses rock the, others suffer a case of 'too much'. Who got it right and who didn't? We tell you…take a look.
Priyanka Chopra:
In a green lace The Source dress, Priyanka Chopra looked pretty…ankle-up. We are not particularly crazy about her footwear that is taking ruining the look completely. Despite us loving her elegant updo and the delicious shade of green on her, we are not feeling this look.
Hot-O-Meter: 7.5/10

Karisma Kapoor:
Karisma Kapoor was spotted at a launch wearing Tom Ford with a blue Bebe top. Her side updo and elegant make-up will win her brownie points, but her pair of shoes are not something we are fans of. Is it only us or is she looking a tad older in this dress?
Hot-O-Meter: 7/10
Deepika Padukone:
The leggy lass hardly goes wrong, this time too she got the look right till her ankles. Her Dolce and Gabbana outfit is edgy and cool. But her Forever 21 flats are oh-so meh. They just don't go with this cropped pants look. We so wish she had opted for a nice pair of pumps.
Hot-O-Meter: 7.5/10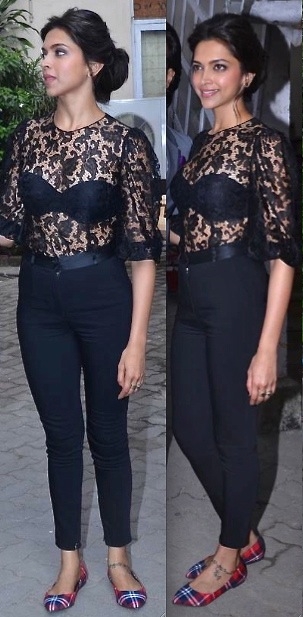 Kareena Kapoor:
The Gori is looking every bit the diva that she is in this Verb by Pallavi Singhee dress. We are totally digging her hair, earrings and the color on her.
Hot-O-Meter: 8/10
Gul Panag
We were pleasantly surprised when the very western Gul went the desi way in a Global Desi saree. Her bindi, pretty smile and the funky saree are enough to make us fall for her!
Hot-O-Meter: 8/10