Ways To Wear Boyfriend Denim – Boyfriend denim is all the rage these days. It is sporty and sexy in the same vein.
Sporty when you pair it with a polo top and sexy when you team it up with a tie-up top.
The market is enveloped by the distressed boyfriend denim too which turns heads when pulled off correctly.
Boyfriend denim can be your pick on a normal day out with friends, a lunch date with the boyfriend or just when you are high on traveling.
A boyfriend jeans are baggy, classy, comfy, effortless and not to mention, enjoying their big moment in the fashion scene.
If you are a boyfriend denim virgin and wondering how to make the cut, here we have some tips at our disposal:
Ways To Wear Boyfriend Denim –
For the cold winter day look:
Pair up your boyfriend denim with a crisp blouse with a bomber jacket atop and seal the look with really sexy high heels. You are sorted! Maybe a cool baggy denim shirt tucked in and paired with a pair of classy boots will add sexy accent to your boyfriend denim in a cold winter day too.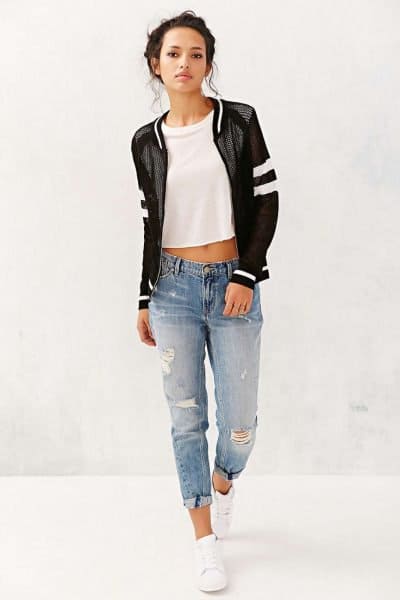 For the breezy summer day look:
Wear your boyfriend denim with a cold shoulder top with minimal accessories. You can also pair it with a long line short. That apart, a classy spaghetti blouse with a cape also workes wonders with a boyfriend jeans. Never forget the high heels though.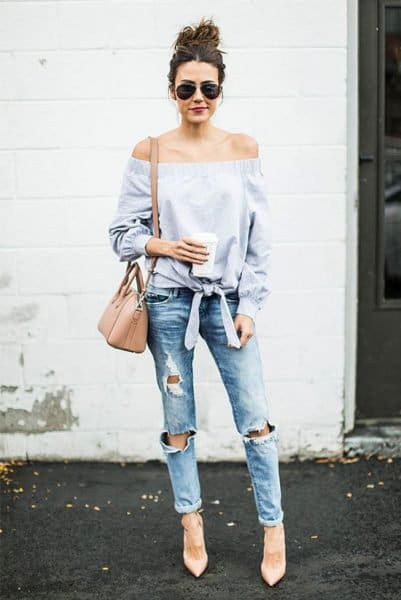 For the sporty chic look: 
A chic and comfy polo tee-shirt with white sneakers or slip-on shoes worn with your boyfriend denim is spot-on!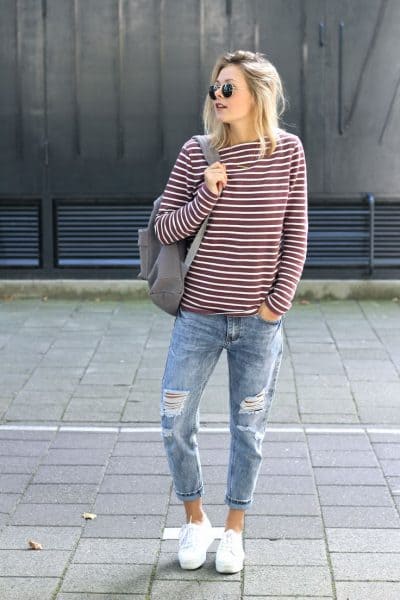 The crop-top look:
If you have the stomach for crunchy fashion, haltered crop tops are you are go-to with boyfriend denim. Make no mistake, keep your accessories always minimal to attribute more highlight to the boyfriend jeans. You can both wear a pair of sneakers or heels, it livens up the look either way.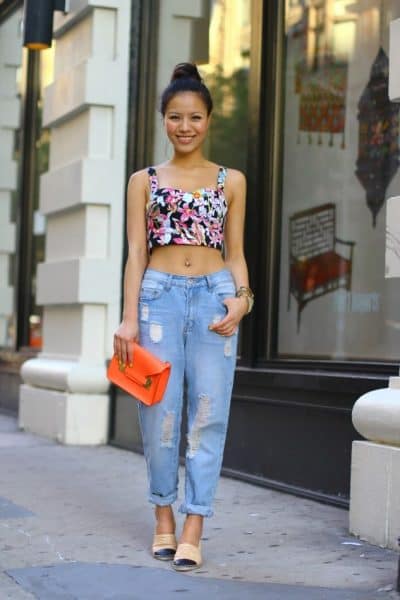 The peplum top look:
If you want to add a little drama to your outfit, pair your boyfriend jeans with an off shoulder Peplum top and classy heels for a party. You can expose yourself as a downright diva this way!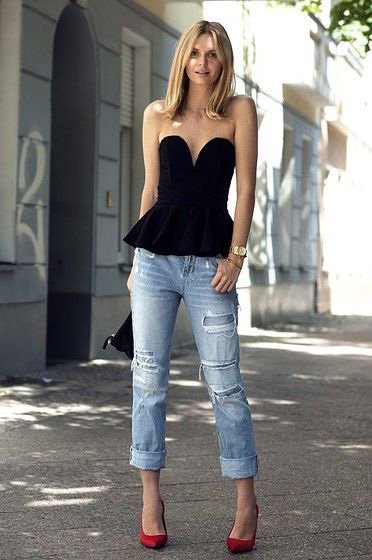 Ways To Wear Boyfriend Denim – These are the ways you can carry-out your boyfriend denim perfectly. Of course, there are more ways left to your imagination, so join the bandwagon already!