It is said that a woman's hair is always the best feature of her beauty.
People are not wrong is saying that. Imagine a pretty girl with golden blonde hair like Rapunzel or hair as dark as ebony, like Snow White…. Sounds so much like a fairy-tale doesn't it?
Well, your Fairy Tale hair dreams are about to come true with the latest hair-dyeing trend.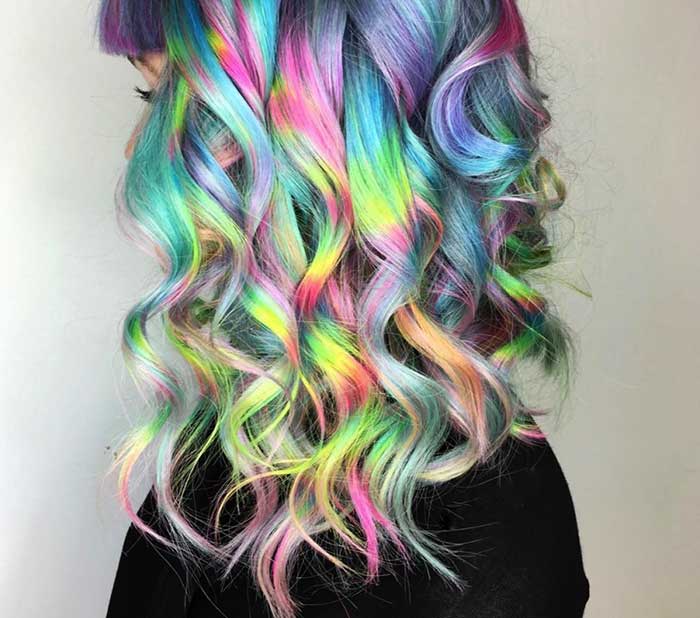 If you think that people dying their hair in the shades of the galaxy and the evening sky was beyond amazing, you absolutely must take a look at the newest flat-out awesome trend of holographic hair. This mesmerizing hair trend kick-started at a salon called Ross Michaels in Seattle, Washington.
The best part of the trend is your hair looks like it has come out alive from a fairy tale princess. At first, your hair is dyed white or silvery white. Doesn't sound cool? Wait for the splendid part, guys! After the white dye, the lightest shades of pink, purple, blue and violet are used to highlight the white. The colors not only highlight but they also complement each other.
There are several styles in which you can dye your hair in the holographic way. The names of the styles are fairy-tale like too! The colors are in hues instead of being bold and standing out. Another awesome aspect of this trend is that it goes well with whatever attire you wear. The styles have the sweetest names, like unicorn, mermaid and futuristic holography. All these dyes are most prominently characterized by a combination pastel shades and metallic colors.
The technique of coloring is not that simple, though. The technique, according to expert hair-stylist Marvici, is called the hand-press coloring technique. It is like behind the screen painting where the colorist draws out patterns on a Plexiglas and then places a few strand of hair on the dish so that the patterned hair-color gets transferred to the strands. This patterned method helps to give the whole hair a color-changing and opalescent look.
Many colorists have tried a rainbow style of the Holographic Hair coloring and it has turned out to be… spellbinding!!!!!! I will bet you 100 bucks that you will fall in love with the holographic coloring the moment you set eyes on it! Go get it done now!!!