Dramatic saree draping styles – The saree is an all-time favorite of all Indian women.
The 9 yards of fabric draped elegantly makes for a complete treat for the eyes when worn by any lady out there. It has been a part of Indian traditional wear for time immemorial and almost every art of the country has a different style of draping it!
Over time the saree has adapted beautifully to the changing trends. In the recent years, a lot of fun and trendy ways of draping the saree have come up, making for very quirky and dramatic looks. These fusion drapes are fast replacing the traditionally draped saree and are particularly a hit with the younger generation out there!
Here are some dramatic saree draping styles that pack a lot of oomph and style!
Dramatic saree draping styles –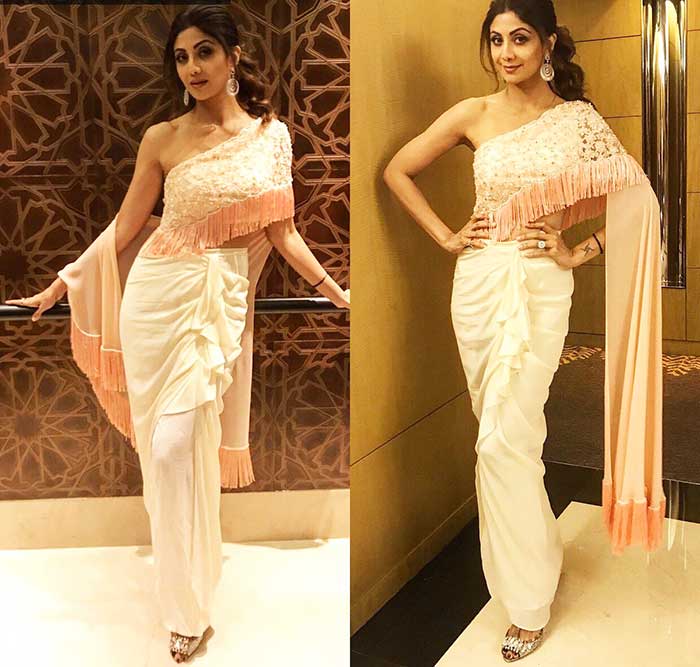 The saree gown has been doing the fashion rounds for quite some time and is quite the conversation starter. Shilpa Shetty recently flaunted the style with a lot of oomph and style. The elegant one-shouldered cape style top paired with ruffled pleats made this indo-western outfit a totally yay!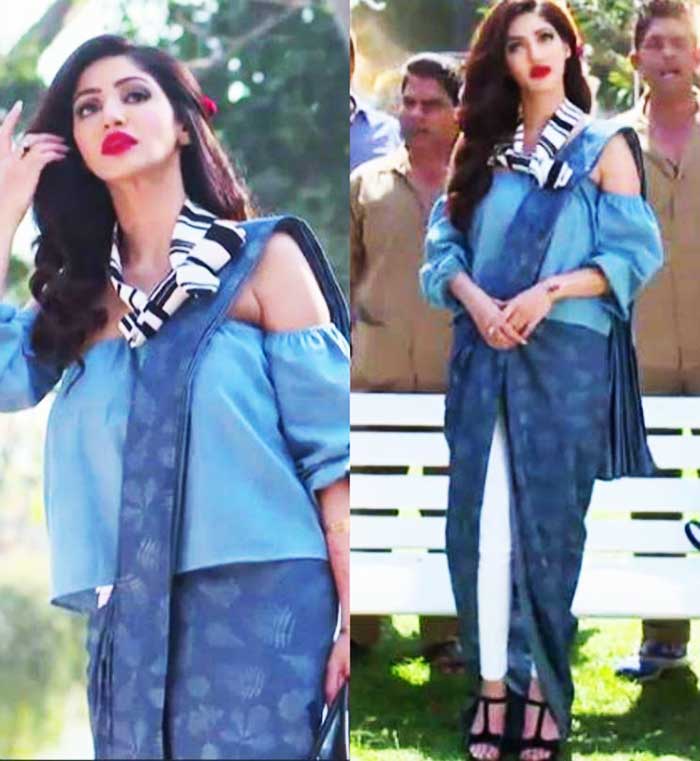 Shwetlana has been giving us fashion goals with this super chic and dramatic style of saree draping. Taking a cue from the runway trends, she pairs a breezy off-shoulder crop top and leggings with her saree. Give the traditional blouse a miss, and replace it with a trendy crop top for a svelte saree look.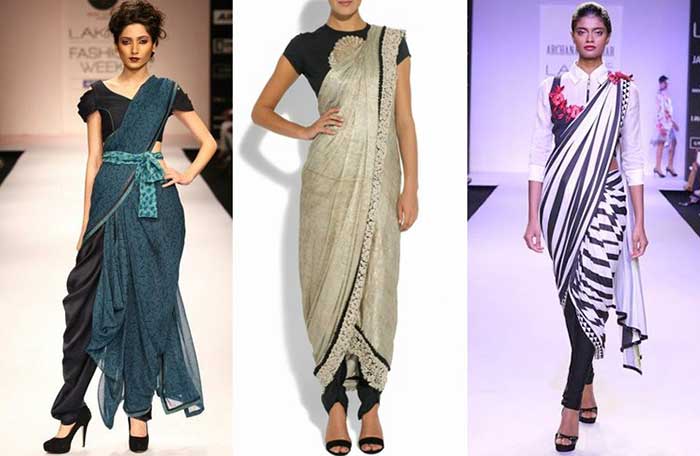 Ever thought of pairing your saree with a pair of leggings or pants? No? Well, it's high time that you do so as the trend has been catching pace on the runway. Draping the saree in the dhoti style and pairing it with slim fit pants or leggings or even pleated dhoti pants is all the rage!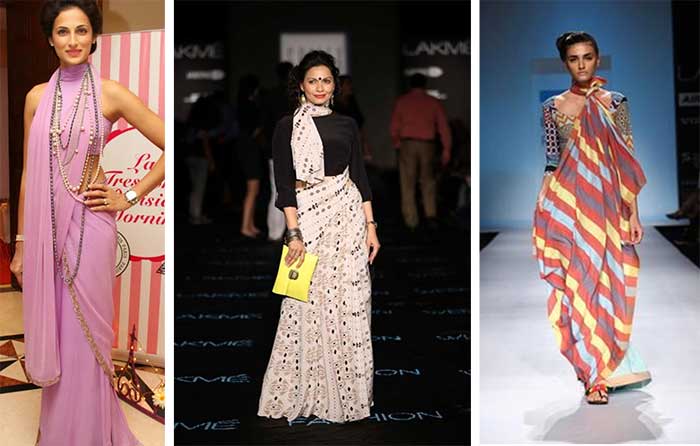 Who said you have to wear your saree the same old traditional way? Drape it like an elegant evening gown. There is so much that you could do with the whole 9 yards of gorgeous fabric at your disposal. Drape it like a sarong or a flowy maxi dress. It's all about being creative!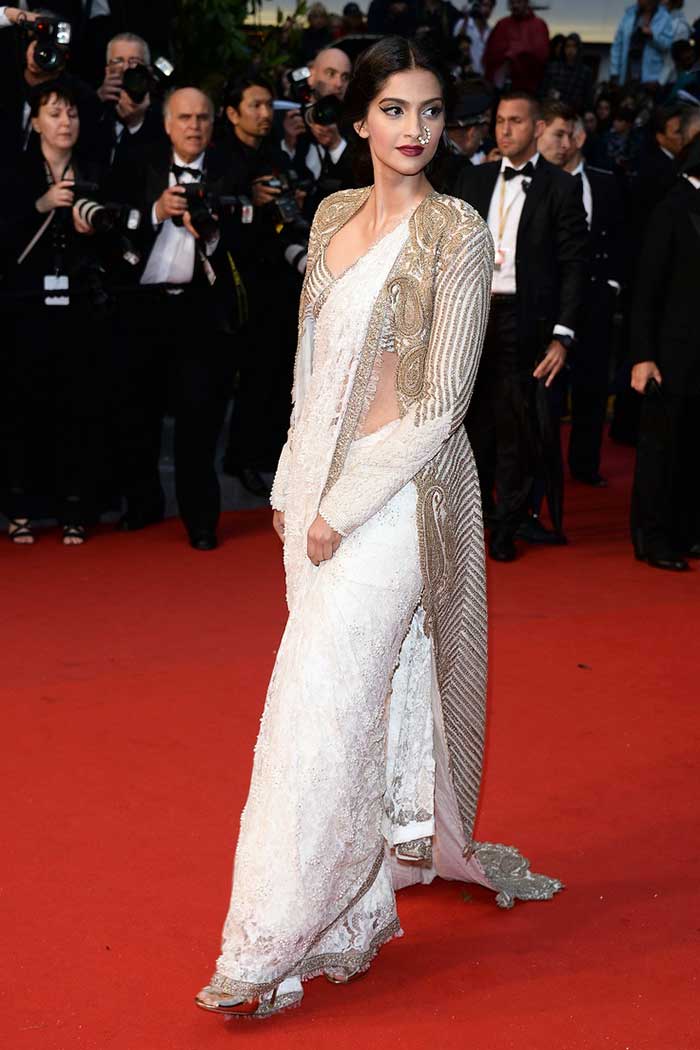 Long jackets are so in right now. So why not team your saree with a long jacket for a blouse? Sounds interesting, doesn't it? Well, take a leaf out of Sonam's stunning Cannes look and create your own look. You could opt for a flowy shrug style jacket or a more structured one like Sonam wore.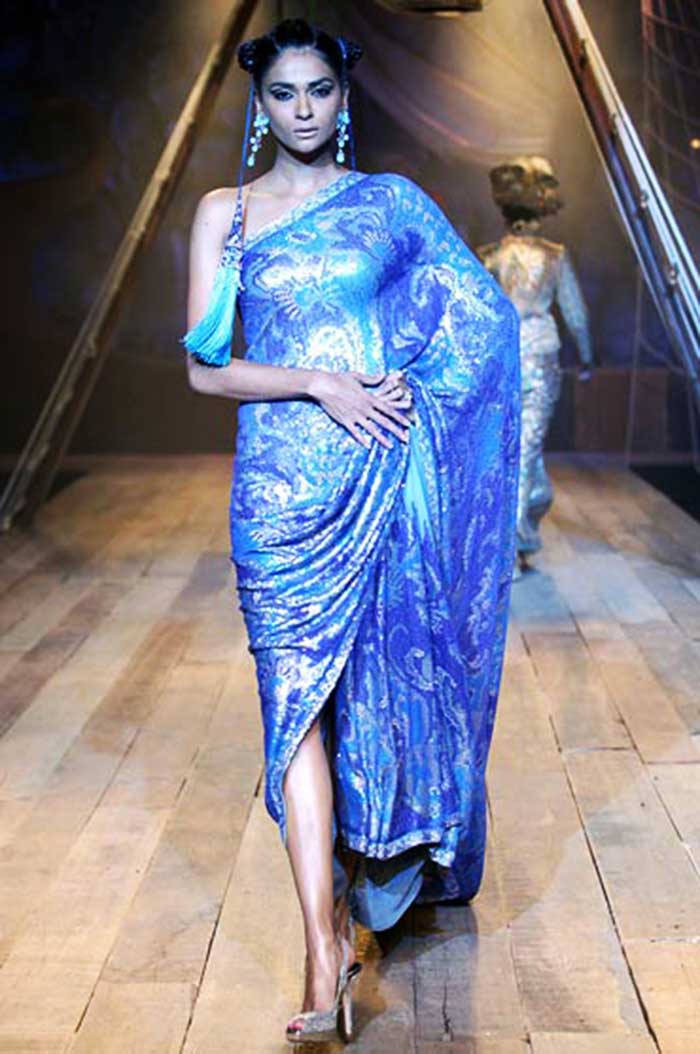 Looking to make a more sexy impact with your 9 yards? Check out this Suneet Varma saree. It is draped a little higher than usual with a slit. If you are into experimenting with your look big time, this look is for you!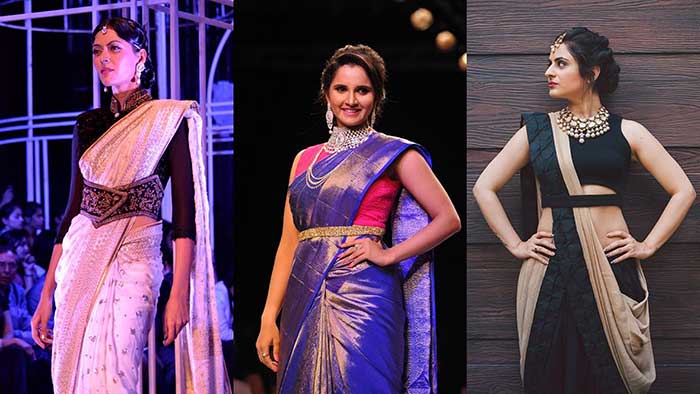 A subtle addition can make a whole lot of difference to the whole look and what better than these belted saree styles to prove the point. Do a dhoti style drape or a simple traditional drape, add a broad or sleek belt at the waist, whichever suits best, and WHAM! It's a whole different outfit!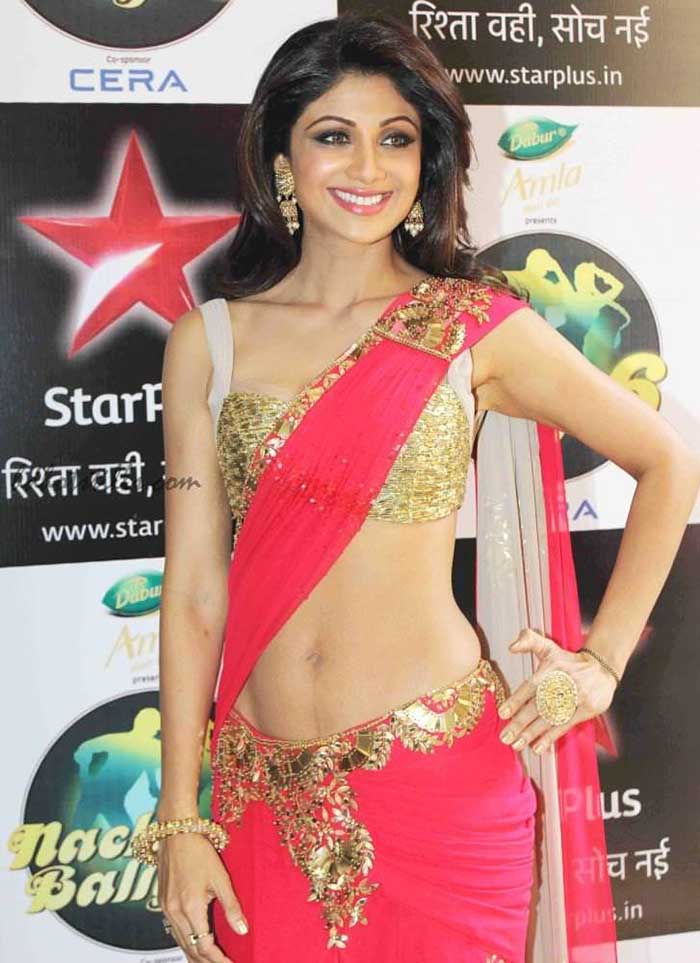 Now, pre-stitched sarees are hugely popular. These look truly glamorous. Ditch your evening party gown for a butterfly style pre-stitched saree for that sexy, stylish look!
These are Dramatic saree draping styles – Have fun and experiment with these sassy saree draping techniques and create a whole new look for you!!!