Follow our guide to pull off this year's Durga Puja look with panache…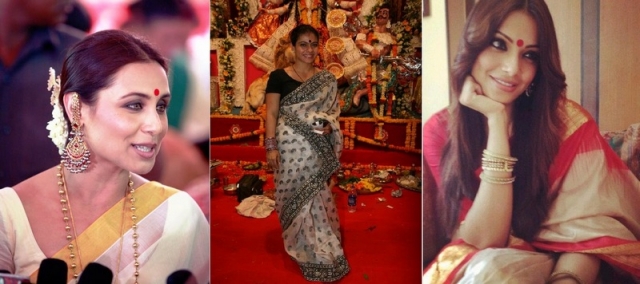 Even if we don't have those typical chaniya cholis with mirror work to flaunt during Navratri, we are somehow able to crack the look with something or the other from our wardrobe – whether it's a long skirt paired with a dupatta and kurti, or an anarkali. But trying to dress up like a Bong during Durga Puja is a different ball game altogether. Here's how you can pull it off like a pro.
If you have been following how our Bollywood celebs pulled together the look this year for the puja, you would have realised that though it's traditional at heart, there are a few glimpses of the modern fashion aesthetics.
Pick up the right sari: While the traditional puja sari is the one with a red border, you can also look at the ones which feature traditional weaves from the region like jamdani or tant. If you have none, search your wardrobe for an ethnic, Fabindia-esque sari which you can remotely call festive, if not anything else.
Drape well: Be sure of what and how much you can pull off. For a typical Bengali drape, your pallu needs to fall asymmetrically over your front. It is easier to go wrong with it if you are trying it for the first time, so make sure the result doesn't look shabby. Else, drape it in the usual style if you are more comfortable carrying it that way.
Makeup: While a red bindi is necessary, don't go overboard with the rest of the makeup and try to keep it chic and yet festive. One of the most striking features of a Bengali getup are the eyes, so don't keep them bare and use your liner, kohl and mascara to slightly elongate and make them pop out. For the rest of your face you can look at a primer, with a little touch up with a bronzer and a subtle blush highlight on the cheeks.
Hair: Choose anything from a fuss-free bun to a messy side braid, side swept curls or chignon, or simply leave your tresses open. Avoid putting those glitzy hair accessories and keep the look understated and mod.
Jewellery: You have to keep the jewels ethnic, if not antique, to do justice to the look. Think of those red and white bangles that the Bengali women wear or a pair that suits your sari; a bold neckpiece with an intricate design that celebrates the art and craft of any of India's regions, if not only Bengal; chunky ethnic earrings and that's it.