Rahul Dravid – India has let its freak flag fly in the recent Under-19 World Cup final where it achieved a victory over Australia and brought home the title for the 4th time thus becoming a country to win the maximum number of times.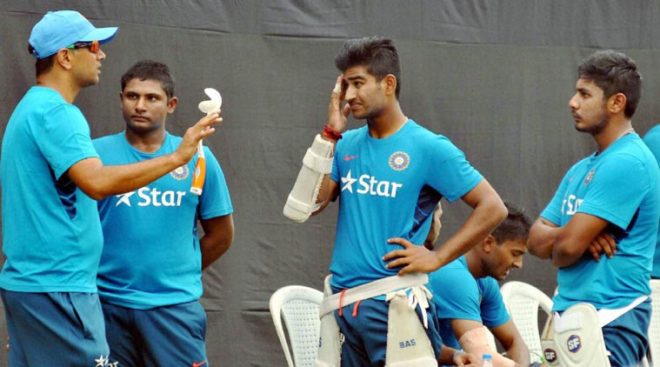 The sole credit of this win however goes to Mr. Dependable Rahul Dravid under whose guidance the victory became theirs. He has been instrumental after the rigorous training that the boys went through for prepping themselves up for the battlefield. After all, creating champions is not an easy task.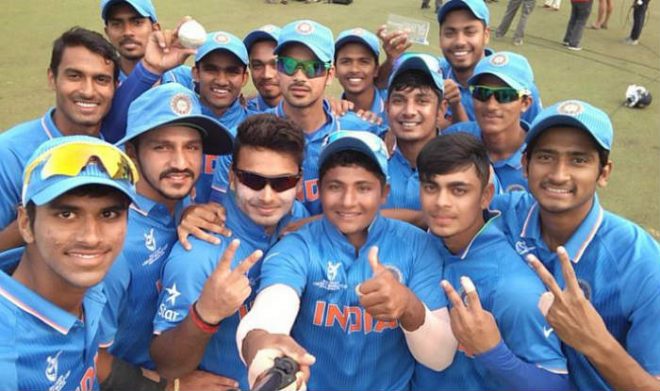 Rahul Dravid never got his due fame while he was a player but as a coach, his performance derived profuse appreciation from the people at large. India won the final by 8 wickets and made Dravid's chest swollen with pride. Dravid rather was generous enough to pass the credit to the boys saying they and their devotion towards the sport is the reason for the win, not him.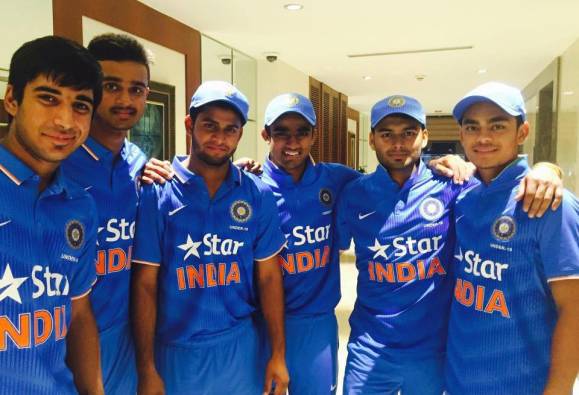 Rahul Dravid sees this win as a stepping stone of further opportunities which will bring along more success for the team near future. Only a modest and grounded man can step aside and take others centre stage. May be it is rather a strategic move by him to boost the morale of his boys who are likely to become the pillar of Indian cricket in the time to come. Who knows, may be the next Virat Kohli emerges from them only?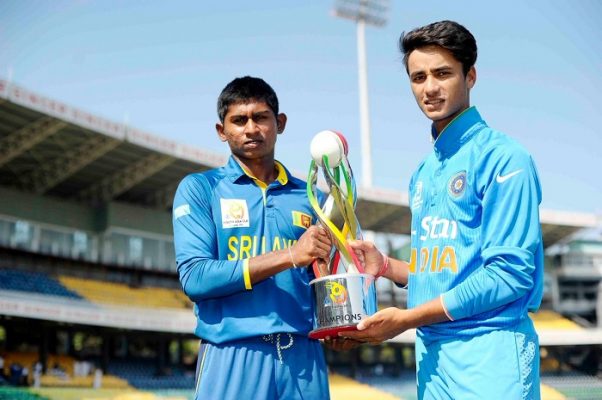 However humble he tried to sound, fans refused to take him for granted whatsoever. As soon as India's win, fans went all praise for Rahul Dravid in their Twitter handles and his revert made their hearts melt instantaneously.The list of his fans has heavyweight names like Sachin Tendulkar too who expressed his gratitude towards the once fellow cricketer through his Twitter handle. This one added extra volume to the wave of appreciation as his words touched our hearts truly.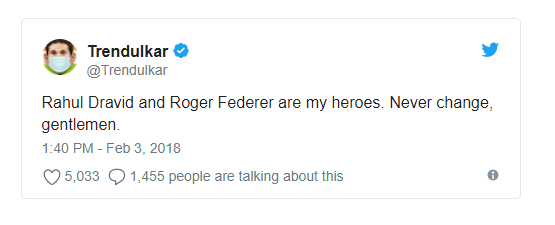 Not only Sachin Tendulkar, the super middleweight champion Vijender Singh too showered his praise on the boys and their coach. He also acknowledged the fact that the victory was phenomenal and we are rooting for some more such victories of Indian U-19 Cricket team near future.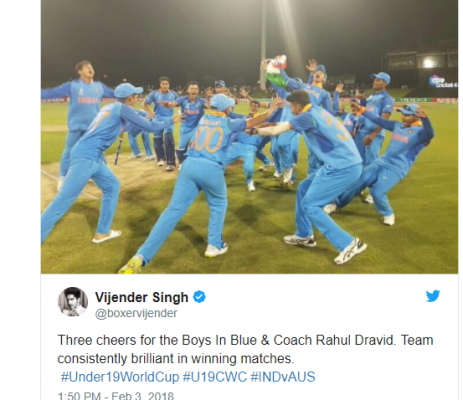 Our dimple-cheeked beauty Priety Zinta too heaped praise on the boys for winning the #CWCU19 and offered a bow of gratitude to Rahul Dravid. Preity seemed to be over the moon by the win.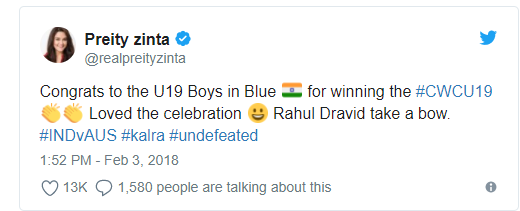 Then there came the prideful words from Mohammad Kaif, who said he was reminded of their triumph 18 years ago by this phenomenal win of U-19 Cricket team of India. He appreciated the efforts by the boys and the mentoring of Rahul Dravid.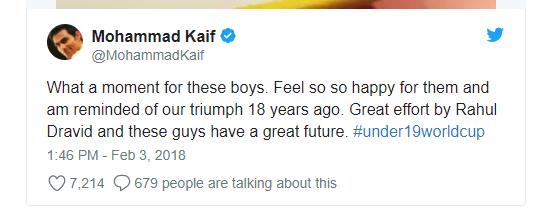 This fan posted a hilarious video of how Rahul Dravid can give it back to Ravi Shashtri after this epic win of U-19 Indian Cricket Team and his words sounded pretty apt to us too.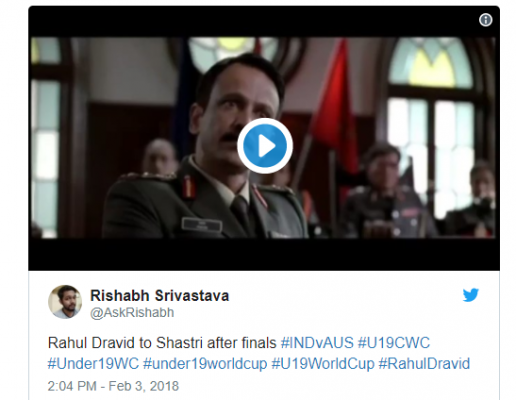 Here are some other tweets by fans that we are bringing here for you.